Empowering Business Growth with Linux VPS Hosting
Discover the ultimate solution for Linux VPS Hosting at HostingRaja, designed specifically for Linux users. Our meticulously engineered hosting services are lightning-quick, highly scalable, and fully-secured, delivering top-notch performance without breaking the bank. Benefit from our pocket-friendly Linux VPS plans, crafted to save you money while maintaining exceptional quality.
If our standard plans don't quite fit your needs, worry not! We offer the flexibility to customize configurations according to your exact requirements. With HostingRaja, you can focus on your business's growth while leaving the technicalities to us. Our dedicated team ensures your website is hosted with utmost care, ensuring seamless user experiences and blazing-fast loading speeds. Embrace the best-in-class Linux VPS India hosting experience and unlock unlimited potential for your online presence. Trust HostingRaja to propel your business to new heights, empowering your vision and success on the digital front.
Embracing the forefront of virtualization, our Linux servers utilize industry-leading virtualization platforms such as KVM and VMWare, ensuring unparalleled efficiency and flexibility for your operations.
For Sales Enquiry
: 63603 33901, 63603 08973, 63603 43404
BASIC VPS
₹ 686
Save 20% (Hurry, First 10 customers)
Dual Core / 2CPU
RAM : 2 GB
DISK : 40 + 40 GB NVMe
Bandwidth : 1 TB
Spamassassin with every VPS
Full root / ssh for VPS
Malware Injection Scan
PHP Vulnerability check VPS
Inbuild CSS/JS Optimizer
FREE SSL Certificate

★

High Priority Support
Extreme VPS
₹ 2613
Save 35% (Hurry, First 10 customers)
4 Core
RAM : 4 GB
DISK : 120 + 120 GB NVMe
Bandwidth : 4000 GB
FREE Domain
FREE Varnish Server
FREE Website Optimization
Spamassassin Included
Full root / ssh access
Realtime Malware Injection Scan

★

High Priority Support
Premium Ecommerce
₹ 6152
Save 30% (Hurry, First 10 customers)
4 Core
RAM : 5 GB
DISK : 200 + 200 GB NVMe
Bandwidth : 10000 GB
FREE Domain
FREE Varnish Server
FREE Website Optimization
Spamassassin Included
Full root / ssh access
Realtime Malware Injection Scan

★

High Priority Support
Looking for other / custom configuration, contact our sales team using Sign up button.
VALUE VPS
₹ 932
Save 25% (Hurry, First 10 customers)
Dual Core
RAM : 2 GB
DISK : 60 + 60 GB NVMe
Bandwidth : 2 TB
Spamassassin Included
Full root / ssh access
Realtime Malware Injection Scan
Realtime PHP Vulnerability check VPS
Inbuild CSS/JS Optimizer
FREE SSL Certificate
PREMIUM VPS
₹ 1284
Save 30% (Hurry, First 10 customers)
3 Core
RAM : 3 GB
DISK : 90 + 90 GB NVMe
Bandwidth : 3 TB
Spamassassin Included
Full root / ssh access
Realtime Malware Injection Scan
Realtime PHP Vulnerability check VPS
Inbuild CSS/JS Optimizer
FREE SSL Certificate
Extreme Ecommerce
₹ 8460
Save 35% (Hurry, First 10 customers)
6 Core
RAM : 6 GB
DISK : 250 + 250 GB NVMe
Bandwidth : 20000 GB
FREE Domain
FREE Varnish Server
FREE Website Optimization
Spamassassin Included
Full root/ssh access
Realtime Malware Injection Scan
Enhanced Linux VPS Experience-Explore HostingRaja's Extensive Range of Linux VPS Hosting Flavors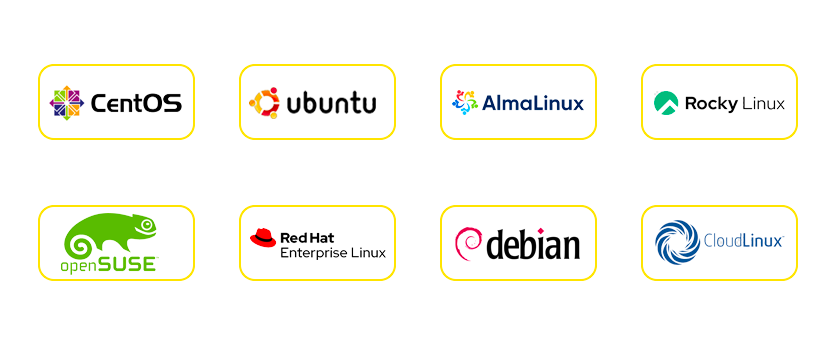 Effortless Growth and Security – Exploring the Advantages of Linux VPS Hosting
---

Enhanced Performance
Embrace the power of Linux VPS Hosting and Linux VPS Servers, designed to deliver exceptional performance. Unlike shared hosting, where resources are shared among multiple users, VPS hosting allocates dedicated resources to your website. This ensures lightning-fast loading speeds, seamless user experiences, and reduced downtime.

Seamless Management
Managing your virtual server has never been easier. With user-friendly control panels and management tools, Linux VPS Hosting and Linux VPS Servers streamline administrative tasks. Effortlessly monitor performance, track resource usage, and execute essential actions with simplicity and efficiency.

Easily Scalable
As your website grows and attracts more traffic, scalability becomes crucial. Linux VPS Hosting and Linux VPS Servers offer seamless scalability, allowing you to effortlessly upgrade or downgrade your resources to match your evolving needs. No need to worry about outgrowing your hosting environment; simply adjust it as your business demands change.

Complete Control and Flexibility
With Linux VPS Hosting and Linux VPS Servers, you have full root access, granting you complete control over your virtual environment. Customize and configure your server settings, software, and applications according to your unique requirements. This level of flexibility allows you to create a hosting environment tailored to your specific needs.

Security
Protecting your data and ensuring a secure online presence are top priorities. Linux VPS Hosting and Linux VPS Servers provide robust security measures to safeguard your website from potential threats. Benefit from firewall protection, secure sockets layer (SSL) certificates, and regular backups to keep your data safe.

Expert Support
Even with complete control over your hosting environment, having expert support is invaluable. HostingRaja's dedicated support team is available 24/7 to assist you with any technical queries or issues. Count on our knowledgeable experts to provide prompt and reliable support whenever you need it.: Our dedicated support team is available 24/7 to assist you with any technical inquiries or issues.

LINUX VPS HOSTING FEATURES
Reliable Uptime
Fast Loading Speeds
Affordable Pricing
Scalability Options
Robust Security Measures
Highly Configurable Server Options
Easy-to-Use Control Panel
Wide Range of Hosting Solutions
Dedicated Customer Support
CentOS is a renowned operating system renowned for its lightweight nature, exceptional speed, and unwavering reliability. With its emphasis on performance and stability while prioritizing robust security measures, CentOS stands as one of the top choices for enterprise-level operating systems. VPS hosting with CentOS, built on the foundation of Red Hat Enterprise Linux, offers a solid and dependable solution for your hosting needs. It combines the agility of a virtual private server with the rock-solid performance of CentOS, empowering your business with a secure and efficient hosting environment.
Ubuntu, a highly acclaimed web server operating system, offers a remarkable combination of user-friendliness and versatility. As an open-source software, Ubuntu presents an ideal choice for users seeking a flexible and reliable environment for their online projects. This operating system is known for its robust security measures and the ability to customize the software stack according to individual needs. With Ubuntu as the foundation of your VPS server hosting, you can experience a seamless and intuitive hosting experience while enjoying the freedom to tailor your server environment to suit your specific requirements.
Fedora Operating System:
Fedora, a leading choice for VPS server hosting, offers a compelling starting point with its simplicity, user-friendliness, and polished interface. Not only does Fedora provide a safe and efficient environment, but it also offers extensive configurability options to meet your unique hosting requirements. Built on the solid foundation of Red Hat and backed by its support, Fedora ensures a robust and well-maintained system for your VPS server. Experience the power of Fedora's innovative features, active community, and continuous advancements, empowering your hosting endeavors with a refined and cutting-edge operating system.
Debian, a renowned web server operating system, offers unparalleled stability and speed as its primary advantages. With support for numerous architectures, Debian delivers exceptional performance, efficient bug tracking mechanisms, and remarkable scalability. Upgrades are seamless, security measures are robust, and the packaging method is meticulously designed. Choosing Debian as your operating system for VPS server hosting guarantees a rock-solid foundation that ensures optimal performance, reliability, and security for your online projects. Experience the perfect blend of stability and velocity with Debian as your preferred web server OS.
SUSE, an exceptional open-source operating system, offers an unparalleled experience right from the start. As a major contributor to multiple influential projects, SUSE keeps you ahead of the curve with its rolling releases. This stable and results-oriented operating system is backed by a robust and extensive community, ensuring reliable support and continuous development. When it comes to VPS server hosting, SUSE empowers you with a platform that fosters innovation, stability, and seamless performance. Experience the benefits of SUSE as you embark on your VPS hosting journey, supported by a thriving community of like-minded individuals and organizations.
Strengthening VPS Linux Security – Essential Measures and Advanced Tools

CSF Firewall
ConfigServer Security & Firewall is a widely-used software firewall that provides security measures for Linux servers. It helps in managing and controlling incoming and outgoing network traffic to enhance server security.

imunify360 setup(Based on client Requirement)
Imunify360 represents a holistic security package tailored to web server protection. It provides proactive defense against various types of attacks, including malware, viruses, and other web-based threats. Setting up Imunify360 involves configuring its features to ensure server protection.
php execution log
OVIPanel offers a unique feature that permits you to enable PHP execution logging. If you've uploaded content, images, or videos in CSS with an .img extension that ends in .php, you have the option to enable it in the PHP execution log. This feature is designed to enhance security and protect against potential hacking attempts.

Secure Upload
Secure file upload refers to implementing measures to prevent malicious files from being uploaded to a website. This involves validating file types, scanning uploads for malware, and setting appropriate permissions to ensure that uploaded files cannot be executed as scripts.

WAF (Apache mod security)
Web Application Firewall (WAF) is a security solution that sits between a web server and the internet, filtering and monitoring incoming web traffic to block potential threats and attacks. Apache mod_security is a popular module used to implement WAF rules for the Apache web server.

Security Log
A security log is a comprehensive record of security-related events, offering insights into system activities. The Security Log module highlights directories and files with 777 permissions, aiding in identifying potential vulnerabilities. This feature enhances overall server security and proactive risk mitigation.

maldet Scanner(panel)
Computer viruses, a type of malware, replicate by altering programs and inserting their code. They infect files, including the hard drive's boot sector, potentially disrupting VPS and cloud servers. Regular virus scans are vital, and OVIPanel provides a scanner for mail and home directories with two scan options.

unblock Spam mail
This feature, known as the 'Outbound Spam Prevention,' manages and regulates the server's outbound spam emails. In cases where an individual email account sends more than 40 emails within a single hour, the system will temporarily block that account. Administrators retain the ability to review and unblock these messages, ensuring that crucial communications are not inadvertently disrupted.

phpmail log
PHP mail logs track the sending of emails from PHP scripts on a server. These logs can be helpful for diagnosing email-related issues, tracking the delivery status of sent emails, and identifying potential problems with the mail.
Boost Your Website Uptime with Reliable Linux VPS Servers
In today's digital landscape, maximizing website uptime is crucial for businesses and individuals alike. Downtime can lead to lost opportunities, reduced revenue, and a negative impact on user experience. To ensure uninterrupted online presence and optimal performance, businesses are turning to reliable hosting solutions like Linux VPS servers. HostingRaja's Linux VPS servers offer a powerful and secure hosting environment that guarantees high website uptime.
With HostingRaja's Linux VPS servers, you benefit from dedicated resources that are not shared with other users, providing a significant advantage over traditional shared hosting. This allocation of exclusive resources ensures that your website operates smoothly, even during peak traffic periods. Additionally, HostingRaja's expert team ensures proactive server monitoring, swift issue resolution, and regular backups, further enhancing the stability and reliability of your website.
Moreover, Linux VPS servers grant you the freedom to customize your hosting environment according to your specific needs. With full root access, you can install and configure software, applications, and security measures tailored to your website's requirements. This flexibility and control empower you to optimize performance and maintain a robust online presence. Experience the peace of mind that comes with HostingRaja's reliable Linux VPS servers and elevate your website's uptime, user experience, and overall success.
HostingRaja Linux VPS Hosting FAQ's
Reviews from Linux VPS Hosting Customers
Devendra Naik

21 Jan 2023

HostingRaja's Linux VPS Hosting is simply fantastic. The affordable pricing and top-notch performance are unbeatable. Their expert support team is always available to assist with any technical queries.

Bheeshma Gowda

30 Mar 2023

I can't thank HostingRaja enough for their highly secure and managed Linux VPS servers. After a devastating website hack, their servers saved me from significant losses. I now have peace of mind knowing my website is protected.

Nirmal Kaur

21 Apr 2023

I am pleased with HostingRaja's Premium Ecommerce VPS plan. The speed and performance are excellent, but I would appreciate more bandwidth for my growing online store.

Darshan Thimmiah

15 Jun 2023

We have purchased VPS Server from Hosting Raja and when ever the resources goes high, they would send us the detailed report on the high usage of data being consumed and how it has to be managed and they would also give us extra RAM for a better price. Pricing is one of the best, support team works 24/7 can be reached anytime,and they have tried their best to give solution as soon as possible.