Your Business's Success with HostingRaja's Economical AngularJS Hosting.
AngularJS stands as a premier framework for crafting robust single page applications, but an inherent challenge lies in limited accessibility for non-browser entities like search engines, RSS readers, and social network indexers. These platforms often struggle to interpret content within such applications, hindering effective indexing and sharing of information across various channels.
Enter AngularJS-Server – a transformative solution. Applications that interact solely with AngularJS's API (bypassing direct browser interaction) can render their pages on the server. This generates comprehensive HTML pages that are readily understood by search engines, boosting discoverability. Moreover, it enables advanced scenarios like code sharing between client and server, allowing server-side execution for generating content such as RSS feeds.
Empower your AngularJS applications with enhanced accessibility and searchability. Harness the capabilities of Angular hosting server to optimize discoverability and facilitate seamless content sharing across platforms.
For Sales Enquiry
: 821 778 4838, 636 030 8610, 6360309093
AngularJS Dedicated Plans
CPU
RAM
DISK
Bandwidth
One-click AngularJS installation
UI for PM2 Log & manage Apps
UI for Domain mapping & manage Apps
Terminal access/FREE SSL
| | | |
| --- | --- | --- |
| 3 Core | 4 Core | 4 Core |
| 3 GB | 4 GB | 5 GB |
| 90 GB | 120 GB | 200 GB |
| 3000 GB | 4000 GB | 10000 GB |
| Yes | Yes | Yes |
| Yes | Yes | Yes |
| Yes | Yes | Yes |
| Yes | Yes | Yes |
DISK
CPU
RAM
Bandwidth
IP Address
One-click AngularJS installation
UI for PM2 Log & manage Apps
UI for Domain mapping & manage Apps
Terminal access/FREE SSL
| | | |
| --- | --- | --- |
| 750 GB | 1 TB | 1 TB |
| 4 Core (9.60 GHz) | 6 Core (14.4 GHz) | 8 Core (19.20 GHz) |
| 16 GB | 24 GB | 32 GB |
| 10 TB | 10 TB | 15 TB |
| 1 | 1 | 1 |
| Yes | Yes | Yes |
| Yes | Yes | Yes |
| Yes | Yes | Yes |
| Yes | Yes | Yes |
Fully Managed AngularJS Dedicated Hosting Server
Why hostingraja for your AngularJs server?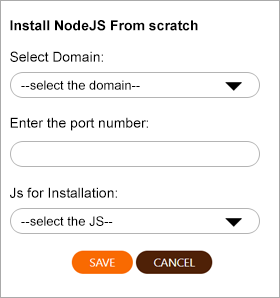 One Click AngularJS Installation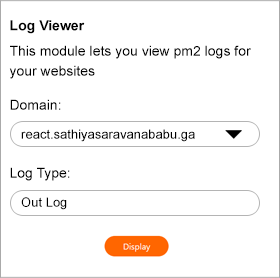 Easy to use Console Access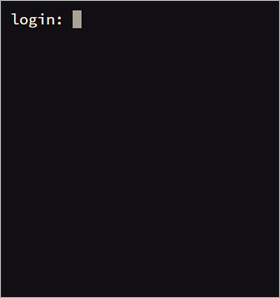 AngularJS Log Manager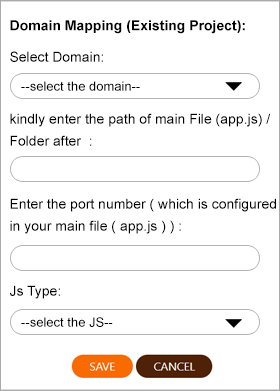 Domain Mapping using UI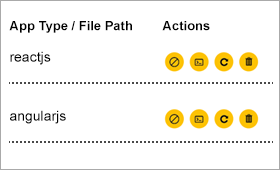 Manage AngularJS Application
What Is AngularJS?
AngularJS, backed by Google, stands as a pivotal framework for crafting dynamic web applications. It introduces an HTML-driven approach, elevating code precision and structure for developers. Designed to epitomize what HTML could be for application building, AngularJS effectively tackles common challenges associated with single-page application development and testing.
AngularJS's journey commences with HTML parsing, identifying custom tags that serve as directives. These directives instruct AngularJS to establish a binding between input-output segments and JavaScript variables, culminating in a model. This model can be manually integrated or fetched from JSON resources. The remarkable two-way data binding facilitates seamless synchronization between the UI and the model, enabling real-time updates and interactivity. This synergy simplifies development, enriching web applications' dynamic facets.
In essence, AngularJS reshapes web application development, offering an organized and efficient framework that streamlines the creation of responsive and dynamic user interfaces. Anchored by two-way data binding, directives, and robust tooling, developers can construct maintainable applications with ease. AngularJS's extensive adoption and vibrant community support solidify its status as a preferred choice for modern, feature-rich web application creation. By harnessing AngularJS, businesses deliver captivating and high-performance web experiences, resonating profoundly with users.
Experience the transformative power of Angular hosting server in crafting web applications that captivate and excel. Elevate your web development journey with AngularJS services, driving engagement and redefining user experiences.
Features of AngularJs Hosting

Performance Enhancement
Angular hosting ensures peak performance through caching, CDN integration, server-side rendering (SSR), and high availability. These features bolster loading speed, responsiveness, and user experience. Optimized database access and code techniques further elevate AngularJS hosting's.

Uncompromising Security
Trust our state-of-the-art security features to safeguard your critical data. Our measures ensure data confidentiality, integrity, and availability, shielding against unauthorized access and threats. With this robust infrastructure, focus on core business activities with confidence.
Tailored Custom Solutions
Our hosting solutions are crafted to fit your enterprise's unique needs. Customizable options ensure optimal performance, scalability, and resources alignment, catering precisely to your business demands.

Scalable Infrastructure
Our adaptable infrastructure empowers businesses with cutting-edge technology to foster growth. Scale resources up or down seamlessly to meet evolving needs. Leverage our innovation to surpass competitors, fostering innovation and efficiency.

Robust Support
Our expert technical team offers swift troubleshooting, minimizing downtime and risks. Ensure high website availability for uninterrupted operations, channeling your focus towards business opportunities. Count on our dedicated team to resolve technical issues swiftly, nurturing reliability and growth.

High Network Uptime
Enjoy exceptional hosting with a 99.9% SLA-backed uptime guarantee and top-tier security. Prioritizing your website's availability and reliability, we minimize downtime and maintain uninterrupted operations. World-class security protocols protect your assets against unauthorized access.
HostingRaja AngularJS FAQ's
Reviews from Angular JS Server Customers
Nathaneil Gerald

11 Mar 2023

I love using HostingRaja's AngularJS hosting for my web applications. The server-side rendering ensures better interactivity and user experiences. The code testability and component reusability features make development a breeze.

Hadhil Valloran

09 May 2023

HostingRaja's AngularJS hosting is perfect for creating feature-rich single page applications. With AngularJS-Server, the application's content is easily accessible to search engines, ensuring better discoverability. Their shared, VPS, and dedicated plans cater to all business needs.HostingRaja's Laravel hosting has proven to be a secure and efficient solution for my websites. The Laravel framework's built-in security features, such as the Bcrypt hashing technique, keep my data protected from potential threats. Additionally, the option to use multiple PHP versions and the support for various databases provide me with the flexibility I need for my projects. With their reliable uptime and 24/7 support, HostingRaja is my go-to choice for Laravel hosting.

Rakesh Sahani

31 Jul 2023

Since I started using AngularJS hosting from HostingRaja, my website has become much faster and more efficient. They use server-side rendering and optimize the database, which makes the user experience on my site smooth and speedy

Javith

28 Feb 2021

Timely help is the best help!! I'm so grateful to HostingRaja. I got stuck with my angular js hosting which required to set up immediately but I was unable to do that and then came the support team. They assisted me properly and then I was able to set up my AngulaJs Server. All navigation is super simple and even though I have always counted myself as PC ignorant with all the help and HostingRaja guidance I'm doing this. Indeed, even Beginner can go with AngularJs Server Hosting from HostingRaja. I have more thoughts for sites and I will utilize HostingRaja once more. Big thumbs up.

Varun Kumar

21 Mar 2021

I have been using HostingRaja for my business site for the last two years. Initially, I was facing some issues in migration and the HostingRaja team gave me free migration support and they are the one who made it easy to get started online, and I appreciate their helpful emails. I would suggest them to other small business owners looking for reliable server hosting.