@ Register .in domain for 99 Rupees
Secure your online presence with a .in domain registration at an unbeatable price of just at 99 Rupees, ensuring a strong and localized identity for your business. Don't miss out on this incredible offer to establish your online presence with a trusted and affordable domain extension.
What is the significance of the .in domain?
A .in domain refers to the Internet country code top-level domain (TLD) specifically assigned to India. It is operated by the Indian Registry under the authority of the National Internet Exchange of India (NIXI), appointed by the government of India. The .in domain name system was established in 1989, and it serves as a unique identifier for websites associated with Indian entities.
In simple terms, a domain name is the website address that users type into their browsers to access a particular website. For example, when you enter "www.hostingraja.in" in the address field of your browser, "hostingraja.in" represents the domain name. Behind the scenes, the domain name is translated into an IP address, which is a numerical value associated with a specific server on the internet.
Choosing the right domain name for your website is crucial as it helps establish your online brand identity and makes it easier for users to remember and access your website. Opting for a .in domain can be particularly beneficial for businesses operating in India, as it signifies a connection to the country and can help build trust among Indian users.
Get Your .in Domain Name at 99 Rupees
Discover the Power of a Domain: Buy Cheap Domain for 99 Rupees
Boost Your Online Presence with a Keyword-Focused, Affordable Domain!
If you explore HostingRaja's domain offerings, you'll come across different types of URLs, including "premium" and "generic" names, which are often the most sought-after. But what makes a generic name premium? In the world of domains, the broader and more keyword-focused a URL is, the greater its chances of ranking higher on search engines, especially when SEO is involved.

When it comes to purchasing a domain, regardless of the type, the process remains fairly similar. However, the most crucial aspect of acquiring a domain is not just completing paperwork with a registrar; it's selecting a domain that will maximize your visibility on search engines.

In addition to the unbeatable price of a domain for 99 Rupees from HostingRaja, you'll also enjoy a plethora of features and benefits that will elevate your online presence. HostingRaja offers user-friendly domain management tools, allowing you to effortlessly update DNS settings, manage subdomains, and configure email accounts associated with your domain. With their reliable and secure infrastructure, you can rest assured that your domain will be accessible to visitors around the clock, ensuring uninterrupted online visibility for your business. Don't miss out on this incredible opportunity to secure a high-quality domain at an affordable price with HostingRaja.
Take your online presence to new heights with a domain for 99 Rupees and top-notch hosting services from HostingRaja.

Furthermore, HostingRaja goes beyond just providing domains. They offer comprehensive web hosting solutions tailored to meet your specific needs. Whether you're a small business owner, an e-commerce entrepreneur, or a blogger, HostingRaja has hosting packages designed to support your online endeavors. Benefit from lightning-fast website loading speeds, reliable server performance, and robust security measures to safeguard your valuable data. With HostingRaja, you'll experience exceptional customer support, ensuring that any technical issues or queries are promptly addressed.

If your goal is to increase visibility and establish a thriving online business, it's essential for your domain name to reflect your product, brand, and include keywords that are commonly searched for. And now, with HostingRaja's unbeatable offer, you can achieve all this and more with a 99 Rupees domain!
What Sets HostingRaja Apart from the Competition?
Exceptional Client Care:
At HostingRaja, we prioritize the security and protection of your website above all else. Our unwavering commitment extends to safeguarding the rights of individuals and buyers in the online sphere. Our primary goal is to uphold an internet that is open, free, and secure for everyone.
Empower Your Online Business:
Elevate your business with cutting-edge products and services that are industry-leading. We offer these solutions at competitive prices that won't strain your budget. Our commitment is to deliver tangible value and enhance your internet experience. If a product or service doesn't contribute to your online success, you won't find it in our offerings. We only provide solutions that truly make a difference.
Ensure optimal website performance:
HostingRaja ensures optimal website performance through state-of-the-art infrastructure and advanced technologies. We utilize high-speed servers, NVMe (Non-Volatile Memory Express) technology, and robust caching mechanisms to deliver lightning-fast loading speeds. Additionally, our expert technical team continuously monitors and optimizes server resources to ensure maximum uptime and seamless performance for your website.
Ensure Reliable and High-performance Website Hosting:
HostingRaja ensures reliable and high-performance website hosting through various means. They utilize state-of-the-art servers with powerful hardware and optimized software configurations. Additionally, HostingRaja employs load balancing techniques to distribute incoming traffic efficiently and prevent server overload. They also employ content delivery networks (CDNs) to accelerate website loading times by caching content closer to the users. With HostingRaja's reliable infrastructure and performance optimization strategies, your website experiences minimal downtime and delivers a seamless browsing experience to your visitors.
Unparalleled Customer Service:
When you choose HostingRaja, you become part of a supportive community with access to our renowned Support Team. Our team is known for their friendliness, expertise, and commitment to assisting clients. Real people are standing by 24/7 to address any concerns or issues you may have. We are here to ensure that your hosting experience is smooth, reliable, and backed by exceptional customer service.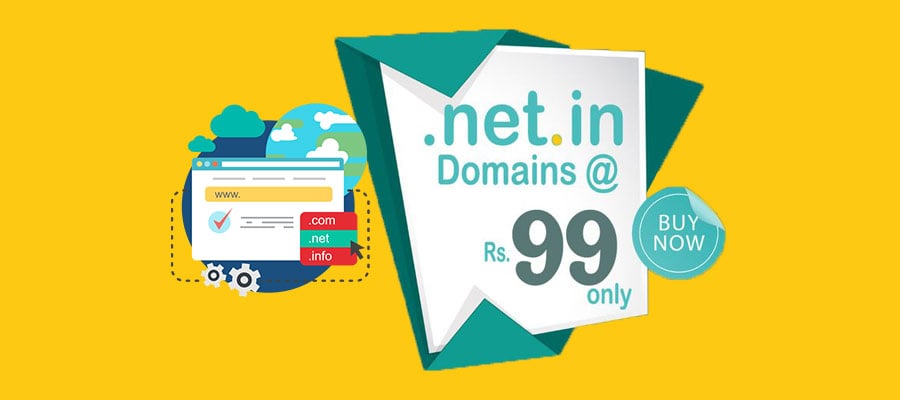 Difference between .in and .com Domain?
.com indicates "commercial", it is the common and recognized domain extension worldwide. Whereas .in indicates "India", it is well suitable for businesses running in India.
The .com domain extension is a widely recognized gTLDs (Generic top-level domains). that is commonly associated with commercial purposes. However, the pricing for .com domains may vary and is not fixed at 99 Rupees.
Conversely, the .in domain extension is a distinct symbol of India and is available for acquisition at just 99 Rupees. .in belongs to the category of ccTLDs (Country Code Top-Level Domains) and serves as an ideal choice for businesses conducting operations within India.
It's worth emphasizing that the 99 Rupee pricing is exclusive to the .in domain and does not extend to the .com domain. Typically, .com domain pricing differs and may fluctuate based on the registrar or service provider you opt for.
The registration of .com domains is open to anyone globally, without any specific restrictions on eligibility. It allows individuals and organizations from any country to register a .com domain. In contrast, the .in domain has certain registration restrictions. To register a .in domain, the registrant must either be an Indian citizen or have a registered business or office in India.
Hostigraja offers a wide range of domain options, including popular extensions like .com, .in, .co.in, and more, providing users with a diverse selection for their website needs.
---
Does Hostigraja provide Linux Web Hosting in addition to WINDOWS HOSTING?
Absolutely! Hostigraja offers Linux Web Hosting alongside Windows hosting options. When making your purchase decision, you have the choice to select between Windows and Linux web hosting plans. Our Linux hosting plans are competitively priced and come with a wide range of impressive features.
In addition to offering Linux and Windows web hosting options, Hostigraja ensures top-notch performance and reliability for both platforms. Our Linux hosting plans are built on robust infrastructure, utilizing powerful servers and advanced technologies to deliver optimal speed, stability, and security. With a user-friendly control panel, you can easily manage your Linux hosting environment, install popular applications, and customize your website according to your needs. Whether you're a small business owner, an individual blogger, or a large enterprise, Hostigraja's Linux web hosting solutions provide a scalable and flexible platform to support your online presence with efficiency and ease.
---
For how many years can I buy .com domains?:
At HostingRaja, you have the flexibility to choose the registration period for your .com domain, with options ranging from 1 to 9 years. Whether you prefer a shorter-term commitment or a longer-term investment, we provide the necessary flexibility to suit your requirements. It's important to consider that opting for a longer registration period can offer potential cost savings, as you secure the domain for an extended duration and potentially avoid annual renewal fees.
When you register your .com domain with HostingRaja, you gain the peace of mind that comes with a reliable and trusted domain registrar. Our platform ensures a seamless registration process, allowing you to easily select the desired registration period during the purchase. Once your .com domain is successfully registered, you can focus on building your online presence, knowing that your domain is secured for the duration you have chosen. With HostingRaja, you have the freedom to tailor your .com domain registration to align with your specific needs and preferences.
---
Key Facts about .in Domains:
The .IN domain provides India with its own unique online identity in one of the fastest-growing internet markets.
Anybody can enroll from any country as well. There are no limitations on IN domain use.
The INRegistry, established by NIXI (National Internet Exchange of India), is a nonprofit organization responsible for improving internet services in the country.
INRegistry does not directly handle domain registrations but authorizes registrars based on clear criteria.
As a self-governing body, INRegistry ensures the operational stability, reliability, and security of the .IN ccTLD (Country Code Top-Level Domain).
Before the introduction of liberalized registration policies for the .in domain, there were only 7000 names had been registered between 1992 and 2004. But according to the report of March 2010, the number had increased to over 610,000 domain name, with a drastic 60% of registrations coming from India and the rest from overseas.
---
Know more about .IN Domains (domain at 99 Rupees):
.IN is the top-level domain for India on the Internet, serving as a unique symbol of India's presence globally. It can be utilized for various applications, including email and websites. Registering .IN names has been simplified, enabling easy enrollment and usage. Currently, .IN domains are available through multiple registration centers, offering a convenient, fast, and reliable experience.
Notably, .IN domains are accessible in 15 Indian languages, and since 2004, over 2.01 million .IN domains have been registered. There are 120 accredited.IN registrars available for selection. The .IN Registry supports both IPv4 and IPv6 connectivity, facilitating DNS resolution for .IN domains. Hosting websites on dual-stack (IPv4 and IPv6) is recommended by IN Registry for registrars and registrants. As of March 2016, the number of .IN domain names has doubled to exceed 2 million.

Note: INRegistry is the official .IN registry. This was appointed by the government of India and is operated under the authority of NIXI, the National Internet exchange of India.
.in (available to anyone; used by companies, individuals, and organizations in India)
co.in (originally for banks, registered companies, and trademarks)
.firm.in (originally for shops, partnerships, liaison offices, sole proprietorships)
.net.in (originally for Internet service providers)
.org.in (originally for non-profit organizations)
.gen.in (originally for general/miscellaneous use)
.ind.in (originally for individuals)
---
What makes it possible for HostingRaja to offer .in domains at 99 Rupees? Why should one consider buying a .in domain for 99 Rupees from HostingRaja?
As a leading domain registration service provider in India, HostingRaja is able to offer .in domains at an affordable price of 99 Rupees. Our extensive experience and efficient processes allow us to provide competitive pricing for domain registrations. When you purchase a .in domain from HostingRaja, you not only benefit from the low initial price but also enjoy cost-effective renewal prices compared to other providers.
Furthermore, buying a .in domain from HostingRaja offers added advantages. Your domain will be securely registered, and in the future, you can easily transfer it to any other provider if needed. Additionally, by purchasing our dedicated server or VPS server plans, you can even receive a free domain name, further enhancing the value of your purchase.
By taking advantage of HostingRaja's affordable pricing, secure registration, and potential for future transfers, obtaining a .in domain for 99 Rupees becomes a cost-effective and advantageous choice.
---
Reason to buy a .in domain for 99 Rupees from HostingRaja:
1) Enhance your local search visibility:
Opting for a .in domain name provides a distinct advantage in local search queries. With a .in domain, your website is more likely to appear prominently in local search results, giving you a competitive edge over competitors using .com domain extensions.
2) How can establishing an India business be facilitated?
Utilize a .in domain name to strengthen your local business presence and enhance brand building opportunities.
The adoption of a .in domain name can provide a valuable starting point for establishing an India business, enabling effective local engagement and streamlined brand development.
3) Simplify visitor preferences:
Leverage the .in domain extension to tailor your focus towards Indian audiences and elevate visitor preferences.
The country-specific code linked with the .in extension naturally garners heightened interest and engagement from Indian visitors.
Embracing the .in domain extension empowers HostingRaja to efficiently draw a larger Indian user base to their website.
HostingRaja .in Domain Registration FAQ's