For Sales Enquiry
: 821 778 4838, 636 030 8610, 6360309093
Choose your Python hosting type
CPU
RAM
DISK
Bandwidth
Python Multiple Version
PIP Modules installation
Multi-databases support/FREE SSL
Python Domain mapping
| | | |
| --- | --- | --- |
| 3 Core | 4 Core | 4 Core |
| 3 GB | 4 GB | 5 GB |
| 90 GB | 120 GB | 200 GB |
| 3000 GB | 4000 GB | 10000 GB |
| Yes | Yes | Yes |
| Yes | Yes | Yes |
| Yes | Yes | Yes |
| Yes | Yes | Yes |
2GB RAM For Python
CPU Power

|

|

|

|

|

Two Domains
Subdomain Supported
Python Multiple Version
FREE backup & Restore
One-Click Setup
cPanel included
PIP Modules installation
Virtual Environment Variable Setup
2GB RAM For Python
CPU Power

|

|

|

|

|

|

|

|

Three Domains
Subdomain Supported
Python Multiple Version
FREE backup & Restore
One-Click Setup
cPanel included
PIP Modules installation
Virtual Environment Variable Setup
DISK
CPU
RAM
Bandwidth
IP Address
Python Multiple Version
PIP Modules installation/Python Domain mapping
Multi-databases support/FREE SSL
High Priority Support
| | | |
| --- | --- | --- |
| 750 GB | 1 TB | 1 TB |
| 4 Core (9.60 GHz) | 6 Core (14.4 GHz) | 8 Core (19.20 GHz) |
| 16 GB | 24 GB | 32 GB |
| 10 TB | 10 TB | 15 TB |
| 1 | 1 | 1 |
| Yes | Yes | Yes |
| Yes | Yes | Yes |
| Yes | Yes | Yes |
| Yes | Yes | Yes |
NOTE: Latest version of python flask/django and also the other recent versions are supported.
Advantages of Python server from HostingRaja
Get ready to use Python within a minute
Setup any version of Python with a single click
Deploy multiple Python applications with different ports
Get a user-friendly UI interface
Our Python permits automatic domain mapping for your applications
Without using command lines get a fully manageable GUI
Python provides support to DBMS like MongoDB
Python application setup and support
Start and Stop your Python application with complete GUI
Supported 100+ popular Python modules
Why hostingraja for your Python server?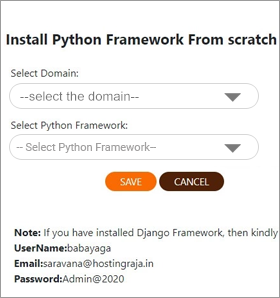 We provide One-click installers for Django and Flask (version 1.1.1) python frameworks.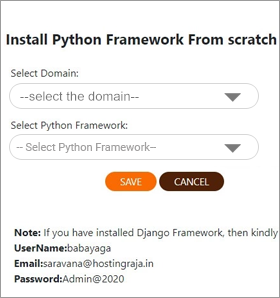 The already Running applications can also be set up with the help of the python One-click module in the desired path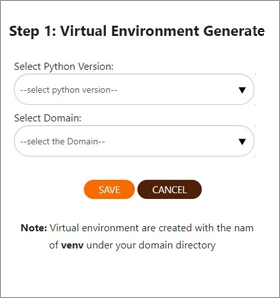 A virtual environment for each application can be created with the help of the Python modules provided.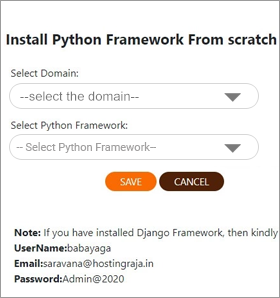 Mysql DB on One-click install with Flask and Django.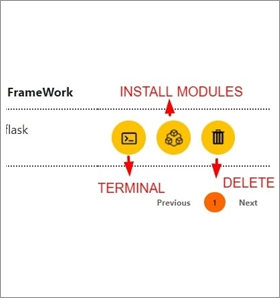 Using GUI you can delete the application and enter the virtual environment for your application.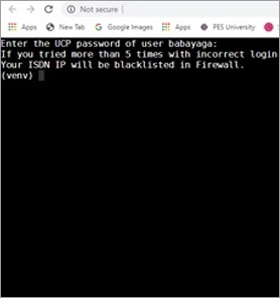 We provide one click terminal access where you can enter the virtual environment of your application.
HostingRaja Python Server:
HostingRaja is one of India's top service providers for Python Server. Our python server can support these servers VPS, Cloud, and Dedicated Server. HostingRaja python server comes with a pre-installed web server so that the clients will be able to run the web app locally as it is being developed. Extra, our Python Server comes with several modules and makes the coding even faster.
Our Python server offers both user-friendliness and dependability. Our Python server comes with many modules which makes the coding faster. We provide Python Server that includes a well built-in web server so that you will be able to run the web app locally as you are developing it. To get India's best Python Server packages you can contact our sales team through live chat, phone number.
Features in Python Server plans:
Cross-Platform –

Python Server has a cleaner syntax and easy to learn and write code. It can be run in different operating systems.
Easier App Installation –

You can create your app very easily.
Installation of Modules –

Installation of modules is very easy in hosting plans. You can select the modules according to your requirement. If you need any assistance in the installation of modules our support stall is always available at your service
Uptime Guarantee –

When you choose our Python server services you will get a 99.99% uptime guarantee.

Supports WSGI –

Python server supports the WSGI which can be used with the WSGI running the python application as well as the framework.

Replacement for Paster –

Python server can also be used as a drop in replacement for Paster, web2spy as well as Development server etc.

Automatic Management –

Python server offers the choice of various worker types, the configuration and the automatic worker process management.
Options available for Python Server
In HostingRaja we have 3 options available for Python Server. You can choose any VPS, Dedicated, Cloud for Python server services. Choose our Python Server service for fast and scalable web hosting solutions. Experience reliable performance and security with HostingRaja.
Below are some applications where Python can be used:
1) Desktop GUI Applications in Python:
In Python, the GUI programming isn't extremely complex, be that as it may, it in like manner needs the customer to start setting up a few choices. As python is a general-purpose programming language with models available across all typical operating systems. Python should be really skeptical regarding the possibilities it presents for arranging graphical UIs. Python programming language is been used as the justification behind quite a while and instruments for encouraging a usable, versatile, and secure work area application with Graphical User Interface (GUI). Such applications can be used to dispatch the individual code, usefulness, and seeing of your endeavors without any problem.
2) Web and Internet Development in Python:
Python is generally used for developing the huge scale web applications which are not possible to build and develop through other languages such as .NET and PHP. Python is very helpful in supporting various ultra features which are very easily performed with different frameworks such as web2py, Flask, Django etc. Python is also used in web applications, scientific computing, games, network servers, application scripting, media tools, AI, chatbots and much more.
3) Software Development Application in Python:
Python is very much helpful while doing Rapid Application Development. Python supports several in-built functionalities for implementing mathematical and scientific computations. Numerous third-party libraries are also available. If a low-level performance is not a matter for the particular application that you are designing, then it typically needs a selected language like C/C++, it will be better using the Python as it significantly reduces the time to develop.
4) Network Programming in Python:
Python offers two levels of access to the network services. In the low level, can access the basic socket which supports the underlying operating system and also permits in implementing the clients and servers for both connectionless protocols and connection-oriented. Python also has libraries which provide higher-level access to the specific application-level network protocols like FTP, HTTP, etc. Python offers support for lower-level network programming like twisted Python, the framework for asynchronous network programming.
Why is Python recommended for beginners?
Python's syntax holds plenty of English phrases and is somewhat simple to peruse, regardless of whether you know how to code. It is incorporated on Linux and Mac systems, so there's little difficulty engaged with the beginning. Numerous Python programmers begin by composing small scripts for their own PCs. Python likewise incorporates an implicit web server, so you can run a web application locally as you are creating it.
What are the advantages that I get from using HostingRaja Python Server for my website? Can you describe to me the process of using Python to develop a website?
In HostingRaja we offer Python Server along with VPS, Dedicated and Cloud server. Our Python Server is user-friendly, flexible and reliable. We also offer numerous modules which will help in making the coding faster. HostingRaja python server comes with the built-in web server and you will be able to run the web application locally while developing it. For more details about Python server contact our team members via Live Chat.
Why Choose HostingRaja Python?
HostingRaja python server comes pre-loaded with all developer features you want to install. Also, you get free SSH to explore to see what's happening. When you opt HostingRaja python hosting you have option to choose version you want. The most most important thing is our servers are reliable and give 99.9% Uptime. This means that you can focus on your business without facing any downtime.
Our sales experts avaliable on line to help your quires on pyhton hosting. All you have to do is contact them via live chat, phone or email.
How Does Python Hosting Work?
Python hosting supports web apps built using Python language.
Server configured to execute Python scripts.
WSGI (Web Server Gateway Interface) often used for communication between app and server.
Common frameworks: Django, Flask, Pyramid.
Types: Shared, VPS, Dedicated, Cloud; some specialised Python hosts..
PaaS like Heroku also offer Python support.
Libraries and dependencies usually installed via package managers like pip.
Version management (eg: pyenv) to handle multiple Python versions.
Cron jobs for scheduled tasks.
Logs and monitoring for performance and debugging.
Usually more resource-intensive than PHP hosting, consider resource allocation.
HostingRaja Python Hosting FAQ's