Power up Your Website with HostingRaja's Captivating .IO Domains
When it comes to establishing your online presence, having a powerful domain is essential. HostingRaja understands the significance of a solid foundation for your website and offers a wide range of domain services tailored to meet your specific needs. With HostingRaja, you can unlock the full potential of your website, ensuring a seamless online experience for your visitors.
With HostingRaja's empowering .IO domains, revolutionize your website and leave a lasting impression in the online world. Embrace the fusion of advanced technology and unmatched creativity, elevating your website to new heights of success. Witness the transformation and unleash boundless opportunities for growth, setting yourself apart from the competition and capturing the attention of your target audience. Explore the limitless potential and embark on a remarkable digital journey with HostingRaja's extraordinary .IO domains.
HostingRaja utilizes advanced infrastructure and cutting-edge technologies to ensure the optimal performance of your domain. Their robust servers are equipped with state-of-the-art hardware, ensuring high-speed connectivity and minimal downtime. With HostingRaja's advanced DNS management system, you have complete control over your domain's settings, allowing you to configure DNS records, set up email accounts, and manage domain redirects effortlessly. Additionally, HostingRaja provides reliable security measures, including SSL certificates and firewall protection, to safeguard your domain from potential threats and unauthorized access. Their expert technical support team is available 24/7 to assist you with any technical queries or concerns, ensuring that your domain operates smoothly and efficiently at all times. With HostingRaja's technical expertise and reliable infrastructure, you can trust that your domain is in capable hands, allowing you to focus on creating compelling content and delivering an exceptional online experience to your visitors.
What is a .io domain?
The .io domain, originally representing the Indian Ocean, is assigned to the British Indian Ocean Territory (BIOT), situated between Tanzania and Indonesia. As an overseas territory of the United Kingdom, it comprises the Chagos Archipelago, including the Diego Garcia atoll housing a US military base. While it may not be a tourist destination, the .io domain has received recognition past its geographical association.
Introduced in 1997, the .io domain is administered by Internet Computer Bureau (ICB), a UK-based domain registrar now owned by American company Afilias, a subsidiary of Ethos Capital. Despite its origins, the .io domain is not limited to residents or businesses within the BIOT. It is available for use by individuals and companies worldwide, making it a versatile choice for online presence regardless of geographic location.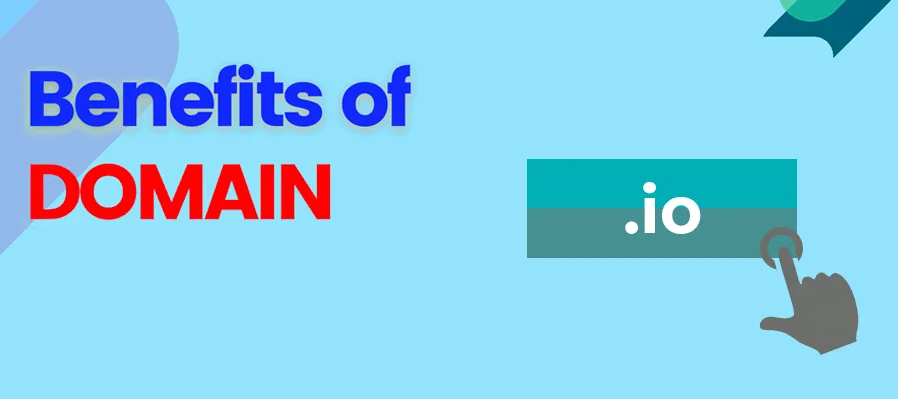 BENEFITS OF .IO DOMAIN:
1.Tech-Focused Image: The .io domain extension has a strong association with the tech industry, giving businesses a tech-focused and innovative image.
2.Global Recognition: .io domains are recognized and understood by a global audience, allowing businesses to reach a wider customer base.
3.Short and Memorable: Many .io domain names are short and concise, making them easy to remember and share.
4. Availability of Desirable Names: Due to the popularity of .io domains, there is still a good availability of desirable domain names, providing businesses with unique branding opportunities.
5. Developer Community Appeal: The .io extension resonates well with the developer community, making it attractive for businesses targeting developers and tech-savvy professionals.
6.SEO Advantage: While the domain extension itself doesn't directly impact SEO, the association of .io with the tech industry may help in attracting relevant organic traffic.
7. Branding Opportunities: The .io extension allows businesses to create a unique and memorable brand identity, helping them stand out in the tech industry.
8. Tech Credibility: Having a .io domain adds credibility and authenticity to tech-related businesses, as it aligns with the industry and signals technical expertise.
Top reasons to register a .io domain extension
1.Tech Industry Association: The .io domain extension is widely associated with the technology industry. It has become a popular choice for tech startups, software companies, and developers. By registering a .io domain, you can showcase your affiliation with the tech community and create a strong online presence.
2.Global Recognition: The .io domain has gained international recognition and is known for representing innovative and tech-related ventures. It is a trusted domain extension, especially for businesses involved in web development, software development, data analytics, and other technology-driven fields.
3.Availability: Unlike some popular domain extensions like .com or .net, the .io domain extension offers greater availability. It provides a higher chance of finding your desired domain name since it is not as saturated as other extensions. This allows you to secure a memorable and relevant domain name for your website.
4. Short and Memorable: The .io extension is short and concise, making it easy to remember and type. It can help your website stand out and be more memorable to visitors, enhancing brand recall and increasing the likelihood of repeat visits.
5. Startup-Friendly: If you are a tech startup or a new business, a .io domain can be a great fit. It gives your brand a modern and forward-thinking image, aligning with the startup culture. It can help you establish credibility and attract tech-savvy audiences, investors, and potential partners.
6.SEO Benefits: While domain extensions do not have a direct impact on search engine optimization (SEO), having a relevant and industry-specific domain like .io can indirectly benefit your website's SEO efforts. It can potentially enhance your website's visibility in search engine results for technology-related keywords.
7. Tech-Focused Community: The .io domain has fostered a vibrant online community centered around technology, startups, and innovation. By using a .io domain, you can tap into this community, network with like-minded individuals and businesses, and gain exposure to potential customers or collaborators.
8. Secure Redis Clients: Safeguard your Redis server by fortifying the security of its clients. Employ robust communication protocols, such as cutting-edge encryption via HTTPS, and adhere to industry-leading client application development practices. This proactive stance shields against potential vulnerabilities on the client side.
9. Brand Differentiation: Registering a .io domain sets your brand apart from the more traditional extensions and helps you differentiate yourself from competitors. It signals that you are a tech-focused company, showcasing your expertise and specialization in the technology sector.
10.Tech-Savvy Audience: The .io domain extension has gained popularity among tech enthusiasts, developers, and early adopters. By having a .io domain, you can attract a tech-savvy audience that is more likely to engage with your content, products, or services. This can lead to increased user engagement, conversions, and overall success for your online business.
Remember, when choosing a domain extension, it's important to consider the relevance to your business and target audience, as well as the overall branding strategy you want to convey.