Powerful Dedicated Server Hosting
For Sales Enquiry
: 821 778 4838, 636 030 8610, 6360309716
Basic Server
₹ 6732.65
Save 51% (Hurry, First 10 customers)
Space : 512 GB NVMe
CPU : 4 Core (9.60 GHz)
RAM : 6 GB
Bandwidth : 5 TB
Dedicated IP Address : 1
FREE Domain
FREE Varnish Server
FREE Website Optimization
Spamassassin Included
Full root / ssh access
Malware Injection Scan
PHP Vulnerability check VPS
Inbuild CSS/JS Optimizer
FREE SSL Certificate

★

High Priority Support
Value Server
₹ 10210.64
Save 53% (Hurry, First 10 customers)
Space : 750 GB NVMe
CPU : 4 Core (9.60 GHz)
RAM : 16 GB
Bandwidth : 10 TB
Dedicated IP Address : 1
FREE Domain
FREE Varnish Server
FREE Website Optimization
Spamassassin Included
Full root / ssh access
Malware Injection Scan
PHP Vulnerability check VPS
Inbuild CSS/JS Optimizer
FREE SSL Certificate

★

High Priority Support
Silver Server
₹ 13331.37
Save 49% (Hurry, First 10 customers)
Space : 1 TB NVMe
CPU : 6 Core (14.4 GHz)
RAM : 24 GB
Bandwidth : 10 TB
Dedicated IP Address : 1
FREE Domain
FREE Varnish Server
FREE Website Optimization
Spamassassin Included
Full root / ssh access
Malware Injection Scan
PHP Vulnerability check VPS
Inbuild CSS/JS Optimizer
FREE SSL Certificate

★

High Priority Support
Looking for other / custom configuration / Any queries contact our sales team using Buynow button.
The list of features that comes when you buy Dedicated server – Applicable to all plans
IP Address : 1
FREE Domain – any domain of your choice whether .in, co.in, .com, .org
Spamassassin included with server
Full root/ssh access. Our new servers come with more advanced options such as OS reinstall, reboot and many more
Extendable SSDs – DO not worry, We can increase your disk space anytime at short notice
Real time hacking and malware prevention check for all PHP files
Option to optimise & compress your CSS/JS files for better page speed
Gain search engine ranking and Customer Trust using our FREE SSL Certificate for all domains
FREE Varnish server can increase the speed of your website, We provide it when you buy it with a control panel.
Our servers support multiple PHP versions, up to the latest.
ScalabilityAlmost all companies either small or big, need to develop with a more client base and an expanded income. A shared hosting plan has restricted assets, which makes it trying to manage the traffic increment, and this is the place where a dedicated platform makes a difference.
Unlimited Websites – Technically talking you can have quite a few sites, however, we suggest you have a few sites to give better speed and execution.
DB of your choice – We understand every developer prefers some DB over others. That's why we support, MYSQL, MSSQL, PostgreSQL, MongoDB, Oracle DB (license is taken care by client), and other DBs also.
Website Speed is EVERYTHING – We help and guide your developers to improve speed. For that, We have written exhaustively in detail check here
Server Location – Do you know the server location and location of the IP address take a significant part occupied with your site? We realize that and we have taken care of it.
Backup & Restore – We have discretionary backup & restore for your server.
Customizable – This lets you run custom applications on your server with a custom environment. You can be rest ensured that even the heavy applications will operate smoothly without a hitch.
One-click Install – Do you know the server location and location of the IP address take a significant part occupied with your site? We realize that and we have taken care of it
Self Managed Vs Fully Managed – More than 80% of our clients like to go with Fully Managed to get High Priority Support. In self-managed, We assist you with reboot, hardware issues, network issues, and other basic help.
Concurrent User – The number of concurrent users supported depends on how you fine-tune your server. You need to find the optimal value for a number of concurrent users without affecting the performance of the other services.
Free Migration – We can migrate your website/servers from other service providers for FREE without any additional cost involved.
Storage SSD Vs HDD – HDD is outdated and we do not use any hard disks, We use only high-performance Samsung brand SSDs with RAID-10 for ultimate read performance.
Supported OS – In dedicated, We support all types of OS, such as Centos, Ubuntu, Red Hat, Debian, Oracle Linux, and any other OS preferred by clients. But we do not provide managed support for certain types of OS.
Programing Language – All types of programming languages are supported. CGI, Fast CGI, PHP 5, Ruby on Rails, Perl, Python, reactjs, nodejs, angularjs, all PHP frameworks, all types of CMS such as Joomla, WordPress, Drupal, Magento, and many others.
Upgrade/Downgrade – You can downgrade or upgrade your server anytime, Our team can help you with that.
* Go with Managed Support to get 24/7 support, 100% of our customers who opt for it are happy with our support.
Our Works
Our Servers
Our dedicated servers are powered by hardware that we take great pride in. All of our servers come with two hard drives by default and are configured with RAID1 to ensure the greatest level of security for your data. Ensure that you have redundant hard disks so that even if one breaks down, your data is not lost and your server remains online.
Our Platform
Customer satisfaction is our top priority, and we want to make sure every programmer feels comfortable here. Our product line supports PHP 5.2 and PHP 5.3, Perl, Python, and Ruby on Rails. Regarding databases, we support an unlimited number of MySQL databases, allowing you to scale database operations with confidence and achieve breakthrough capabilities.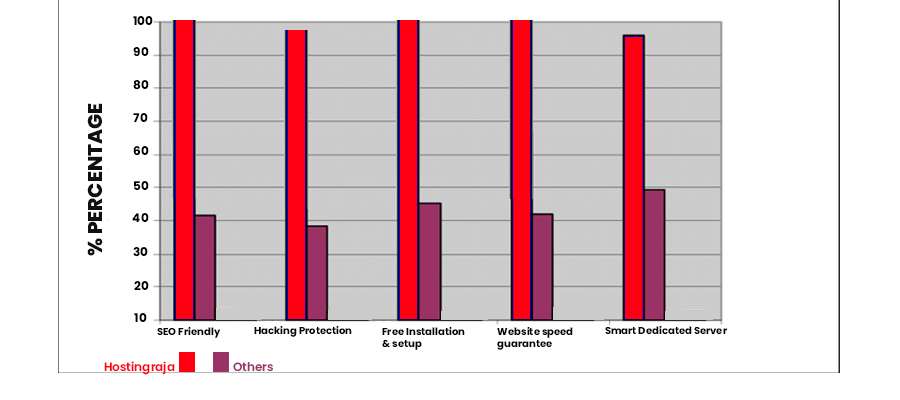 Important: Read the below table before you buy servers
If you choose to buy from other vendors, get this clarified.
HostingRaja
Others
SEO Friendly Dedicated
Indian IP Address to rank better in Google
Non Indian IP will affect SEO Rank, Discuss before buying
Hacking Protection
Inbuilt Server Security
Included
Mostly Not Included
Free Installation & setup (nodejs, orcale, java, jobss, MSSQL, MySQL, MongoDB, git, others….)
Yes, We offer 100s of application setup free of cost.
You need to pay extra
Website speed guarantee
We can guarantee better speed.
No guarantee on page speed and website loading time.
Dedicated Server Vs Smart Dedicated Server
HostingRaja provides a smart dedicated server.
Other service providers may provide various kinds of dedicated server, read the technical specification before placing the order.
Some of our
Happy
Customers