Buy .ai Domain – Empower Your Business with Innovation
As a trusted hosting company, we are excited to offer our valued customers the opportunity to purchase .ai domains. By acquiring a .ai domain, businesses can emphasize their commitment to innovation and cutting-edge technology, making it an ideal choice for organizations involved in artificial intelligence, machine learning, and data science.
Introduction:
The .ai domain is the top-level domain (TLD) for Anguilla, a British Overseas Territory in the Caribbean. However, in recent years, the .ai domain has gained popularity and is commonly associated with artificial intelligence (AI) due to the "ai" abbreviation. It has become widely used by companies and organizations involved in AI-related technologies and services. The .ai domain is sought after by companies working in the field of artificial intelligence, machine learning, robotics, and other related areas. It is seen as a way to signify their focus on AI and to establish a strong online presence. While originally intended for Anguilla, the .ai domain has become popular globally, primarily due to its connection to the AI industry. It provides a unique and memorable web address for businesses and individuals in the AI field, allowing them to showcase their expertise and specialization.
Why Choose a .ai Domain
1.Industry Relevance: A .ai domain immediately communicates your business's involvement in the AI industry or its usage of AI technology.
2.Availability: Unlike more common domain extensions, .ai offers a higher likelihood of finding your preferred domain name.
3.Future-Proof: As AI continues to grow in importance, a .ai domain positions your business as forward-thinking and technologically advanced.
4. Search Engine Optimization: Having a .ai domain can potentially boost your search engine rankings for AI-related keywords and queries. Search engines often consider the domain extension as a relevance factor, so a .ai domain can signal to search engines that your website is highly relevant in the AI space, improving your chances of ranking higher in relevant search results.
5. Brand Identity: A .ai domain can contribute to building a strong brand identity for your business in the AI industry. It immediately conveys to your audience that your company is involved in AI, creating a sense of expertise and specialization. This can help attract the right audience, establish credibility, and differentiate your brand from competitors in the industry.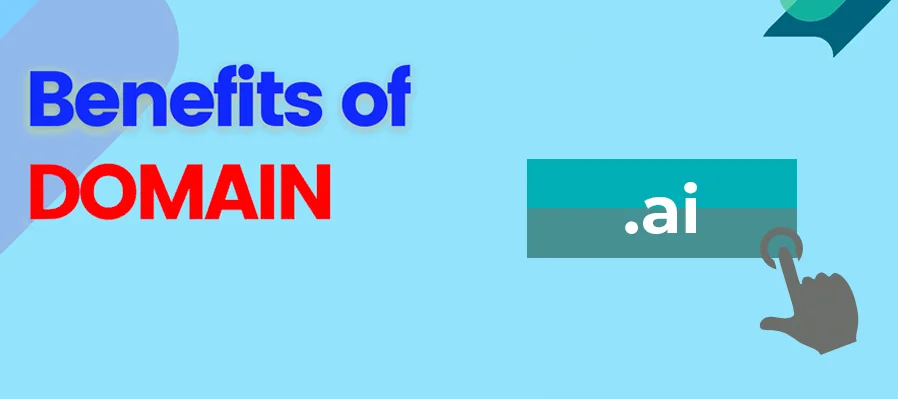 BENEFITS OF .AI DOMAIN:
1.Tech Innovation Focus: The .ai domain is widely recognized as the domain extension for artificial intelligence (AI) and technology-related businesses, allowing you to showcase your focus on cutting-edge technology and innovation.
2.Industry-Specific Branding: The .ai extension helps create a unique and industry-specific brand identity, attracting attention from tech-savvy audiences and positioning your business as an expert in AI-related fields.
3.Credibility and Confidence: Having a .ai domain can enhance the credibility and trustworthiness of your business, as it aligns with the AI industry and conveys that you are part of the tech community.
4. Global Reach: .ai domains have a global appeal, enabling your business to reach a wider audience beyond geographic boundaries and establish connections with international customers, partners, and investors.
5. SEO Benefits: The term "AI" is highly relevant in online searches, and having a .ai domain can provide search engine optimization (SEO) advantages by boosting your visibility in AI-related search results.
6.Tech Community Engagement: The .ai extension helps you connect with the broader tech community, fostering collaborations, partnerships, and networking opportunities with like-minded individuals and organizations.
7.Future-Proofing: As AI continues to evolve and shape various industries, having a .ai domain positions your business for future growth and demonstrates your commitment to staying at the forefront of technological advancements.
8. Memorable and Brandable: .ai domains are short, unique, and memorable, making it easier for customers to remember and associate with your brand, leading to better brand recognition and recall.
How to Purchase a .ai Domain with Us
Our process for purchasing a .ai domain is simple, swift, and secure. Here's how to get started:
1. Domain Name Search: Use our domain search tool to check the availability of your desired .ai domain name.
2. Purchase and Register: Once you have found your preferred domain name, proceed to purchase and register it.
3. Setup and Configuration: We provide comprehensive support to set up your new domain, including DNS management and email setup.
4. Trusted Registrar: We are an accredited registrar for .ai domains, ensuring a secure and reliable registration process. As a trusted provider, we adhere to industry standards and best practices to protect your domain and personal information.
5. Renewal and Management: We offer convenient domain management tools and options for domain renewal. Our user-pleasant interface permits you to without problems manipulate your .ai domain, update DNS settings, and make any necessary changes to ensure your website remains accessible.
6. Technical Support: Our devoted customer service crew is to be had to help you in the course of the area registration process. Whether you have questions about the registration process, need help with DNS configuration, or require assistance with any domain-related issues, our knowledgeable support staff is ready to provide prompt and reliable assistance.