MongoDB Hosting Service & Low Cost
At our managed MongoDB server, we offer a comprehensive range of features to ensure seamless and efficient database operations. With our web-based admin tools, you can easily manage your MongoDB clusters, perform administrative tasks, and monitor performance from anywhere. We assure an excellent uptime of 99.99%, minimizing any potential disruptions and ensuring continuous access to your data. Our low-latency infrastructure enables fast and responsive queries, optimizing the overall performance of your MongoDB environment. When it comes to data center facilities, we provide Tier IV options, which offer exceptional security, redundancy, and reliability. Our experts are available for free consultations, guiding you through the best practices and helping you make informed decisions for your MongoDB hosting needs. With our 24/7 emergency support via ticket system, you can rely on prompt assistance whenever you encounter any issues. Security is a top priority for us, and we implement firewall and IPS setups to safeguard your MongoDB clusters from unauthorized access. We ensure physical and network server security, implementing stringent measures to protect your data from external threats. Additionally, we offer MongoDB backup and restore services to ensure the safety and recoverability of your valuable information. Our flexible infrastructure supports multiple MongoDB versions, allowing you to choose the version that best suits your application requirements. We facilitate free data transfer, ensuring a smooth migration process without incurring additional costs. By leveraging redundant resources and load balancing techniques, we ensure high availability and distribute traffic efficiently across your MongoDB clusters. For further customization, we offer tailored MongoDB server options, allowing you to optimize the configuration based on your specific needs. With our services, you can focus on your core business while relying on a robust and reliable MongoDB infrastructure that provides zero downtime and uninterrupted access to your data.
For Sales Enquiry
: 821 778 4838, 636 030 8610, 6360309093
Fully Managed MongoDB VPS Server
CPU
RAM
DISK
Bandwidth
MongoDB Admin Dashbroad
MongoDB UI for Databases Creation
MongoDB UI for User Creation
MongoDB Multiple Version Support
Auto MongoDB backup maintance
Remote MongoDB
SSL FREE Certificate
| | | |
| --- | --- | --- |
| 3 Core | 4 Core | 4 Core |
| 3 GB | 4 GB | 5 GB |
| 90 GB | 120 GB | 200 GB |
| 3000 GB | 4000 GB | 10000 GB |
| Yes | Yes | Yes |
| Yes | Yes | Yes |
| Yes | Yes | Yes |
| Yes | Yes | Yes |
| Yes | Yes | Yes |
| Yes | Yes | Yes |
| Yes | Yes | Yes |
Fully Managed MongoDB Dedicated Server
DISK
CPU
RAM
Bandwidth
IP Address
MongoDB Admin Dashbroad
MongoDB UI for Databases Creation
MongoDB UI for User Creation
MongoDB Multiple Version Support
Auto MongoDB backup maintance
Remote MongoDB
SSL FREE Certificate
High Priority Support
| | | |
| --- | --- | --- |
| 750 GB | 1 TB | 1 TB |
| 4 Core (9.60 GHz) | 6 Core (14.4 GHz) | 8 Core (19.20 GHz) |
| 16 GB | 24 GB | 32 GB |
| 10 TB | 10 TB | 15 TB |
| 1 | 1 | 1 |
| Yes | Yes | Yes |
| Yes | Yes | Yes |
| Yes | Yes | Yes |
| Yes | Yes | Yes |
| Yes | Yes | Yes |
| Yes | Yes | Yes |
| Yes | Yes | Yes |
| Yes | Yes | Yes |
Get Experience with the Best MongoDB Hosting: Seamless Migration and Free MongoDB Hosting Services
Discover to our exceptional MongoDB hosting service, where innovation and flexibility converge to provide you with a cutting-edge infrastructure. This empowers you to effortlessly choose the perfect MongoDB version that aligns with your application's precise demands. With support for multiple MongoDB versions, our platform caters to your unique requirements, ensuring your choice enhances your application's performance.
Seamless migration is at the heart of our commitment. Our pledge to free data transfer means that transitioning to our service is not only smooth but also cost-effective. Our dedicated team streamlines the migration process, freeing you to concentrate on your core business objectives without the worry of additional expenses.
Reliability is our bedrock, underpinned by redundant resources and advanced load-balancing techniques that guarantee exceptionally high availability. Your MongoDB clusters are primed for efficiency, effortlessly managing traffic distribution to optimize your application's performance even under heavy loads.
Why to use MongoDB Server?
MongoDB is the leading database system in today's market. Experience the power of MongoDB cloud hosting, where a myriad of functions perfectly cater to diverse big data applications. MongoDB boasts a highly adaptable data model that seamlessly accommodates the fusion and storage of various data types. This flexibility doesn't compromise the robust indexing choices, streamlined data access, or stringent validation rules.
In addition, enjoy the added advantage of modifying your schema without encountering any downtime. Our MongoDB hosting service ensures that your operations remain uninterrupted while you fine-tune your schema to match evolving needs. Welcome to a world of seamless, efficient, and reliable MongoDB cloud hosting.?


An entire support circumstance is presented for MongoDB Hosting and database. We give a control panel in our hosting package which is created with dedicated modules and it gives the entire front-end environment. This makes a Binary JSON design for upgrading the effectiveness and supporting more data types. The data which is gathered in BSON can be searched and indexed boosting the execution. The front-end interface is planned in a manner that the activities which should be performed can be effectively perceived. This is a discretionary database alongsidehttps MySQL, PostgreSQL, MariaDB. These highlights are given by the customer's necessities from the hosting provider.
How do I use MongoDB Hosting?
Embarking on your MongoDB journey through our exceptional MongoDB cloud hosting service opens up a realm of possibilities. If you're new to the MongoDB landscape, establishing a testing environment becomes your initial step.
From there, the process echoes the familiarity of SQL systems you might already be well-versed in. However, here's the exciting twist: the inquiries you make are not only more comprehensible but also incredibly adaptable compared to the often complex SQL commands. Aligning seamlessly with the JavaScript programming paradigm you or your developers are accustomed to, these queries ensure a swift transition.
Why choose HostingRaja for your MongoDB?

Web-based admin
tools

MongoDB / database
expert advice

24×7 emergency support
by Ticket System

Private Network for
MongoDB Clusters

CSF Firewall
setup & support

FREE SSL support
for MongoDB

Backup & Restore
services

Slow query access log
to troubleshoot and improve

Multiple MongoDB
version support

Premium support from
MongoFB experts

FREE data transfer
We dont charge

Multiple Replica
Setup
Cost-effective MongoDB server provider HostingRaja
HostingRaja is the well-known web hosting service provider for shared hosting, VPS hosting, cloud hosting, Dedicated hosting and also MongoDB server services. Our MongoDB web hosting plans are very much affordable and come with reliable features. All our MongoDB server features are designed uniquely and are bound to offer a higher level of convenience for the clients.


In HostingRaja we offer well suitable environments for MongoDB server. The dedicated module for the same brings up the convenience handled easily. The individual interface of the functionality makes it handling the server easily. Our support team at HostingRaja will offer a quick solution for MongoDB issues. At HostingRaja we make sure that clients have hassle-free and uninterrupted services.
Below are the features which you will be getting from HostingRaja MongoDB Server plans:
Checking PHP vulnerability

Full access to root and ssh

CSS/JS optimizer in inbuilt

Website Optimization and Varnish Server is Free

Real time Malware Injection Scan

Enhanced Security Measures:

Performance Boosting

Proactive Security Monitoring

Full Administrative Access

Free SSL Certificates
Advantages of MongoDB Server

Flexible Document Schemas
Discover the pinnacle of MongoDB hosting with our leading MongoDB cloud service, offering unparalleled data modeling and manipulation. Benefit from BSON-based flexibility for versatile collections and seamless data representation, alongside MongoDB's adaptability for real-world scenarios. Streamlined data modeling directly aligns structures with applications, enhancing productivity and data management.

Efficient MongoDB Integration
the effortless data access with our MongoDB cloud hosting, as MongoDB's native structure accessibility eliminates complexities of traditional databases. Seamlessly interact with data in its raw form from any programming language, streamlining development, and optimizing application performance. Embrace the power of MongoDB's native data access through our hosting service for enhanced development efficiency.
Dynamic MongoDB Architecture
Elevate your projects with MongoDB cloud hosting, capitalizing on MongoDB's change-friendly design. Seamlessly adapt to evolving needs without downtime, utilizing MongoDB's flexible document model. Embrace innovation, accelerate time-to-market, and lead in a dynamic market with our MongoDB hosting service.

Advanced MongoDB Analytics
Experience seamless data access with MongoDB cloud hosting, utilizing MongoDB's approach that minimizes transactions and joins for efficient querying. Leverage the MongoDB Query Language (MQL) to effortlessly delve into documents, executing advanced analytics pipelines for valuable insights within our hosting service. Simplify data access and enhance analytics with our MongoDB hosting service, backed by MongoDB's user-friendly design and MQL capabilities.

Seamless MongoDB Scalability
Leverage MongoDB cloud hosting for empowered data management, utilizing MongoDB's distributed architecture. Our hosting service ensures seamless scalability and sustained performance via sharding across clusters, accommodating data growth and demands. Embrace MongoDB's power alongside our hosting to achieve seamless scaling and peak performance in the cloud.

Comprehensive MongoDB Security
Experience paramount data security with our premier MongoDB hosting service. Your information's protection is integral to our MongoDB cloud hosting commitment, fortified by comprehensive security measures and encryption, ensuring a resilient defense against threats. With meticulous design and MongoDB's adaptable document schemas, our hosting safeguards your data across dimensions, reassuring its safety at rest and in transit.
GUI for mongo Database:
Creating a database using the command line is delightful, but not everyone likes it, That's why we provide a GUI interface for operating MongoDB. A database can be built and destroyed using this module provided by the control panel.
Using this module anyone can succeed their MongoDB data easily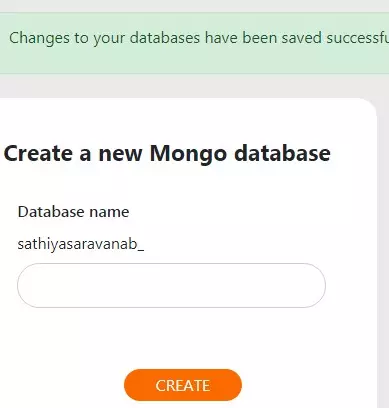 UI for mongo Users:
We are providing GUI for creating and managing the users. When creating a user, you can link it to a database. You can easily update the MongoDB users password and add the database on a single mongo Users. It is a very good practice to keep a separate user for every database for security reasons.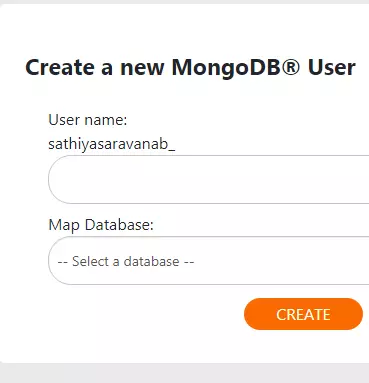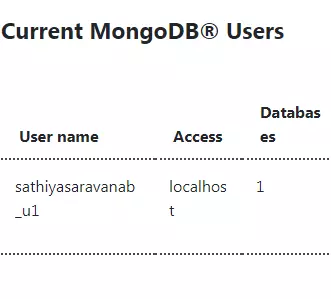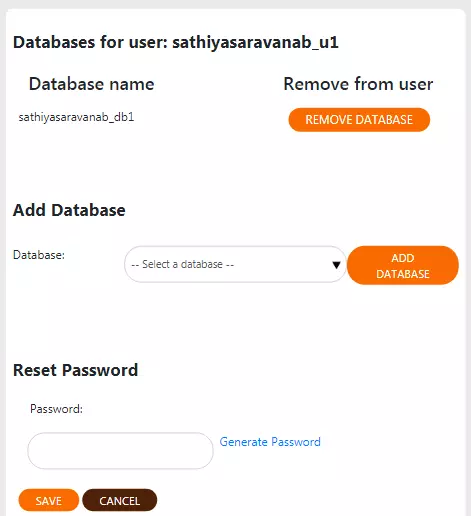 Mongo Admin Interface
Using this module you can easily login your mongo user ( As an mongo admin user also ) . This module is helpful to import and export the collections. You will easily manage the document using this module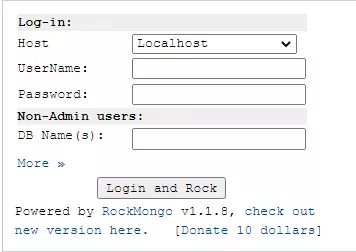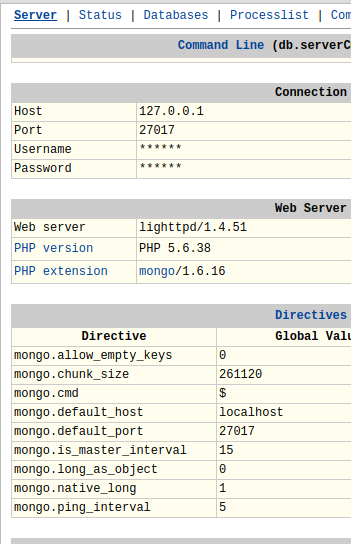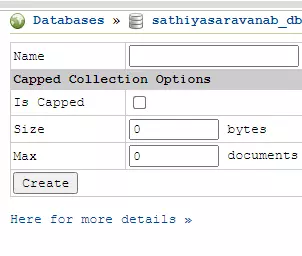 MongoDB is prefered DB by architectes or technical leaders than other databases
MongoDB is preferred by architects and technical leaders for several reasons, making it a popular choice among databases, especially for certain use cases. Here are some key factors that contribute to MongoDB's preference:
Flexible Schema Design: MongoDB's dynamic schema liberates developers from the constraints of traditional relational databases. This agility excels in dynamic or evolving data scenarios within our hosting service.
Document-Oriented Data Model: MongoDB embraces a document-oriented approach, employing JSON-like BSON format instead of rows and columns. This seamlessly aligns with contemporary application structures, enhancing data handling within our hosting service.
Scalability: Our MongoDB hosting service leverages MongoDB's architecture for horizontal scaling, efficiently managing substantial datasets and heavy traffic. Sharding distributes data across servers, assuring peak performance and availability.
NoSQL Capabilities: MongoDB, as a NoSQL database, excels in managing unstructured, semi-structured, and rapidly changing data – ideal for content management systems, real-time analytics, and IoT solutions in our hosting service.
vReal-time Data: Empower your applications with MongoDB's real-time data processing, including Change Streams and the aggregation framework. Develop responsive apps that react to data changes, enriching user experiences within our hosting service.
Developer-Friendly: Our MongoDB hosting service simplifies development with MongoDB's user-friendly query language and API, minimizing the need for specialized database knowledge and fostering agility.
Community and Ecosystem: Join MongoDB's vibrant community and utilize its extensive ecosystem of tools, libraries, and integrations. Collaborate, access resources, and troubleshoot within our hosting service.
Adoption by Modern Applications: Tailored for modern app design principles, MongoDB resonates with web and mobile apps prioritizing flexibility and agility – seamlessly integrated within our hosting service.
Cloud-Native Support: MongoDB Atlas, the cloud-based database service, streamlines deployment, management, and scaling in various cloud environments, aligning seamlessly with cloud trends within our hosting service.
Use Cases: MongoDB is commonly chosen for use cases such as content management systems, e-commerce platforms, social networking applications, real-time analytics, and more, where the need for flexible schema design, scalability, and real-time data processing is paramount.
HostingRaja MongoDB Server FAQ's
Reviews from customers

Priya Varma

2nd Aug

★★★★

I used to work on MySQL more as a open source developer and recently started using mongodb for some of my project. I noticed an error "document fragment is too large: 18411426, max: 16777216" while updating the data in mongoDB. I approached the technical team for support, they explained the maximum size a MongoDB document can be 16MB and the concept of gridFS will be helpful to solve my problem. Thanks for their input which helped me to solve my problem. Apart from configuration support they gave some idea at DB level.



Sowmya Kumar

19 Apr

★★★★★

MariaDB is a much-improved query optimizer and certainly, MariaDB is faster than MySQL MariaDB will be compatible with MySQL. MariaDB includes all the popular open source engines. HostingRaja plans are designed to offer the higher level of convenience and flexibility to our customers. For more information on plans and features contact HostingRaja sales team via Live Chat.

Hemanth Raju

21st Mar

HostingRaja's tech experts have been a great help in guiding me through best practices for my MongoDB hosting needs. Their 24/7 emergency support is a lifesaver whenever I encounter issues. The high-speed infrastructure they provide has made a significant difference in the performance of my MongoDB environment. I'm experiencing minimal downtime and responsive queries.

Chandrashekar

15th Jun

I'm thrilled with the 55% discount price on MongoDB hosting from this provider. Their tech support is excellent, ensuring I can run any version I need hassle-free. Moving to their MongoDB hosting was the best choice, thanks to their free migration service and 24/7 managed support. I never worry about backups with their daily, weekly, and monthly backup options.