Windows Hosting – India's best and reliable
Windows Hosting Plans & Pricing
Windows Plans
Websites
Disk / Bandwidth
RAM / CPU
Free Plesk Panel
Emails
Global CDN Support
(On Request)
Price
Action

Premium Enterprise

As Good As Server

Unlimited
Unlimited
RAM 3GB
CPU

|

|

|

|

|

|

|

Included
Unlimited
Yes

Premium Corporate

Best For High Traffic Portal

Unlimited
Unlimited
RAM 2GB
CPU

|

|

|

|

|

Included
Unlimited
Yes

Unlimited Windows web hosting

Best For Medium Traffic Portal

Unlimited
Unlimited
RAM 1GB
CPU

|

|

|

|

Included
Unlimited
Yes

Gold Plan

Cheap Windows Hosting

5
120 GB Space
1000 GB bandwidth
RAM 0.5GB
CPU

|

|

Included
250 Emails
Yes
This is the right answer for those intending to employ a particular Microsoft application like Active Server Pages (ASP) and create the site with Microsoft FrontPage. The site is created with .NET, MS Index, or Visual Basic scripts, at that point, the windows environment is the better conclusion determined with Linux. We provide plans at an affordable price for large and high-traffic sites. We have 5 distinct plans, you can pick the best plan as per your site needs.
Support versions of ASP.NET
Yes, Using the same account, You can run multiple websites using different versions of ASP.NET
---
List of supported features
Not only this features list, We support all features needed for any web developers. We support others features like too.
MVC Framework
Asp.net
MsSql
MySql
PHP Support
Joomla
WordPress
Multi PHP
Crystal report
URL Rewrite
IIS Server
Visual studio
.Net Core
Web Mail
Plesk
Ajax Tool Kit
You can manage our Windows Hosting to our panel that allows you to organize files, sub-domains, make archives and access your email. Our Windows Hosting plans permit SSH access allowing you to perform commands, manage files and reliably manage your web hosting from a remote computer over an encrypted medium.
Each Windows Hosting plan is optimized to deliver maximum execution for your site. You can likewise create your website up to 1000% faster and secured with CloudFlare's widely spread and highly unrestricted edge locations to cache your site content and suit faster pages to your international audience.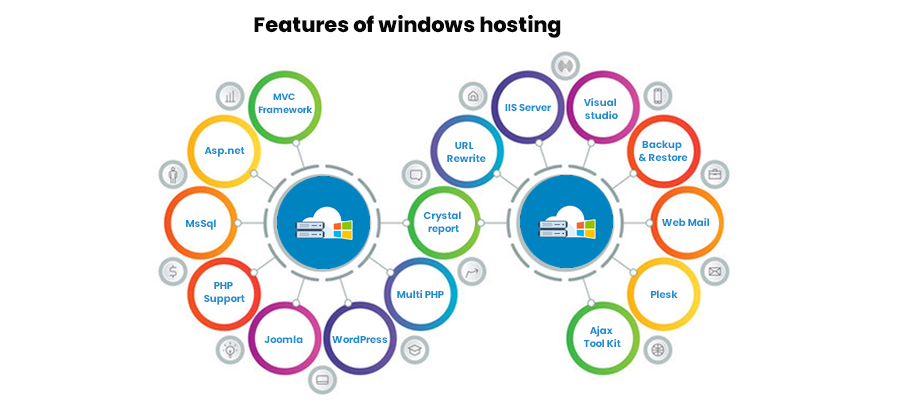 ---
How many visitors can it support at any given point in time?
Our unlimited and premium can uphold somewhere around 50,000 to 1,00,000 clients each day. In any case, It is totally founded on your site DB and RAM/CPU usage.
---
What's the contrast between Linux & Windows hosting?
Linux and Windows are two unique sorts of operating systems you can use with a given server. Linux is the most well-known operating system for web servers and contains more of the components as web designers expect. So unless you keep your websites that require exact Windows applications, Linux is the best choice. Although a standard kind of operating system for web development, the Windows operating system is not usually required for most moderate hosting users. Normally saying, Windows hosting is for ASP.NET developers and that's it. So in most circumstances, particularly in the shared hosting environment, you'll be simply fine utilizing the Linux OS.
---
Do you support running .exe files or can I install any application in this shared plan?
As it is a shared server and utilized by different customers, We don't permit .exe files, and furthermore assuming you need to include any new application, You want to go with Windows VPS or Windows dedicated server.
---
Whether both ASP.NET and PHP based website will work in windows hosting ?
Yes.
---
Do you provide FREE SSL certificate for my website?
Yes, We provide FREE SSL with premium and unlimited plans.
---
Supported version of MSSQL and MYSQL
We support all the versions of MS-SQL and MySQL. We can accomodate based on your request to the suitable servers.
---
What is the IIS version support in windows?
IIS Server 8.0 and 7.x
---
Cron job / schedule task
Yes, You can. We don't have any limitation on that.
---
What is your Email server, Do you support WebMail?
We use MailEnable email server and also we provide webmail access too.
---
Can I set SPF DKIM other DNS records in Plesk Panel?
Yes. You can.
---
One click app setup using Plesk
You can do one click easy install of Joomla, WordPress , Drupal and any other popular web applications.
---

Need a powerful and reliable windows plans solution for your business?
HostingRaja delivers fast, flexible, reliable and secure windows hosting plans in India at most affordable rates. Whether you are setting up a new windows website from scratch or you have worked on a number of websites in the past, our windows hosting plans are packed with the features to fulfill all the required needs.
Highly Secure and Reliable Windows Hosting plans.
We offer unlimited bandwidth so that thousands of visitors can visit your website worldwide. Not only that, your website will be hosted in our secured data center with daily backup and monitoring.
Powerful Plesk Panel
We use the latest Plesk Onyx 17.5 Control Panel which has an easy and intuitive interface for managing the website and emails. We also offer one click installation of many applications.
Dedicated 24/7 technical support
Our friendly support agents are available 24/7 for you. You can contact us anytime as we support in 5 regional languages
99.9% Uptime guarantee
HostingRaja is committed to providing a reliable and secure web hosting service. We assure you that you will be provided with a 99.9% Uptime. We also perform 24/7 network monitoring. If there is any issue we can address it immediately.
Flexibility to upgrade
We give the flexibility for upgrading the package as the need changes. The package can be upgraded easily through the straightforward control panel.