Windows Server Hosting
Welcome to HostingRaja, a leader in Windows hosting solutions in India. Our mission is to provide high-quality, reliable, and affordable Windows web hosting services tailored to meet the diverse needs of businesses and individuals alike.
In the ever-evolving digital landscape, choosing the right hosting provider is crucial. HostingRaja stands out as a trusted Windows hosting provider in India, offering a blend of performance, security, and value. Our services are designed to cater to a range of requirements, from basic websites to complex applications.
Whether you are a small business owner, a web developer, or a large enterprise, our Windows hosting plans are flexible and scalable to match your specific needs. We understand the importance of uptime, speed, and security in today's online world. That's why our Windows hosting services are built on cutting-edge technology and backed by robust infrastructure.
At HostingRaja, we're committed to delivering exceptional customer service and technical support. Our team of experts is always ready to assist you in making the most out of your hosting experience. Join us and discover the HostingRaja advantage, where quality meets affordability in Windows hosting.
Key Features of Windows Hosting
At HostingRaja, our Windows hosting service stands out with its distinctive features. We offer an array of Windows hosting plans that are not just affordable but also packed with advanced functionalities. Our Windows VPS hosting is especially popular, known for its robust performance and flexibility, making it ideal for businesses with dynamic website needs.
Security and reliability are paramount in our Windows server hosting. We ensure your website is always up and running smoothly with our guaranteed uptime and state-of-the-art security measures. For those seeking budget-friendly options, our Windows shared hosting is a perfect choice, offering a balance of cost and quality.
Furthermore, our Windows hosting in India is optimized for the local market, ensuring faster loading times and better SEO rankings for Indian websites. With HostingRaja, you get the assurance of top-notch Windows web hosting services that cater to a diverse range of hosting requirements.
Get Your Best Windows Hosting Plans And Packages Today!
Windows Plans
Websites
Disk / Bandwidth
RAM / CPU
Free Plesk Panel
Emails
Global CDN Support
(On Request)
Price
Action

Premium Enterprise

As Good As Server

Unlimited
Unlimited
RAM 3GB
CPU

|

|

|

|

|

|

|

Included
Unlimited
Yes

Premium Corporate

Best For High Traffic Portal

Unlimited
Unlimited
RAM 2GB
CPU

|

|

|

|

|

Included
Unlimited
Yes

Unlimited Windows web hosting

Best For Medium Traffic Portal

Unlimited
Unlimited
RAM 1GB
CPU

|

|

|

|

Included
Unlimited
Yes

Gold Plan

Cheap Windows Hosting

5
120 GB Space
1000 GB bandwidth
RAM 0.5GB
CPU

|

|

Included
250 Emails
Yes
Why Should you choose HostingRaja?
Choosing HostingRaja for your Windows hosting needs comes with a plethora of benefits. Our Windows VPS hosting and Windows server hosting solutions are designed to empower your online presence with unmatched reliability and speed. With our Windows shared hosting, even small businesses and individual users can enjoy a high-quality hosting experience at an affordable price.
For those in India, our Windows hosting in India offers localized benefits, including better network latency and localized customer support, enhancing the overall user experience. Our Windows web hosting services are known for their exceptional uptime, ensuring that your website remains accessible to your audience around the clock.
Furthermore, we understand the importance of scalability. As your business grows, our Windows hosting plans can be easily upgraded to meet your evolving needs. This flexibility, combined with our commitment to security and customer support, makes HostingRaja an ideal choice for both established companies and emerging businesses.
Plans at HostingRaja
At HostingRaja, we offer a diverse range of Windows hosting plans to suit various needs and budgets. From Windows shared hosting for those just starting out, to more robust Windows VPS hosting and Windows server hosting options for businesses with higher demands, we have something for everyone.
Our Windows hosting in India is tailored to provide optimal performance for local businesses, ensuring faster site load times and improved SEO rankings. For those on a budget, our cheap Windows hosting options offer an affordable way to get online without sacrificing quality or performance. Each plan comes with essential hosting features, reliable customer support, and easy scalability to grow with your business.
For resellers and developers, our Windows reseller hosting provides a flexible and lucrative way to offer hosting services to your own clients. With HostingRaja, you can be confident that you're getting competitive, feature-rich Windows hosting services that cater to a wide array of hosting requirements.
Strengthening Windows Shared Server Security – Essential Measures and Advanced Tools

Regular Updates and Patching
Regular updates and patching are essential practices for maintaining the security and stability of Windows Server environments. Updates and patches help address security vulnerabilities, improve system performance, and ensure compatibility with the latest software and hardware.

Strong Authentication
Strong authentication, known as multi-factor authentication (MFA) or two-factor authentication (2FA), requires users to provide multiple forms of verification, adding an extra layer of protection beyond passwords. This safeguards against attacks like phishing, brute force, and credential stuffing.
Windows Firewall
The Windows Firewall in Microsoft Windows OS is an essential built-in security feature that controls inbound and outbound network traffic, safeguarding against potential threats. It acts as a barrier against unauthorized access while enabling authorized communication effectively.

Disable Unnecessary Services
Disabling unnecessary services is crucial for enhancing the security and performance of your computer or server. Unneeded services can introduce attack vectors and consume system resources, potentially leading to vulnerabilities and degraded performance.

Mod Security enabled
Install and configure ModSecurity to protect against common web application attacks like SQL injection and cross-site scripting (XSS). While ModSecurity comes with a default set of rules, it can be customized to fit the specific security requirements of an application.

Disabled SMB File sharing
Disabling SMB (Server Message Block) sharing enhances overall network security, especially if not needed for your network environment or if vulnerabilities exist. SMB is a protocol utilized for sharing files, printers, and resources between networked computers.

Plesk Administrator access restricted to our IP address
Restricting Plesk administrator access to a specific IP address is a good security practice that can help prevent unauthorized access to the Plesk control panel.By allowing access only from a known IP address, you add an extra layer of security to your Plesk environment.

windows defender
Windows Defender is the built-in antivirus and anti-malware solution provided by Microsoft for Windows operating systems. It offers real-time protection against various types of threats, including viruses, malware, spyware, and other malicious software
Seeking a solid, tailored Windows hosting solution?
HostingRaja offers swift, adaptable, trustworthy, and secure Windows hosting plans in India at highly competitive prices. Whether you're launching a brand-new Windows website or have experience managing multiple sites, our Windows hosting plans are brimming with features to meet all your essential requirements. Exceptionally Secure and Dependable Windows Hosting Packages. We provide limitless bandwidth, ensuring your website can welcome a multitude of visitors from around the globe. Furthermore, your website will find a home in our fortified data center, benefitting from daily backups and vigilant monitoring.
Robust Plesk Control Hub
Leveraging the cutting-edge Plesk Onyx 17.5 Control Hub, we provide a user-friendly and intuitive platform to efficiently oversee websites and emails. Additionally, we facilitate effortless one-click deployment of numerous applications.
Dedicated 24/7 Technical Assistance
Our amiable support personnel are at your service around the clock. Feel free to reach out anytime, and we're equipped to assist in five regional languages.
99.9% Uptime Assurance
HostingRaja is committed to delivering dependable and secure web hosting, ensuring a 99.9% uptime. Our vigilant 24/7 network monitoring allows us to promptly address any issues that may arise.
Upgrade Flexibility
Adaptability is key. Should your needs evolve, our packages can be easily upgraded through the intuitive control panel.
The Right Choice for Microsoft Applications. If your project calls for specific Microsoft applications like Active Server Pages (ASP) and is developed using tools like Microsoft FrontPage, or relies on .NET, MS Index, or Visual Basic scripts, then the Windows environment is the optimal choice over Linux. We offer competitively priced plans tailored for large, high-traffic sites, with five distinct plans to accommodate varying site requirements.
Technology meets Scalability
HostingRaja takes pride in offering cutting-edge Windows hosting services with top-notch technical specifications. Our Windows server hosting is powered by the latest versions of Windows Server, providing robust and reliable hosting environments. We ensure that our Windows VPS hosting and Windows shared hosting platforms are equipped with state-of-the-art hardware and software to deliver optimal performance.
For those seeking Windows hosting in India, we provide servers located in local data centers, ensuring lower latency and faster connectivity for Indian audiences. Our Windows web hosting includes support for popular databases and programming languages, making it a versatile choice for a variety of web applications.
Security is a top priority, and our Windows hosting plans come with advanced security measures to protect your data and website from threats. With regular backups, SSL certificates, and 24/7 monitoring, HostingRaja ensures that your hosting experience is secure, reliable, and hassle-free.
Specialized Hosting Options
HostingRaja goes beyond conventional Windows hosting services to offer specialized hosting solutions tailored to diverse needs. Our Windows reseller hosting program is a standout, enabling clients to become hosting providers themselves. It's an excellent opportunity for entrepreneurs and IT professionals.
For those seeking high-performance and dedicated resources, our dedicated Windows server hosting and Windows VPS server hosting are ideal. These services offer enhanced control and scalability, perfect for high-traffic websites and complex applications.
We also cater to specific market segments with our cheap Windows shared hosting and Windows hosting cheap options, providing cost-effective solutions without compromising on quality. These plans are particularly popular among startups and small businesses in India, offering them an affordable entry point into the digital space.
Additionally, our cloud Windows hosting brings the latest in cloud technology, ensuring high availability and flexibility. With HostingRaja, you can be assured of finding a hosting solution that perfectly aligns with your requirements, be it Windows server web hosting or Windows web hosting India.
Support versions of ASP.NET
Yes, Using the same account, You can run multiple websites using different versions of ASP.NET
---
List of supported features
Not only this features list, We support all features needed for any web developers. We support others features like too.
Crystal report
URL Rewrite
IIS Server
Visual studio
.Net Core
Web Mail
Plesk
Ajax Tool Kit
You can manage our Windows Hosting to our panel that allows you to organize files, sub-domains, make archives and access your email. Our Windows Hosting plans permit SSH access allowing you to perform commands, manage files and reliably manage your web hosting from a remote computer over an encrypted medium.
Each Windows Hosting plan is optimized to deliver maximum execution for your site. You can likewise create your website up to 1000% faster and secured with CloudFlare's widely spread and highly unrestricted edge locations to cache your site content and suit faster pages to your international audience.
Features of Windows Hosting Servers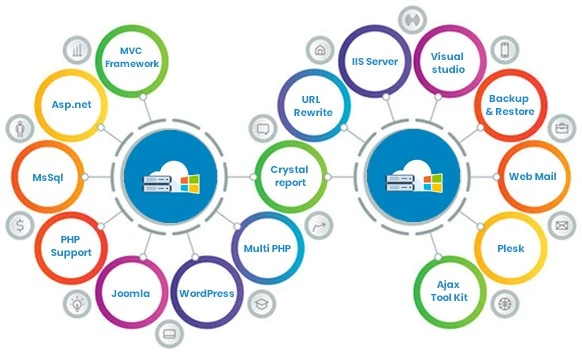 HostingRaja Windows Hosting FAQ's
Reviews from Windows Hosting Customers
Srinivas

06 feb 2023

I've been using Windows hosting from HostingRaja for over a year now, and I'm extremely satisfied. The server performance has been excellent, and I haven't experienced any major downtime. The control panel is user-friendly, making it easy to manage my website. The customer support team has been responsive and knowledgeable whenever I've needed assistance. Highly recommended!

Sudhakar

09 Mar 2023

I've been using Windows hosting from HostingRaja for my e-commerce website, and it has been a great choice. The server performance has been exceptional, ensuring fast loading times for my online store. Their security measures have given me peace of mind, and I appreciate the regular backups they provide. The support team has been knowledgeable and quick to respond whenever I've had questions.

Vishwanathan

16 May 2023

I purchased a Windows VPS server from HostingRaja, and I must say their server speed has been quite fast. Occasionally, there have been instances where the speed decreased. However, upon reaching out to their server team, they made certain changes to improve the server speed or provided a new server promptly.