Unlock the Ultimate Potential of VPS Server Solutions
Are you looking for a hosting solution that offers exceptional performance, complete control, and enhanced security for your website or application? Look no further! HostingRaja's VPS Hosting, also known as Virtual Private Server Hosting, is designed to cater to the unique needs of businesses and individuals seeking powerful hosting services.
Through VPS Hosting, you enjoy the advantages of a dedicated server while only paying a fraction of the expense. Our state-of-the-art virtualization technology ensures that your resources are isolated from other users, providing you with enhanced performance and stability. You'll experience blazing-fast loading times and seamless website management, giving your visitors a smooth and enjoyable browsing experience.
One of the key advantages of VPS Hosting is the full root access it offers. You'll have complete control over your server, allowing you to customize and configure it according to your specific requirements. Install any software, run complex applications, and tweak server settings to optimize performance – the choice is yours!
Security is paramount when it comes to hosting, and HostingRaja understands that. Our VPS Hosting solutions come with DDoS protection, ensuring that your server is shielded from malicious attacks. You can have peace of mind knowing that your data and applications are safe and secure with us.
Are you targeting a specific audience in India? HostingRaja's VPS Hosting offers multiple data centers strategically located in India, ensuring low latency and high-speed connectivity for your Indian visitors. This localized approach can significantly improve your website's performance for the Indian market.
At HostingRaja, we are committed to providing you with seamless management of your VPS Hosting. Our user-friendly control panel makes it easy to manage your server, monitor resource usage, and perform tasks effortlessly.
Whether you are running a high-traffic website, an e-commerce store, a resource-intensive application, or hosting multiple websites, our VPS Hosting solutions can handle it all. Experience enhanced performance, complete control, and reliability like never before with HostingRaja's VPS Hosting services.
Host with HostingRaja's Premium VPS Hosting Solutions for the Perfect OS and Unmatched Performance

Experience the Power of HostingRaja's Fast, Secure & Reliable Linux VPS Hosting Solutions. Explore a Wide Range of Linux VPS Plans with Affordable Rates.
Linux VPS Hosting

Experience the Power of Enterprise VPS Servers with HostingRaja. Discover Unmatched Performance, Security, and Support with Our Enterprise VPS Hosting Solutions.
Enterprise VPS Servers

Unlock the Full Potential of Windows VPS Hosting with HostingRaja. Choose from Windows VPS Plans for Fast, Secure, and Reliable Hosting at Affordable Rates.
Windows VPS Plans & Pricing

Experience Seamless High Availability with HA Cluster VPS Hosting at HostingRaja. Keep Your Business Online 24/7 with Redundant Resources and Failover Capabilities for Optimal Performance.
HA Cluster VPS

Get Full Control and Convenience with Free Control Panel VPS Hosting at HostingRaja. Manage Your Virtual Server Easily with User-Friendly Interfaces and Essential Tools, All Included at No Extra Cost.
Free Control Panel VPS
Discover the Perfect OS for Your VPS Hosting Services with HostingRaja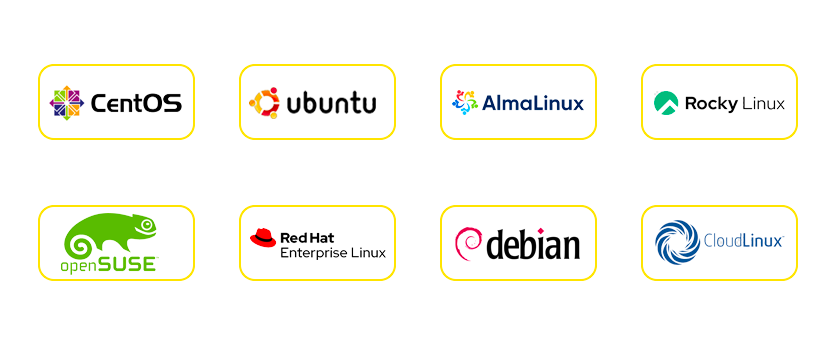 The list of features that comes when you buy a VPS server – Applicable to all plans
---

Optimized Data Transfer
Elevate your VPS experience with HostingRaja's Virtual Server Solutions – your trusted VPS Provider for high-performance VPS Hosting! Enjoy seamless and efficient hosting with our high-speed connectivity and state-of-the-art infrastructure, ensuring optimal performance for your website or application. With full root access, advanced security measures, and multiple data centers in India, our VPS Hosting offers the best of both worlds – cost-effectiveness and control.

Fortified Protection
Enhance your website's security with HostingRaja's Virtual Server Solutions! Our powerful VPS servers offer top-notch protection, keeping your data and online presence safe. Trust us as your reliable VPS Provider, providing peace of mind with our hosting solutions. Enjoy high-performance and unmatched security with our VPS Hosting services. Opt for HostingRaja and take your online business to greater heights.

Proficient Help Just a Click Away
Unleash the true potential of your website with HostingRaja's Virtual Server Solutions! Tap into the strength of our robust enterprise VPS servers, always supported by dedicated customer care. Revel in top-notch performance and expert assistance, trusting us as your reliable VPS Provider. Seamless VPS Hosting services await you, empowering your online journey with HostingRaja by your side.

Empower Your Business
Embrace the path to modernization and success with HostingRaja's Virtual Server Solutions! Experience the power of our robust enterprise VPS servers and secure cloud solutions, empowering your business to new heights. As a trusted VPS Provider, HostingRaja offers reliable hosting services, ensuring seamless performance and unmatched security. Elevate your online presence with us by your side, and unlock the full potential of your business.

Unleash Your Power
Maximize your VPS potential with HostingRaja's Virtual Server Solutions! As a leading VPS Provider, we offer unmatched control and customization options, allowing you to tailor your hosting environment to your specific needs. Experience superior hosting flexibility and performance with our reliable VPS Hosting services. Whether you're a business or an individual, HostingRaja's tailored solutions empower you to take full charge of your virtual server.

Creativity and Innovation
Stand out from the crowd with HostingRaja's Virtual Server Solutions! As a leading VPS Provider, we offer innovative and tailored solutions on VPS servers that empower you to stand apart from the competition. Experience the power of our VPS Hosting services, designed to give you a competitive edge in the digital landscape. With HostingRaja, you can unleash your creativity and leverage unique ideas, all backed by robust virtual server solutions.

Maximize Cost Efficiency
Take advantage of HostingRaja's Virtual Server Solutions to save more and elevate your hosting experience. As a trusted VPS Provider, we offer cost-effective VPS Hosting services designed for high-traffic websites and resource-intensive applications. Enjoy top-notch performance and reliability without exceeding your budget. Our Virtual Server Solutions provide the perfect platform for your online ventures, offering the flexibility, control, and scalability necessary for success.

Risk-Free Exploration
Embark on a risk-free journey with HostingRaja's Enterprise VPS Server trial. As a leading VPS Provider, we offer Virtual Server Solutions that deliver top-level performance and advanced features for your website or application. Experience the power of our VPS Hosting services without any commitment, allowing you to explore the benefits of our Virtual Server Solutions.

Trust-Worthy
With HostingRaja's Enterprise VPS Servers, you can put your trust in enhanced security, uninterrupted uptime, and dedicated support. As a trusted VPS Provider, we offer Virtual Server Solutions that ensure your website or application is in safe hands. Experience top-notch performance and reliability with our VPS Hosting services, backed by robust security measures to protect your data and online presence.
All our Enterprise VPS Hosting servers comes with the following features
Extendable NVMe – Enjoy the flexibility of increasing your disk space on short notice, ensuring ample storage for your growing needs.
Spamassassin Protection with every VPS – Rest easy knowing that all your emails undergo thorough scanning, safeguarding your inbox from potential threats.
Full Root/SSH Access – Take full control of your servers with comprehensive administrative privileges, enabling effortless server management, reinstallation, and rebooting.
Malware Injection Defense – Defend your server against viruses and potential security breaches, ensuring the integrity of your system.
PHP Vulnerability Check – Benefit from a unique defense mechanism that actively safeguards your PHP files, preventing vulnerabilities from being exploited.
Default CSS/JS optimizer – Experience optimized server performance with our built-in file compression techniques, designed to accelerate your website's loading speed.
Free SSL Certificate – Enhance your website's security with a complimentary SSL certificate, protecting sensitive data and earning your visitors' trust.
Near-Instant Provisioning – Say goodbye to setup fees and enjoy a seamless provisioning process, allowing you to get your VPS up and running swiftly.
Guaranteed Uptime – We guarantee an exceptional 99.99% uptime, ensuring uninterrupted accessibility to your website and services.
High Priority Support – Our dedicated support team is available 24/7, providing prompt assistance and managed support to address any concerns or issues.
Application Compatibility – Run any application you desire, whether it's NodeJs, ReactJs,, Joomla, WordPress,, Drupal, or others, our VPS hosting supports them all.
Multiple Data Center Locations – Determine the ideal data center site to cater to your specific requirements. We offer multiple geographically diverse data centers, allowing you to select the closest one to your target audience, resulting in lower latency and improved user experience.
Automated Backups and Disaster Recovery – Protect your critical data with automated backups and disaster recovery options. Our Enterprise VPS Hosting includes regular backups and provides the ability to quickly restore your server in the event of unforeseen circumstances, offering peace of mind and data resilience.
High-Performance Virtualization Technology – Our Enterprise VPS Hosting utilizes advanced virtualization technology, such as KVM (Kernel-based Virtual Machine) or VMware, ensuring efficient resource allocation, isolated environments, and superior server performance.
Customizable Server Configurations – Customize your server configuration to meet your specific needs. With our Enterprise VPS Hosting, you can choose the desired amount of CPU cores, RAM, storage, and bandwidth, allowing for a personalized hosting environment.
Dedicated IP Address –Each VPS server in our Enterprise Hosting package comes with a dedicated IP address, providing better email deliverability, enhanced website security, and the ability to set up SSL certificates for secure online transactions.
Comprehensive Monitoring and Management Tools – Gain complete control over your VPS with our intuitive monitoring and management tools. From a user-friendly control panel to advanced monitoring solutions, you can monitor resource usage, track performance metrics, and easily manage your VPS server.
Strengthening VPS Security – Essential Measures and Advanced Tools

CSF Firewall
ConfigServer Security & Firewall is a widely-used software firewall that provides security measures for Linux servers. It helps in managing and controlling incoming and outgoing network traffic to enhance server security.

imunify360 setup(Based on client Requirement)
Imunify360 is a complete safety answer for internet servers. It provides proactive defense against various types of attacks, including malware, viruses, and other web-based threats. Setting up Imunify360 involves configuring its features to ensure server protection.
php execution log
In OVIPanel it comes with a unique choice wherein you may permit your PHP execution log . If you have were given uploaded any content, pics or movement pics in CSS in img format it truly is completing with .Hypertext Preprocessor then you definitely get the choice to permit in in PHP execution log.By this manner it facilitates you to triumph over from hackers.

Secure Upload
Secure file upload refers to implementing measures to prevent malicious files from being uploaded to a website. This involves validating file types, scanning uploads for malware, and setting appropriate permissions to ensure that uploaded files cannot be executed as scripts.

WAF (Apache mod security)
Web Application Firewall (WAF) is a security solution that sits between a web server and the internet, filtering and monitoring incoming web traffic to block potential threats and attacks. Apache mod_security is a popular module used to implement WAF rules for the Apache web server.

Security Log
A security log is a comprehensive record of security-related events, offering insights into system activities. The Security Log module highlights directories and files with 777 permissions, aiding in identifying potential vulnerabilities. This feature enhances overall server security and proactive risk mitigation.

maldet Scanner(panel)
Computer viruses, a type of malware, replicate by altering programs and inserting their code. They infect files, including the hard drive's boot sector, potentially disrupting VPS and cloud servers. Regular virus scans are vital, and OVIPanel provides a scanner for mail and home directories with two scan options.

unblock Spam mail
This unblocks the spam sent emails module will control the outgoing spam email from the server. The email account will get block If more than 40 emails have sent within one hour from the individual email account Admins can review and unblock such messages to ensure important communications are not lost.

phpmail log
PHP mail logs track the sending of emails from PHP scripts on a server. These logs can be helpful for diagnosing email-related issues, tracking the delivery status of sent emails, and identifying potential problems with the mail.
Explore a Wide Range of Operating Systems for VPS Hosting with HostingRaja
Experience the Power of CentOS OS – A Lightweight, Speedy, and Reliable Operating System. HostingRaja offers top-notch CentOS VPS Hosting, built on the foundation of Red Hat Enterprise Linux, ensuring enterprise-level performance and security. With CentOS VPS Hosting, you get the best of both worlds – a virtual private server with the agility and rock-solid performance of CentOS, creating a secure and efficient hosting environment for your business. Trust HostingRaja for dependable VPS Hosting solutions powered by CentOS OS.
Experience the Remarkable Blend of User-Friendliness and Versatility. Our open-source Ubuntu operating system provides the ideal choice for flexible and reliable VPS hosting. Benefit from robust security measures and the freedom to customize your server environment, ensuring an intuitive hosting experience tailored to your specific needs. Choose HostingRaja for seamless and secure VPS hosting with Ubuntu as your foundation.
the Power of this Cutting-Edge Operating System. Alma, an exceptional open-source OS, offers unmatched features and performance. Experience the remarkable combination of innovation and stability, backed by a thriving community. With HostingRaja's Alma VPS hosting, elevate your online projects with a rock-solid and efficient hosting environment. Harness the full potential of Alma and embark on a seamless VPS hosting journey with HostingRaja by your side.
Experience Unparalleled Stability and Performance with Debian VPS Hosting. Debian, a famend internet server OS, gives rock-stable reliability and remarkable speed. Benefit from seamless upgrades, robust security measures, and remarkable scalability. Opt for Debian as your preferred OS for VPS server hosting and ensure top-notch performance, reliability, and security for your online projects.
Experience of SUSE Open-Source OS for VPS Hosting. SUSE offers continuous innovation with rolling releases and reliable support from a robust community. Experience stability, seamless performance, and cutting-edge features with SUSE for your VPS server hosting. Empower your hosting journey with SUSE and join a thriving community of like-minded individuals and organizations.
How Clustering Elevates Web Application Availability and Reliability
A Cluster plays a pivotal role in enhancing the availability and reliability of web applications through several key mechanisms. By distributing the workload across multiple servers, a cluster ensures that even if one server fails or experiences high traffic, the application remains accessible and responsive. This redundancy and fault tolerance significantly reduce the risk of downtime and enable continuous service availability.
Moreover, clusters allow for seamless maintenance and upgrades. By distributing the workload, individual servers can be taken offline for maintenance without disrupting the overall service. This ensures that necessary updates and enhancements can be applied without affecting users' experience.
Additionally, clusters provide scalability by dynamically allocating resources based on demand. As traffic fluctuates, the cluster can allocate additional servers to handle increased workload, ensuring optimal performance and responsiveness.
In summary, clustering enhances web application availability and reliability by offering redundancy, fault tolerance, seamless maintenance, and scalability. By harnessing these capabilities, businesses can provide uninterrupted service to their users, improving customer satisfaction and minimizing the impact of potential disruptions.
HostingRaja VPS Server FAQ's