Effortlessly Manage Your AWS Infrastructure with HostingRaja
Transitioning to the cloud brings its own set of challenges, consuming valuable time and resources. At HostingRaja, we take the burden off your shoulders by providing expert AWS managed services. Our certified specialists handle all aspects of your AWS databases, infrastructure, and application deployment, allowing you to focus on your core business.
As a trusted Amazon Web Services (AWS) cloud services provider, HostingRaja offers comprehensive managed services, including outsourced AWS systems administration and network and storage solutions. With our deep understanding of the AWS ecosystem, we optimize EC2 utilization, ensure S3 redundancy, leverage elastic block storage (ELB) for persistence, and harness the scalability of Elastic Load Balancers.
Our expertise extends to managing SimpleDB, RDS, and DynamoDB, enabling seamless enterprise and web application deployments. Rest assured, we prioritize security and ensure that your business operations remain fully protected. With HostingRaja by your side, you can navigate the complexities of AWS with ease, knowing that your infrastructure is in capable hands.
AWS Migration & Strategy
AWS Cost Optimization
AWS Technical Support & Monitoring
AWS DevOps Automation
AWS Security & Compliance Management
Database Migration And Management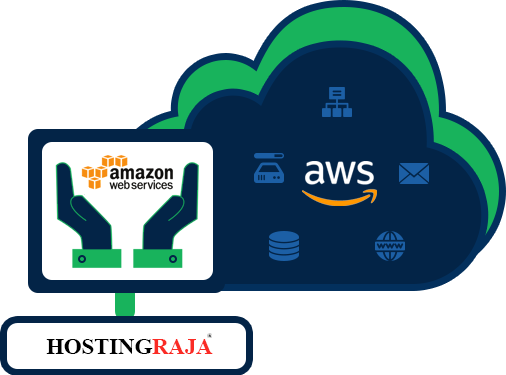 24/7 Managed Support for AWS Cloud
HostingRaja, leaders in hosting and domain related services for about 8 years. We are providing managed services for Amazon web services. Our technical crew are excelled in providing the complete end to end managed AWS service to make the experience easy flow for you.
HostingRaja's AWS managed solutions liberate you from the burdens of day-to-day management tasks, allowing you to focus squarely on your business goals. Our AWS managed services streamline technical operations, such as handling resource change requests, monitoring server alterations, and managing patch files, among other tasks.
Our team of professionals has experience in migrating a large number of sites easily without any downtime. They consistently ensure that your website functions perfectly on our AWS server. We'll transfer all the required files and databases from your old/aged Amazon cloud provider to your new managed AWS cloud server with us.
HostingRaja can make your AWS journey successful
We provide AWS Consulting & technical support at comparatively lesser price compared to other aws partners. There are number of web service that are provided from the amazon. The user may not be technically fit to deal with the technical aspects of the system. We from our end provide the complete end to end support related to technical and non technical stuffs. This eases the user to have the hassle free experience at the HostingRaja.
HostingRaja Helps You In Following Ways

Optimization to save the expense
Most of the AWS cloud customers are not happy with ever growing bills of AWS cloud. If your cloud architecture is not setup properly or if there is any mistake in the system, AWS billing system can throw you surprises with huge amount of billing. We have experts who can help you to save your cost on AWS cloud.

Migration to AWS
AWS is one of the finest cloud platforms you can uncover in the market but without experience, it's grim and overwhelming to transfer from any other platform to AWS. As you take the essential first step into the cloud we can assist you with our knowledge and standard AWS support to mitigate any interruption or risk in the deployment process.

Expertise
Avoid the risks of DIY AWS setup by hiring our in-house AWS technical specialists. Our team acts as an extension of your organization, ensuring the perfect framework is established without any compromise. With their expertise, you can confidently navigate AWS complexities and achieve the desired infrastructure setup.
What do we do?
Our expertise extends to aiding both emerging and established enterprises, regardless of their size, in the effective management of various Amazon Web Services, including:
Deployment of ongoing products
AWS EC2 Instance management
AWS ELB/ALB management
AWS Auto Scaling management
AWS Elastic IP
AWS Security Group management
AWS VPC management
AWS Route53 management
AWS S3 management
AWS RDS management
AWS EBS management
AWS Glacier management
AWS Lambda management
AWS IAM management
AWS Elasticache management
AWS Cloud Watch management
AWS Beanstalk management
AWS Elastic Container Service (ECS)
AWS Amazon Elastic Container Registry
AWS CloudFront
AWS CodeCommit
AWS CodeBuild
AWS CodePipeline (CI/CD)
AWS WAF and Shield
AWS SNS
Why Pick us as your AWS Managed Services provider?
24*7 Support
Affordable and Constructive Solutions
Proactive Approach
Scalable Results
Managed AWS Affordability:
Your fundamental reason for moving to the cloud is to reduce cost. Thus, your AWS will be analyzed regularly in order to assist you with diminishing the expense of your AWS cloud.
AWS Optimized:
AWS With the assistance of cutting-edge caching technology, your AWS is upgraded and improved to convey better execution as your need expands.
Secure Cloud:
Our well-built combination of skilled AWS specialists and instruments utilized for the board helps with protecting your server and the data stored on it.
Expertise:
In view of your business needs, our specialists will build solution architects for your AWS environment. We have our own experts group of specialists to deal with this large number of tasks.
The services offered in support of amazon web services are
Patch Management
The managed service at hostingraja keeps your operating system upto date by planting the available patch files on the server. To make sure that the secured and the advanced services are delivered.
Backup and Restore Management
The back of the data will be scheduled for the time intervals and the restore process will take place whenever is needed. This vanishes out the possible loss of data and downtime of your web application. We don't provide backup and restore services, But if you have any backup and restore applications or services bought from others, We can setup and monitor it.

At HostingRaja our managed service comprises a vigilant monitoring system that continuously observes the status of service ports. This proactive approach minimizes the chances of service interruptions related to any of the service ports. The total health of the services in terms of available resources and the consumed resources is been monitor and the respected actions are being performed.


AWS Service Installation
There could be number of softwares installation and configuration you may need to perform within the server. The process can be a tricky one and may need expert solution. The hostingRaja crew will do it from their end, ensuring that the hassle free service is delivered.


AWS Performance Optimization
The resources are the one who are having the highest impact on the performance. The expert team will guide you to choose the right resources, and optimise your services.The hostingRaja team will promise you to provide the give the best of the services delivered.
Benefits of Managed AWS for your Business
Cost Optimization:
Upgrade your cloud spending, and accomplish better economics aspects through Managed AWS rightsizing plan conferences, reserved instances, and different proposals with our month-to-month analysis report.
Time-Saving:
All the server-related undertakings like updates, fixing, or other everyday activities needed for AWS management will be done by our team.
24/7 Available Support:
You can reach our specialist team at any time. They will be always happy to help you 24/7 with your AWS-related inquiries.
Cloud Security:
Best practice security setups of AWS are applied on your current circumstance, on the record, and foundation level by our AWS certified administrators. All AWS services are monitored 24/7.
Optimization and Growth:
To accept the state-of-the-art AWS services, we upgrade your AWS server along with execution, expenditure, and security.
Increased Productivity:
Rather than being worried about managing your AWS cloud platform, let your team perform on what they are best at-building items, making profits, and helping clients.
The operational related services offered are
Operating system update, upgrade and patch files.
Setup installation and configuration of various required softwares and plugins.
Setup and maintenance of access management.
The various aspects monitored on the server are
The key aspects like disk space, CPU, Memory.
Suspicious activities within the server.
Time based notifications.
Server port, applications.
There could be number of possible AWS managed service providers available. But choosing the one which offers the best of the services at most affordable prices makes the perfect sense. At Hosting Raja, our AWS managed services stand out with unbeatable affordability when compared to other providers. Rest assured, we deliver comprehensive end-to-end support.


Managed services charges
The charges for managed services for the each of the service is 20% of the charge paid towards the services. This is measured as one of the cheapest compared to others.
To know more about the AWS managed services from HostingRaja or for any other queries kindly contact HostingRaja team.
HostingRaja AWS Managed Services FAQ's
Reviews from Customers
Prabu Priya

21 Jun 2023

I'm really happy with HostingRaja's AWS platform. It provides a lot of helpful services that have really improved my business. AWS is always reliable and works nonstop, so my business runs smoothly. I highly recommend AWS to other businesses looking for a strong and dependable cloud solution. With HostingRaja on your side, you can trust us to make the most of AWS for you, all without spending too much.

Arjun Janya

02 Jul 2023

I'm extremely thankful for HostingRaja's AWS Managed Services. Their team of experts takes care of everything, from patch management to security, ensuring my cloud infrastructure is well-managed and secure. It's a huge relief to have such reliable support for my business's AWS needs.

Aashvi

20 Jan 2022

I am highly satisfied with the AWS platform offered by HostingRaja. It provides a diverse range of services and features that have immensely benefited my business. I have experienced exceptional reliability and uptime with AWS, ensuring uninterrupted operations. I highly recommend AWS to businesses seeking a robust and dependable cloud computing solution. With HostingRaja as your partner, you can trust our expertise to help you optimize your usage of AWS, all at a budget-friendly price.

Guneet

01 Apr 2022

As a client of HostingRaja, I would like to express my heartfelt gratitude for their exceptional service. I purchased AWS service from them. One aspect that particularly stands out is the competitive pricing, as HostingRaja offers the lowest prices compared to other resellers in India. The server uptime and speed have been exceptional, ensuring reliable and fast performance for my services. The technical team at HostingRaja deserves special recognition for their outstanding work. I am extremely satisfied with the service I have received from HostingRaja.