For Sales Enquiry
: 821 778 4838, 636 030 8610, 6360309093
Choose your NodeJS hosting type
CPU
RAM
DISK
Bandwidth
Multi JS – Framework support
Easy Existing Project Deployment
Monitoring using PM2
UI for Managing NodejS application/FREE SSL
| | | |
| --- | --- | --- |
| 3 Core | 4 Core | 4 Core |
| 3 GB | 4 GB | 5 GB |
| 90 GB | 120 GB | 200 GB |
| 3000 GB | 4000 GB | 10000 GB |
| Yes | Yes | Yes |
| Yes | Yes | Yes |
| Yes | Yes | Yes |
| Yes | Yes | Yes |
DISK
CPU
RAM
Bandwidth
IP Address
Multi JS – Framework support
Easy Existing Project Deployment
Monitoring using PM2
UI for Managing NodejS application/FREE SSL
| | | |
| --- | --- | --- |
| 750 GB | 1 TB | 1 TB |
| 4 Core (9.60 GHz) | 6 Core (14.4 GHz) | 8 Core (19.20 GHz) |
| 16 GB | 24 GB | 32 GB |
| 10 TB | 10 TB | 15 TB |
| 1 | 1 | 1 |
| Yes | Yes | Yes |
| Yes | Yes | Yes |
| Yes | Yes | Yes |
| Yes | Yes | Yes |
NOTE: Latest version of node js and also the other recent versions are supported
Advantages of NodeJS server from HostingRaja
Get ready to use NodeJs within a minute
Setup Node.Js with a single click
Deploy multiple NodeJs applications with different ports
Get a user-friendly UI interface
Our NodeJs permits automatic domain mapping for your applications
Without using command lines get a fully manageable GUI
Nodejs provides support to DBMS like MongoDB
Free application setup and support
Start and Stop your Node js application with complete GUI
Why Choose Node.js Hosting?
Node.js is quickly turning into the accepted norm in web improvement for various positions. Node.js is consistently utilized by developers of mobile applications to give a little and brilliant back-end answer for taking care of requests. It is likewise turning out to be progressively well known with site developers who need to employ a leaner solution than a significant number of the enormous programming stacks that are utilized today. It handles asynchronous tasks well indeed and with a little impression, it is likewise becoming famous with destinations that have high-volume APIs and huge information sources. Node.js is intended to manage a whirlwind of little requests without transforming into a memory management nightmare and coming up short under weighty burdens.

We will probably convey the quickest experience feasible for both you and the visitors of your site. We comprehend that as a Node.js developer, you have explicit objectives you're attempting to accomplish. Our expectation is our wide scope of steady and speedy services can assist you with meeting those objectives as could be expected. We can assist you with adjusting the requests of your spending plan against the prerequisites of your web application
One-click NodeJS Installation using UI
1. You can install any JS framework from scratch when you use this UI. We have installed various JS versions in just one click. You can choose the js framework like Angular Js, Express Js, Next Js, Next Js with typescript, Node js, React Js, Vue Js. You can select a domain name as we have shown, once the domain is selected enter the port number and choose the js for installation.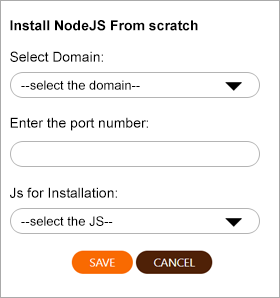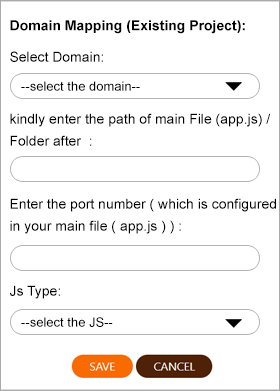 Domain Mapping using UI
2. If you are managing any project at present using any of the above methods mentioned js framework then we can easily map the domain using the UI. All you have to do is click on the drop-down menu under the domain section and select the domain name. Then enter the path of the main file example(app.js). After the main file is updated you need to enter the port number which is configured in the main file and then select the Js type and save it.
Manage NodeJS Application
3. After creating the app. from the scratch or after domain mapping, we can manage the app such as START, STOP, RESTART, DELETE using the UI easily. If we stop the application the pm2 process of the particular domain will stop as well in the same way if we start and restart the application the pm2 process of the particular domain will start and restart. If we delete the application the particular domain will run under the apache (PHP files).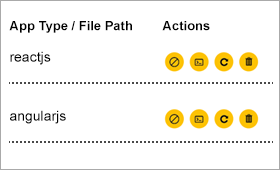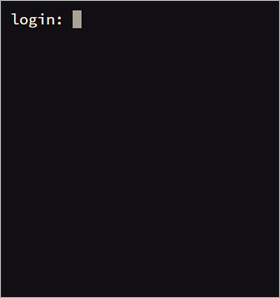 Easy to use Console Access
4. If you want to install any npm (node package manager) packages or if you want to run any command you can easily do it using the terminal access. When the login prompt comes you will have to enter the username and password once it is entered it will login as a server and move to the application directory
NodeJS Log Manager
5. If you are looking to check the access/Error log you need to login the your UCP (User Control Panel) account and go to the pm2 log module. You will be able to see display the logs based on the user selection.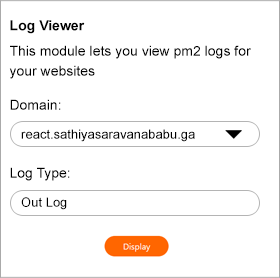 Reviews from Our Customers

Abhishek Sharma

15th March 2021

After using the service of hostingraja for 2.5 years, I wanted to migrate my nodejs app to them. Once i migrated my app in the given nodejs server all of sudden after migration, the app stopped working. When i contacted the tech team, they informed me that ejs module is missing in the node modules folder. Once i gave the permission to install and make my app work, then all started working fine. Due to missing of ejs my app was not working properly. I have connected with hostingraja they have support to install ejs module and they have guided to how to install npm packages using their terminal too. very supportive team. Thank u guys.
HIGHLY RECOMMANDED



Varun Gupta

12th July 2021

I faced issue with Node app setup, My app have front with html and admin with nodejs. I tried to setup myself, but failed. I connected hostingraja support they resolved my issue with proxypass concept now my frontend work with html and admin working in node using proxypass. I'm grateful for them.