What is .co.in domain?
The .co.in extension is a digital signature that proudly represents India as its country code top-level domain (ccTLD). It is specifically intended for businesses and organizations operating within India or targeting an Indian audience. The "co" in the .co.in extension stands for "commercial" and signifies that the domain is primarily used by commercial entities. The .co.in domain is administered by the National Internet Exchange of India (NIXI).
The .co.in domain is widely recognized and associated with Indian businesses, providing a clear indication of a website's connection to India. It is commonly used by companies, startups, organizations, and individuals looking to establish a local presence and cater to the Indian market.
Registering a .co.in domain allows businesses to create a localized online identity, target Indian consumers, and communicate their affiliation with India. It signifies that the website is commercially focused and operating within the Indian context.
It's worth noting that the .co.in domain is different from the .in domain, which is the primary ccTLD for India and is open to registration by individuals, organizations, and businesses without the specific "co" requirement.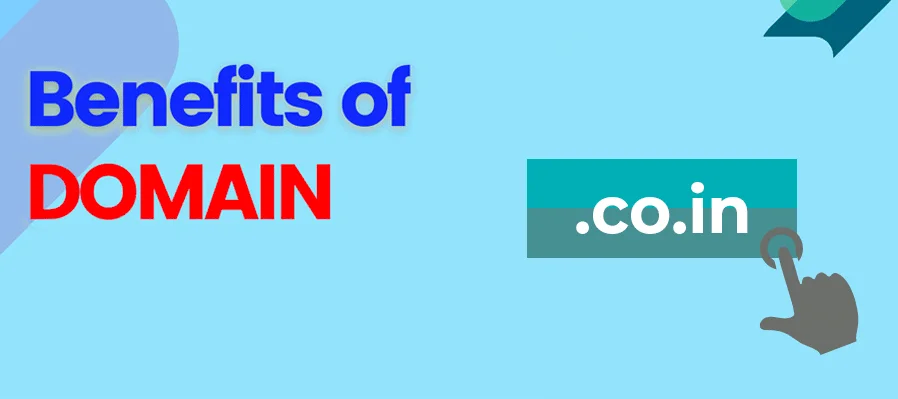 BENEFITS OF .CO.IN DOMAIN:
1.Localized Presence: The .co.in domain is specific to India, allowing businesses to establish a localized online presence and target the Indian market specifically.
2.Indian Market Recognition: Using a .co.in domain helps businesses gain recognition and trust from Indian customers, as it aligns with their familiarity of local domain extensions.
3.Search Engine Visibility in India: Search engines often prioritize local domain extensions for country-specific searches, giving .co.in domains an advantage in search engine rankings within the Indian market.
4.Regional Targeting: Businesses operating in specific regions or states within India can leverage .co.in domains to target a local audience and strengthen their regional branding.
5. Strengthening Local Business Identity: A .co.in domain gives businesses a distinct Indian identity, allowing them to showcase their connection to the local culture, market, and customer base.
6.Brand Localization: .co.in domains enable businesses to tailor their brand messaging, content, and offerings specifically for the Indian audience, enhancing brand resonance and relevance.
7.Enhanced Trust and Credibility: Using a .co.in domain can enhance the trust and credibility of businesses in the Indian market, as customers perceive them as local and more familiar with their needs.
8. Boosting Customer Confidence: Indian customers often feel more confident in engaging with businesses that have a local online presence, and a .co.in domain helps foster that trust and confidence.