What are .org domain names?
The .org domain is a top-level domain (TLD) commonly used for nonprofit organizations, non-governmental organizations (NGOs), and other non-commercial entities. Here are some key points about .org domain names:
Purpose: The .org domain was originally intended for organizations involved in non-commercial activities, such as charitable, educational, humanitarian, and cultural endeavors.
Nonprofit Focus: .org domains have grow to be synonymous with nonprofit companies globally. Many well-known nonprofits, charities, and NGOs use .org as their primary domain extension.
Credibility: The .org domain has a long-standing history and association with reputable organizations, which can lend credibility and trust to your organization's online presence.
Global Recognition: .org domains are recognized worldwide as representing organizations dedicated to social causes, activism, education, and community development.
Open to Various Organizations: While primarily associated with nonprofits, .org domains are not limited to them. Other entities such as open-source projects, professional associations, research institutions, and advocacy groups also use .org domains.
Availability: As a trailblazing TLD (Top-Level Domain), .org domains have a rich history of widespread adoption and registration spanning numerous years. Nevertheless, there remains a favorable opportunity to discover an unclaimed and fitting .org domain for your organization.
Donations and Fundraising: Nonprofits often use .org domains for their websites to emphasize their mission and facilitate online fundraising efforts.
Global Reach: With the global recognition of .org, your organization can reach a broad audience, both locally and internationally, as people understand the purpose and nature of .org websites.
Trust and Perception: Internet users generally associate .org domains with reputable organizations that prioritize public welfare, making a .org domain an effective way to convey your organization's values and commitment to a cause.
Community Building: Being part of the .org community allows organizations to network with like-minded entities, collaborate on projects, and benefit from collective exposure and support.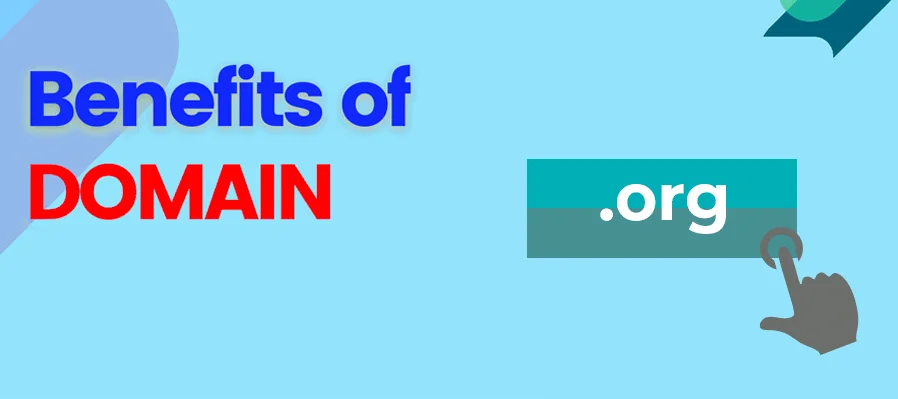 BENEFITS OF .ORG DOMAIN:
1.Non-profit Focus: The .org domain extension is specifically intended for non-profit organizations, providing a clear indication of the organization's mission and purpose.
2.Credibility and Trust: .org domains are associated with credibility, trustworthiness, and integrity, as they are widely recognized as the domain extension for non-profit entities.
3.Global Recognition: The .org extension has a global presence and is familiar to internet users worldwide, allowing non-profit organizations to reach a broad audience.
4. Establishing a Non-profit Identity: Using a .org domain helps non-profit organizations establish their unique identity in the online space, distinguishing them from for-profit entities.
5. Donor Appeal: Many donors and supporters actively seek out .org domains when looking to contribute to non-profit causes, making it easier for organizations to attract donations and support.
6.Advocacy and Awareness: .org domains provide a platform for non-profit organizations to raise awareness about their mission, promote advocacy campaigns, and mobilize support for their cause.
7.Community Engagement: .org domains foster community engagement by providing a central hub for non-profit organizations to connect with their audience, share resources, and facilitate collaboration.
8. Professional Email Address: Having a .org domain allows non-profit organizations to create professional email addresses associated with their domain, enhancing credibility in communication.
What can a .org domain do:
Connect with Donors and Supporters: With a .org domain, organizations can establish a hub for their community of donors, volunteers, and supporters. It can provide updates, resources, and ways for individuals to get involved and stay connected.
1. Expand Reach: The .org domain is globally recognized and understood as representing organizations dedicated to social causes. It enables organizations to extend their reach beyond geographical boundaries and connect with a broader audience.
2. Collaborate and Network: Being part of the .org community allows organizations to network and collaborate with other nonprofits, NGOs, and like-minded entities. It provides opportunities for partnerships, joint initiatives, and knowledge-sharing.
3.Promote Advocacy and Awareness: A .org domain can be used to raise awareness about social issues, advocate for policy changes, and mobilize support for a cause. It provides a platform to share educational content, resources, and news related to the organization's mission.
4. Support Community-Building: Organizations using a .org domain can foster a sense of community among their supporters, beneficiaries, and stakeholders. It can serve as a central hub for communication, engagement, and collaboration within the organization's ecosystem.
These are some of the ways a .org domain can empower agencies and assist them satisfy their assignment and objectives. It provides a unique online identity that signifies their commitment to making a positive impact in the world.