Register Your .net Domain with HostingRaja to Reach the Heart of India's Online Market
When it comes to establishing your online presence, having a powerful domain is essential. HostingRaja understands the significance of a solid foundation for your website and offers a wide range of domain services tailored to meet your specific needs. With HostingRaja, you can unlock the full potential of your website, ensuring a seamless online experience for your visitors.
Register your .net domain with HostingRaja, an accredited registrar with expertise in managing .net domains. At an affordable price from HostingRaja enables you to secure a reliable and globally recognized domain extension. With a .net domain, you can showcase your association with networks, technology, and the online world.
A .net domain offers several advantages, including enhanced credibility, as it is one of the original top-level domains (TLDs) and is widely recognized worldwide. It signifies your connection to the internet, making it suitable for businesses, organizations, and individuals operating in the digital realm.
By choosing a .net domain, you can effectively target a global audience, as .net is a universally understood domain extension. It allows you to expand your reach beyond geographical boundaries and connect with potential customers or users from different countries.
What is .net domain:
The .NET domain is a top-level domain (TLD) in the Domain Name System (DNS) of the internet. It was created in 1985 and stands for "network." Originally, it was intended for organizations involved in networking technologies and internet infrastructure. However, over time, the .NET domain has become associated with a broader range of uses.
While .COM (commercial) is the most popular and widely recognized TLD, .NET is commonly used by businesses, organizations, and individuals in the technology sector. It has a reputation for being relevant to networking, software development, internet services, and other technology-related industries.
The .NET domain is often chosen when the desired .COM domain is already registered, as it provides an alternative option. Many established websites, software companies, and technology-focused organizations have successfully built their online presence using .NET domains.
Overall, the .NET domain offers an opportunity to create a distinct online presence, particularly for those in the technology industry or seeking an alternative to the .COM extension.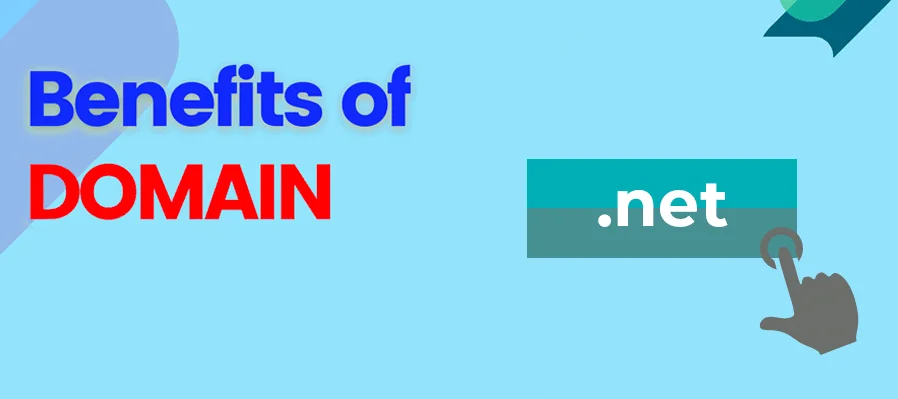 BENEFITS OF .NET DOMAIN:
1.Technology Focus: .NET domains are specifically tailored for technology companies, showcasing their expertise in software development, IT services, and tech innovation.
2.Credibility and Trust: .NET domains are widely recognized and associated with reliability, professionalism, and technical competence, enhancing the credibility of businesses in the technology industry.
3.Global Reach: .NET domains have a global presence and are familiar to internet users worldwide, allowing businesses to reach a broad audience and expand their market reach.
4.Scalability and Performance: .NET domains offer scalability and performance benefits, providing businesses with the ability to handle high volumes of traffic, process complex applications, and deliver seamless user experiences.
5. Security Features: .NET domains provide robust security features, including built-in authentication protocols, encryption options, and protection against cyber threats, ensuring the safety of sensitive data.
6.Seamless Integration: .NET domains support seamless integration with various technologies, platforms, and databases, allowing businesses to integrate their applications and systems efficiently.
7.Programmer-Embracing Atmosphere: .NET domains offer a developer-friendly ecosystem with comprehensive documentation, extensive libraries, and a supportive community, facilitating efficient application development and maintenance.
8. Adaptability and Customization: .NET domains allow businesses to customize their applications, websites, and online services to meet specific industry requirements and customer preferences, enabling tailored experiences.
Important reasons to buy a .NET domain:
There are several important reasons why buying a .NET domain can be beneficial:
1. Branding: Purchasing a .NET domain allows you to establish a strong online brand presence. It provides a unique and memorable web address that aligns with the technology industry. A .NET domain can help you create a distinct identity and differentiate yourself from competitors.
2. Credibility: The .NET domain has a long-standing history and is recognized globally. It is associated with networking, technology, and the internet. By using a .NET domain, you can leverage the established reputation of the extension to enhance the credibility and professionalism of your website or business.
3. Availability: While .COM domains are often popular and taken, .NET domains offer greater availability and a wider range of options. This allows you to find a suitable domain name that aligns with your branding and is available for registration.
4. Industry Relevance: If your business operates in the technology sector or provides technology-related products or services, a .NET domain is highly relevant. It indicates to visitors and customers that you are involved in the technology industry, which can be beneficial for attracting your target audience.
5. Protection and Expansion: Acquiring a .NET domain can serve as a strategic move to protect your brand and online presence. If you already have a .COM domain, registering the corresponding .NET domain can prevent others from using a similar domain name that might confuse your audience or dilute your brand. Additionally, owning multiple domain extensions can allow you to expand your online reach and capture a broader audience.
6. Investment Potential: Domain names, including .NET domains, can hold value as digital assets. While not all domains become valuable investments, some premium or highly sought-after .NET domains can appreciate in value over time. Purchasing a .NET domain can be seen as an investment opportunity for potential future resale or leasing.
It's important to consider these factors alongside your specific business goals and target audience when deciding to buy a .NET domain.