Enhancing Security and Safeguarding Data in cPanel VPS Servers
In the digital realm, safeguarding the security of your data and server infrastructure stands as an absolute priority. Within the realm of cPanel VPS servers, you find a robust foundation for elevating security measures. You have the ability to deploy firewalls, intrusion detection systems, and frequent security updates, all working harmoniously to fortify your protections against potential threats. This proactive stance not only shields your sensitive information but also reinforces the overall soundness of your server.
Furthermore, cPanel VPS servers offer an extensive array of data protection features, encompassing automated data backup and recovery solutions. These protective measures ensure the preservation of your vital data, even when confronted with unforeseen challenges. With regular data backups and contingency plans readily available, you can rest assured, confident that your server is well-prepared to confront unexpected obstacles while upholding data integrity and ensuring the uninterrupted continuity of your business operations.
cPanel VPS Servers
At the forefront of cPanel VPS Server Hosting, HostingRaja distinguishes itself by delivering a meticulously crafted suite of services tailored to meet the distinctive demands of individuals and enterprises alike. HostingRaja's defining feature lies in its robust infrastructure, characterized by state-of-the-art hardware components that guarantee swift data access and a significant enhancement in server performance. The company's unwavering dedication to uninterrupted service and dependability is evidenced by the deployment of redundant hardware and cutting-edge data centers, ensuring minimal disruptions for hosted applications and seamless online operations.
HostingRaja doesn't stop there; they extend their commitment by providing an intuitive platform that empowers clients to effortlessly adjust their server resources as needed. This adaptability positions HostingRaja because the desired desire for companies contending with fluctuating internet visitors or present process speedy expansion. Moreover, clients enjoy the freedom to choose from a diverse range of operating systems and relish full root access, affording them complete autonomy to tailor their cPanel VPS Servers precisely to their unique specifications.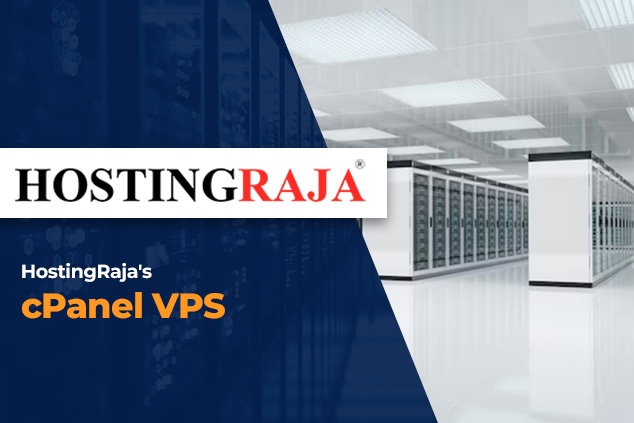 Benefits Included in Our Affordable cPanel VPS Packages
Our cost-effective cPanel VPS plans are meticulously crafted to deliver unparalleled performance and unwavering reliability. We comprehend the paramount significance of maintaining a seamless online presence. Hence, our plans are powered by top-tier hardware and hosted within state-of-the-art data centers. This robust infrastructure guarantees lightning-fast loading times, minimal latency, and exceptional server uptime. Your website or application will operate flawlessly, providing an optimum user experience.
Security takes precedence, and our cPanel VPS plans come fortified with formidable security measures. We deploy firewalls, intrusion detection systems, and conduct routine security updates to shield your data and server against potential threats. Furthermore, our automated backup solutions ensure that your critical data is consistently safeguarded, acting as a safety net in the event of unexpected data loss or corruption.
We acknowledge that your hosting requirements may evolve over time. Our cPanel VPS packages are synonymous with scalability and flexibility. Whether you're commencing on a small scale or anticipating growth, you can effortlessly tailor your resources to align with your specific needs. This adaptability guarantees that your hosting solution seamlessly adapts to your evolving demands, granting you the freedom to concentrate on your business, unburdened by concerns about outgrowing your hosting plan.
Lightning-Fast SSD Performance: HostingRaja's cPanel VPS services harness the immense power of high-speed Solid State Drives (SSDs) to deliver unrivaled performance and lightning-fast loading times, guaranteeing swift access to your websites and applications.
Commitment to Customer Satisfaction:Our unwavering dedication revolves around achieving the highest levels of customer contentment. Should you, for any reason, find yourself less than satisfied with our services, please don't hesitate to reach out to us via our toll-free number. Your happiness remains our utmost priority.
Managed Servers for Your Ease: HostingRaja extends cost-effective managed VPS solutions with cPanel. This means we assume responsibility for overseeing your server's operating system, control panel, and server management. You can concentrate your energies on business growth, free from concerns about technical intricacies.
Enhanced Security Measures: Our cPanel VPS solutions are laser-focused on fortifying security. We deploy advanced Firewall and antivirus applications to bolster the protection of your cPanel VPS server, ensuring the safeguarding of your data and applications against potential threats.