Loading time optimisation service
We provide professional loading time optimization service. Loading time of your website is very very important, Every one second increase in loading time will decrease your business revenue. (Hey Listen, You may be in a hurry, It is worth spending 2 minutes and read this article fully)
Contact Us to use our paid loading optimisation service by HostingRaja Experts
If you want to do the website optimisation by yourself or your web developers. Here is a very very simple and 4 steps to follow. Once you do this 4 steps, and even after doing 4 steps, If your website is loading slow. You can contact us.
Step 01: Visit Google page speed and optimise your website score to get 80 marks and above.
https://developers.google.com/speed/pagespeed/insights/
As shown in the image below, For HostingRaja website, We have achieved 80+ score.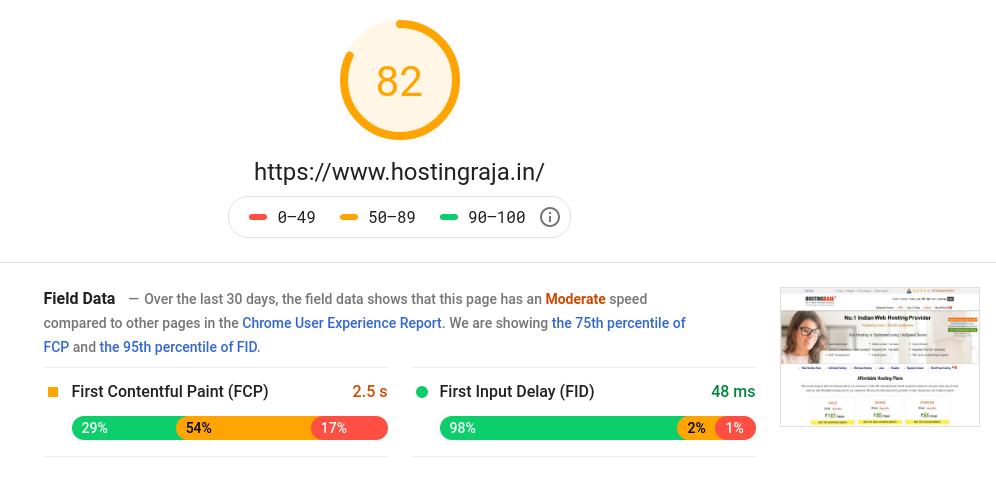 IMPORTANT : If your TTFB (time to first byte) is more, It means that your web page is loading more products from the database or involves in more database query which is delaying the page creation time. You should optimise or remove all unnecessary queries.
To check the speed of the server create test.html and use the test.html in the Google page speed. (If that test.html is loading slow, then contact us, We will help you.)

Step 02:Reduce the number of .css and .js files to maximum of 4. I.e you can not have more than 4 js and css pages in any page of your website. If your website(any single web page) is having more images, the size of all the images put together, cant exceed 1 MB in total size. If the size of all the images are more than 1 MB, Our support team can not help you with optimisation.
If you are using WordPress Website, Please use this (Breeze – WordPress Cache Plugin) https://wordpress.org/plugins/breeze/ and optimise your website. If you have bought WordPress hosting from us, then by default we install this plugin.
Step 03: Reduce the number of images in the website to less than 10 images. Each image should not exceed 100kb in size.
Step 04: Use https://tools.pingdom.com/ and check the number of requests for your website, It can not exceed more than 20 ~ 30 requests.
Even after doing all the steps above successfully, If your website is loading slow, then you can raise the ticket. Otherwise contact us for the expert service.

Our optimisation service will cost you between 15K to 1.5 lac based on the amount of work needed. We can guarantee you 2 to 3 seconds loading time. Please contact our team by filling up this form below.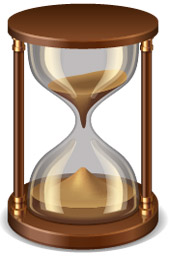 Did you know, Every One Second Delay in Website Loading, Costs You Around 7% ~ 12% Loss in Revenue? Most of the Online/ e-Commerce business owners in India spend most of their money and time in bringing the traffic to their website, but they don't have any clue on why the revenue is not increasing. As a leading web development company/cloud hosting company in India, we have researched and found out that if the website loading time is slow the visitor will abandon the cart and go to any other website which loads fast and never to come back to the site again.
Our In-house team of Web Optimization experts will help you in setting up the server and load your website faster than before. In depth analysis and optimization will be charged based on the amount of time required to do the work. Please contact our team to do the loading time optimization. We are the only hosting company in the world to provide web site optimization at affordable prices.
Our optimisation service will cost you between 15K to 1.5 lac based on the amount of work needed. We can guarantee you 2 to 3 seconds loading time. Please contact our team by filling up this form below.

If you want to do the optimisation service by yourself, We have written in great details, Please check it yourself with the following links.
Let's explore the study by Forrester Research on behalf of Akamai which has identified two seconds as the new threshold for acceptable web page response times.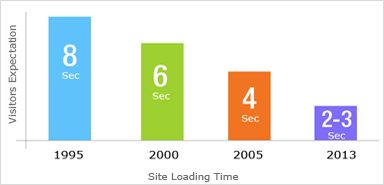 The Impact of Poor Performing Sites
Slow Rendering Websites Lead to Lost Online Sales
79% of dissatisfied shoppers are less likely to buy from an online site again
This is up 17% from those consumers surveyed in 2006
75% would be less likely to return to the website again
In 2006, only 64% stated they would not return
A Majority of Consumers abandoned intended purchases in the Checkout Process – Directly Impacting Sales
More respondents are willing to, and do, abandon purchases than ever before. The percentage of consumers who intend to make a purchase but leave after the checkout process has begun is up 18% from 2006.
Forrester asked "Thinking of the last time you visited an online store where you intended to buy a product but did not finish the online purchase; at what point did you leave the site?"
35% of shoppers abandoned before beginning the checkout
65% of shoppers abandoned after initiating the checkout
The Overall Brand or Image of the Company Will Also Suffer
When faced with a dissatisfying shopping experience:
79% are less likely to buy again
75% would be less likely to visit the website again
64% would purchase from another online store
46% of online shoppers are more likely to develop a negative perception of the company
44% would actively tell their friends and family about the bad experience
Impact of Data Center Location In Loading Time
Often people try to fix performance issues by trying to "thin out" their site (decrease page weight). But many problems lie outside of your data center.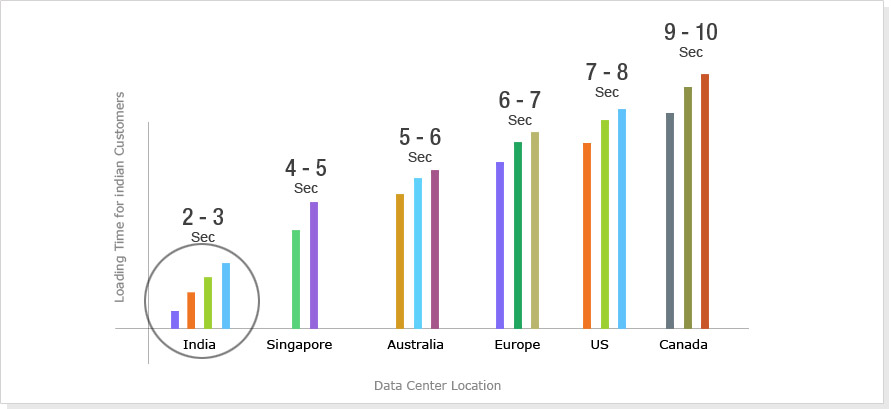 The farther visitors are from data center where the site is hosted, the more response times degrade. Your performance may be 2 seconds at your data center in India, but 5 seconds when hosted on Singapore, and even longer for international visitors.
Contact us to load your website faster - Done by our experts