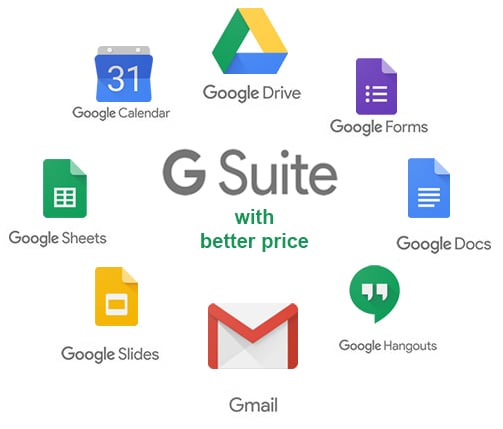 Buy G Suite India
FREE Domain + G Suite OFFERS + Hosting + Website Maintenance all in one place
Up to 33% Cost Reduction
Get G-Suite Business starter for Just Rs.136/- for new G Suite purchase for first 20 users.
This is limited period OFFER Don't miss it.
Call Us: +91 – 9108514578
Trusted by over 1,50,000 customers (websites hosted with us)
Everything you need in one place with BEST OFFERS
The Google Workspace (formerly GSuite) is a cloud-based productivity application that allows you to work remotely from anywhere and on any device. With Google Workspace (formerly G Suite), you can collaborate and be more productive while working from a computer, smartphone, or tablet.
As a Google Workspace (Formerly G Suite) Partner, we have sales specialists, technical support specialists, and deployment specialists that are dedicated to ensuring all the needs of Google Workspace users are met with affordable Google Mail pricing.
By enabling enforcement to use security keys, untrusted apps are blocked, and email threats are scanned more thoroughly. As an administrative tool, it offers Google Docs, Sheets, Slides, Google Meet, Chat, etc., plus an Admin Console that lets administrators manage settings for companies or organizations. Google Mail Plans and Pricing make available all of these interactive and essential tools for seamless collaboration. G Suite Enterprise is better suited for large teams requiring substantial security and administrative controls over apps.
Advantages of buying from HostingRaja
Seamless Integration with your website + Hosting + Domain
Support for all your IT needs in one place
24/7 Support for G Suite
Attractive Price form HostingRaja
Work from Anywhere. Anytime.
Enforced SSL connections with G Suite
Professional Gmail for your business
Advanced adminstrator controls

Advanced admin controls
You can easily add or remove any users and add better security options like 2 steps verification and single-sign-on with on one main admin console.

Easy Maintenance
Using G Suite for your business will help in reducing your expenditure on your IT infrastructure. And using G Suite for your business will keep everything up to date.

Easy Sharing
Now sending the invoice is easy, it also helps in planning and budgeting with just few clicks all these information can be shared using the Google apps.

Business Email
A business email is an email address, where you can create and use your own business domain name. Before doing that you need to create the domain first and then create the mailbox to match.

Work Remotely
One of the biggest advantages of using G Suite is that you can access to your business files and data remotely that is from any place at any time.

Better Security
Data security is one of the prime concern for every organization. So using G Suite ensures that all your data will remain safe at any cost.

Cost Effective
G Suite is cost-effective with more feature at less price. It also provides customized emails for your employees.

Easy data migration
With the help of the Migration tools and service, you can easily migrate your business's important files and data to G Suite.
To know the secret of saving cost on G Suite contact us
1) Can I transfer my G Suite account from one reseller or Google?
Absolutely yes, you can transfer your account to another or google. If you have previously purchased a G Suite account from Google directly, then you can transfer to get the advantage of cheaper price and 24/7 support.
We need a transfer token to transfer your account with us. Please refer to this URL to get a transfer token.
https://support.google.com/a/answer/7643790?hl=en
It takes just a minute to receive the transfer token, you can even contact our support team to get assistance.
2) Can we transfer account when its suspended with previous reseller (G Suite provider)?
No, if account is suspended, we can not transfer your G Suite account. You have to activate your account with your previous reseller only after that, We can transfer.
3) Can I use G Suite immediately after purchased?
Yes you can. Just you need to login as a admin and activate your account before start using it.
4) What is the distinction between G Suite and Google Workspace?
G Suite has advanced into a more incorporated experience across Google's communication and cooperation devices and has been rebranded to Google Workspace to all the more precisely address its item vision.
Like G Suite, all Google Workspace plans to give a custom email to your business and incorporates cooperation apparatuses like Gmail, Calendar, Meet, Chat, Drive, Docs, Sheets, Slides, Forms, Sites, and that's just the beginning.
5) Can you activate my G Suite account after purchased?
No, We dont activate your account. You can easily activate your account by logging into admin section (admin.google.com)
6) How to verify my domain name with G Suite?
Please refer this URL to verify your domain name with G Suite.
https://support.google.com/a/answer/60216?hl=en
https://www.youtube.com/watch?v=EZDhAxtY5ho
7) I have had a G Suite account about few months/years back. If I want to reuse the same domain, Can I reuse it now ?
Yes, You can reuse it, We just need transfer token.
8) How long does it take to transfer my G Suite account to HostingRaja? Is there any downtime.
We can transfer your G Suite account without any downtime, may be with-in a minute.
9) Can I use my 5 email ids with G Suite, and 5 email ids in my cPanel/Plesk/email solutions.
Yes, you can. We will assist you in setting up this split delivery.
10) Data migration is possible?
Yes certainly, data migration is possible. We will take care of this Data migration. Note: For this Data migration, you need to give your old email ids and passwords. In any case, give your control panel login details and allow us to change them. Assuming you need to do it without anyone else then refer to this URL: https://help.hostingraja.in/gsuite/g-suite-data-migration
11) Can I transfer partial email ids from my old G Suite provider.
Sorry, its not possible at all. You have to transfer your all email ids from your existing G Suite provider.
12) Can I transfer my G Suite account to lesser plan (downgrade possible ?)
No, you can't transfer your account from Business to Basic and Enterprise to Business/Basic.
13) Which mobile phones would I be able to access my mail from?
Your email can be obtained by utilizing any Smartphone or Tablet. The Gmail interface is cooperative with all major Operating Systems like Android, iOS, Windows Mobile, Blackberry, and Symbian.
14) Would I be able to make mailing lists?
Indeed, you can make mailing lists and add/erase clients, select a mediator, confine individuals from joining a list, or even restrict clients from a list.
15) Can I use auto-respond in the mail?
Absolutely yes, by using Gmail's vacation responder you can let people know that you can get back to them at right time. While you're on your vacation responder is turned on, Gmail will send your reply to people who email you.

Gmail
Gmail is world's major email solution provider which is powered with Google-powered search, custom email addresses, 30 GB of storage and many more features.

Drive
In Google Drive, you are permitted to store your data in the cloud, share them with everyone, and also you will be having access to them from anyplace.

Calendar
With the help of calendar, you will be able to easily schedule the meetings at times that work for each and everyone, share calendars, get meeting reminders, and much more.

Docs
With Google Docs, you will be able to create, share and work on documents along with tables, images, drawings, equations, links and much more.

Sheets
In Google Sheets, you can manage spreadsheet files faster with the help of click-to-edit charts and the discussion style comments.

Slides
Slides helps in creating the presentations together, embed the videos and much more, user dosent have to press the save button again.

Forms
With the help of Google Forms, you will be able to build a form with the straightforward forms editor and collect the data from clients or colleagues.

Sites
In Sites, you can share the workspaces for your team. It will be easy to build, simple to organize and very fast to share.

Hangout
With the help of Hangout, you can message, phone and video call with 25 members at the same time. Get your work done faster at any time and anywhere conversations.

Contacts
In Google Contacts, you can organize the contact details about the people you are communicating. And also real-time sync with the smartphones.

Groups
In Google Groups you can create the distribution/Mailing list. And also organize meetings, social events among members of a group or the external group, conferences etc.

Plus
Google Plus will allow you to create private and public social profile. The limited version of the company intranet. Audio/Video, text sharing and much more.