Streamline Your Billing Process with Our Free Billing Software
Introducing Our Free Hosting Billing Software – Simplify Your Invoicing Processes
Discover the power of our Free Hosting Billing Software, a comprehensive solution tailored to optimize your invoicing and billing operations. Designed with small businesses, freelancers, and startups in mind, our software offers essential features that empower you to effortlessly generate polished invoices, track payments, and efficiently handle your billing, all while avoiding any extra financial strain.
Our Free Hosting Billing Software revolutionizes your invoicing experience. Craft personalized invoices effortlessly, infusing your brand identity for a polished and professional impression. Bid farewell to manual calculations and errors – our software automates calculations, guaranteeing precise totals and accurate tax assessments with unparalleled ease.
Efficiency takes center stage in our Free Hosting Billing Software. Our intuitive interfaces and user-friendly dashboards ensure effortless navigation and quick access to essential information. Maintain organization effortlessly by creating client profiles, managing products or services, and seamlessly tracking outstanding payments, all within a single, cohesive platform.
Experience the liberation of streamlined invoicing with our Free Hosting Billing Software, designed to elevate your operations and amplify your business growth. Unleash the potential of a solution tailored to your needs, enabling you to focus on what truly matters: driving your business forward.
Easy to use GUI to manage your clients
Our Free Hosting Billing Software Navigating your clients' billing needs has never been simpler. Our Free Hosting Billing Software features an intuitive graphical user interface (GUI) designed for seamless interaction. Utilizing its intuitive layout and easy-to-navigate interface, you can conveniently harness a wide range of tools and functions for effective client billing management. From generating invoices to tracking payments and managing subscription renewals, our billing software's intuitive GUI empowers you with full command. Embrace a streamlined and hassle-free client management experience, bidding farewell to complex interfaces and welcoming a new era of efficiency. Discover the convenience of our software – a perfect fit for small businesses seeking a free billing solution that delivers exceptional results.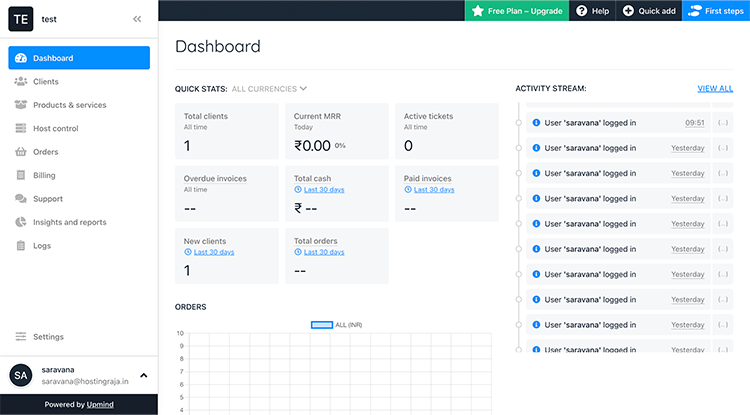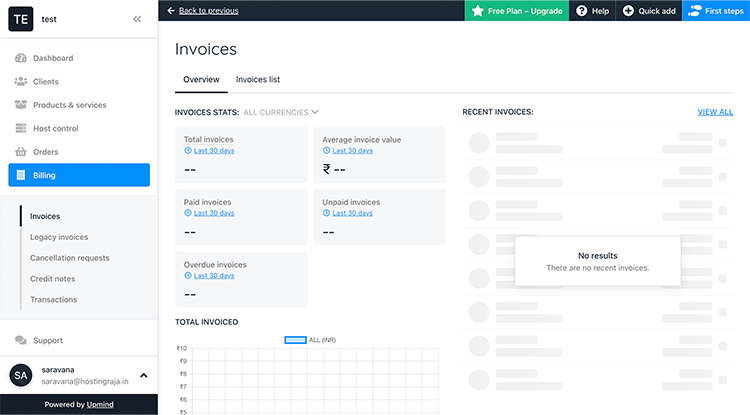 Automated to make your job easy
Our cutting-edge billing software relieves you from the complexities of client management. By automating critical provisioning and management tasks, our Free Hosting Billing Software empowers you to effortlessly handle client onboarding, invoicing, email communications, suspension, termination, and more. With powerful capabilities at your fingertips, bid farewell to manual workflows. Our software even automates client charges during renewals, ensuring a seamless payment cycle. Forget about sending reminders – our system notifies clients promptly. And for reporting and analysis needs, easily export essential details. Experience unmatched ease and efficiency with our billing software, optimizing your operations like never before. Ideal for small businesses seeking a free billing solution that transforms productivity.
Flexible plans, Multiple currency, Free domain & Bundled option, Upsell and cross selling
Elevate your business's flexibility and sales potential with our feature-rich billing software. Tailor your offerings effortlessly with flexible plans, catering precisely to your clients' needs. Our software supports multiple currencies, enabling seamless transactions with a global customer base. Harness the bundled sales option to create appealing packages, combining multiple products or services for maximum value. Easily manage plans, employ upsell and cross-selling tactics, and set custom prices to optimize revenue. Our billing software empowers you to effortlessly oversee subscriptions and invoices, streamlining operations for unparalleled success. Ideal for small businesses seeking a free hosting billing solution that transforms flexibility and drives sales.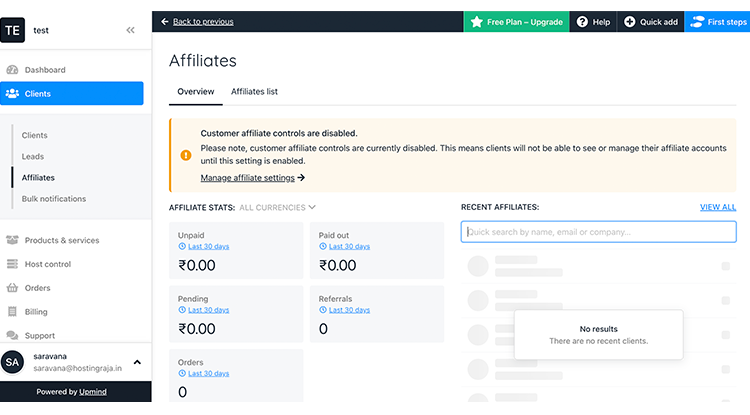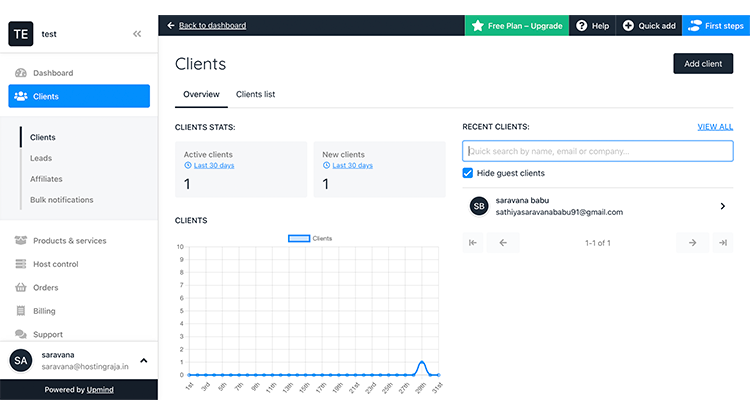 Shopping Carts, Online Payment, Client Area, Whitelable
Unlock an all-inclusive solution for your business with our feature-rich billing software. Seamlessly integrate with leading shopping carts and provide seamless online payment options, ensuring a convenient purchasing journey for your customers. The client area acts as a centralized hub for account management, invoice viewing, and support access. Utilize the white label feature to customize the software, aligning it with your brand identity. Assume control of nameserver management to ensure smooth domain handling for clients. Our software places security at the forefront, safeguarding sensitive data and guaranteeing secure transactions. Amplify business growth through our affiliate program, expanding your outreach and boosting sales. Effortlessly generate and distribute promotional codes, and activate auto-applied discounts to enhance customer satisfaction and drive repeat business. Experience comprehensive, efficient, and effective business management with our cutting-edge billing software. Ideal for businesses seeking a free hosting billing solution that maximizes potential.
Free Billing Software with Unlimited Features

No Setup Required
Embrace hassle-free implementation with our free billing software for small businesses, all thanks to its seamless Software-as-a-Service (SaaS) platform, eliminating the need for setup. Ideal for small businesses seeking simplicity and efficiency.

Accounting Friendly
Seamlessly analyze your sales through the robust reporting feature of our free billing software for small businesses, and effortlessly export invoices to other auditing software for efficient financial management, making it perfect for small businesses looking for streamlined accounting with our free billing software for small business.
Online Store
Upmind offers you an instant online store, showcasing products and services for easy browsing and direct ordering or configuration – a valuable addition for small businesses aiming to expand their online presence with our free billing software for small business.

100% API Support
Embracing an API First approach, our application empowers you to programmatically manage staff and client actions using our comprehensive API, adding a dynamic edge to small business operations for enhanced customization with our free billing software for small business.

Triggers & Actions
Harness the potential of numerous available triggers for specific events, allowing you to initiate actions like webhooks, email notifications, or Slack messages with simplicity, perfect for streamlining small business tasks and communications.

Payment Gateways
Enjoy seamless compatibility with all popular payment gateways, a crucial feature for small businesses seeking efficient payment processing and smooth financial transactions with our free billing software for small business.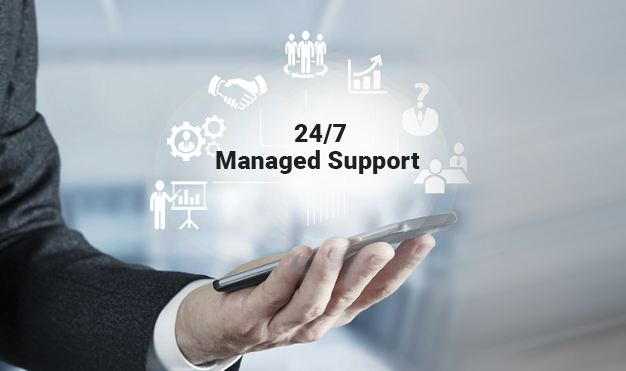 HostingRaja Free Billing Software FAQ's
Reviews from Free Billing Software Customers
Prajwal Shetty

09 Jan 2023

I've been using HostingRaja's free billing software for a few months now and I'm really happy with it. It's helped me to streamline my billing process and save me a lot of time. I would definitely recommend it to anyone looking for a free and easy-to-use billing software.

Trishal Patel

11 Apr 2023

As someone who just started a business, I needed a simple way to take care of my bills. HostingRaja's free billing software surprised me with how good it is. It has important tools that let me make, organize, and watch over my invoices really easily. Being able to change how my invoices look and having the computer do the math has made things much simpler for me.