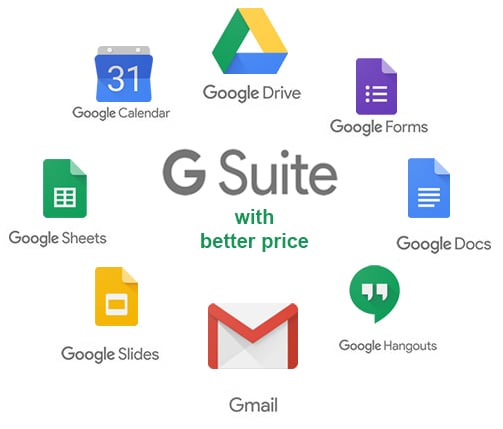 Buy G Suite India
Easily manage all your works together under one package that run perfectly from any device ( computer, tablet or phone) with G- Suite.
Everything you need in one place
Advantages of buying from HostingRaja
Seamless Integration with your website + Hosting + Domain
Support for all your IT needs in one place
24/7 Support for G Suite
Attractive Price form HostingRaja
Work from Anywhere. Anytime.
Enforced SSL connections with G Suite
Professional Gmail for your business
Advanced adminstrator controls

Cost Effective
G Suite is cost-effective with more feature at less price. It also provides customized emails for your employees.

Advanced admin controls
You can easily add or remove any users and add better security options like 2 steps verification and single-sign-on with on one main admin console.

Easy Maintenance
Using G Suite for your business will help in reducing your expenditure on your IT infrastructure. And using G Suite for your business will keep everything up to date.

Easy Sharing
You can easily send the invoice and it also helps in planning and budgeting with few clicks and you can share all these information using Google apps.

Business Email
You can create your business email ID and send professional emails to your clients and customers.

Work Remotely
One of the biggest advantages of using G Suite is that you can access to your business files and data remotely that is from any place at any time.

Better Security
Data security is one of the prime concern for every organization. So using G Suite ensures that all your data will remain safe at any cost.

Easy data migration
With the help of the Migration tools and service, you can easily migrate your business's important files and data to G Suite.



G-Suite Features & Overview

Gmail
Gmail is the world's leading email solution with Google-powered search, custom email addresses, up to 30GB of storage, offline support, and much more.

Drive
In Google Drive, you are permitted to store your data in the cloud, share them with everyone, and also you will be having access to them from anyplace.

Calendar
With the help of calendar, you will be able to easily schedule the meetings at times that work for each and everyone, share calendars, get meeting reminders, and much more.

Docs
With Google Docs, you will be able to create, share and work on documents along with tables, images, drawings, equations, links and much more.

Sheets
In Google Sheets, you can manage spreadsheet files faster with the help of click-to-edit charts and the discussion style comments.

Slides
In Slides, you will be able to create the presentations together, embed videos, and do not need to press save again.

Forms
With the help of Google Forms, you will be able to build a form with the straightforward forms editor and collect the data from clients or colleagues.

Sites
In Sites, you can share the workspaces for your team. It will be easy to build, simple to organize and very fast to share.

Hangout
With the help of Hangout, you can message, phone and video call with 25 members at the same time. Get your work done faster at any time and anywhere conversations.

Contacts
In Google Contacts, you can organize the contact details about the people you are communicating. And also real-time sync with the smartphones.

Groups
In Google Groups you can create the distribution/Mailing list. And also organize meetings, social events among members of a group or the external group, conferences etc.

Plus
Google Plus will allow you to create private and public social profile. The limited version of the company intranet. Audio/Video, text sharing and much more.