Unmanaged Dedicated Servers – Making the Right Choice for Your Hosting Needs!
HostingRaja offers unmanaged dedicated servers, giving clients complete responsibility for day-to-day server operations and upkeep. This entails critical tasks like software updates, security patching, and hardware monitoring. HostingRaja's role is limited to ensuring the physical server's integrity and maintaining a reliable network connection. This hosting choice is ideal for businesses seeking extensive control over their server environments and often proves more cost-effective compared to managed alternatives.
HostingRaja's unmanaged dedicated servers provide you with substantial autonomy but require a higher level of technical proficiency for efficient management. If you possess the necessary technical skills, this option can be an excellent fit, granting you unparalleled control over your server. However, for those who may feel less comfortable with server administration tasks, HostingRaja also offers managed dedicated servers, where they handle the technical aspects, allowing you to focus on your core business activities.
Unmanaged Dedicated Servers
HostingRaja's unmanaged dedicated servers represent the pinnacle of control and customization within the hosting landscape. By choosing this option, you assume full responsibility for every aspect of server management, from software installations and updates to security configurations and beyond. This stage of manage empowers you to tailor the server surroundings exactly in your specifications. You have the freedom to select your preferred operating system, install specific software, and fine-tune server resources to perfectly align with your application's unique requirements. While this degree of autonomy is a dream come true for users with advanced technical proficiency, it also necessitates hands-on server administration skills.
Unmanaged dedicated servers from HostingRaja not only provide unparalleled customization but also offer a cost-effective hosting solution. With this option, you pay solely for the server resources you utilize, avoiding the additional expense of managed services. Furthermore, these servers offer scalability and flexibility, allowing you to effortlessly adjust resources as your needs evolve. This adaptability proves invaluable for businesses with fluctuating workloads or those experiencing rapid growth. While unmanaged servers do require a certain level of technical expertise, they stand as a budget-friendly and entirely customizable hosting solution for those capable of managing the day-to-day operations of their servers.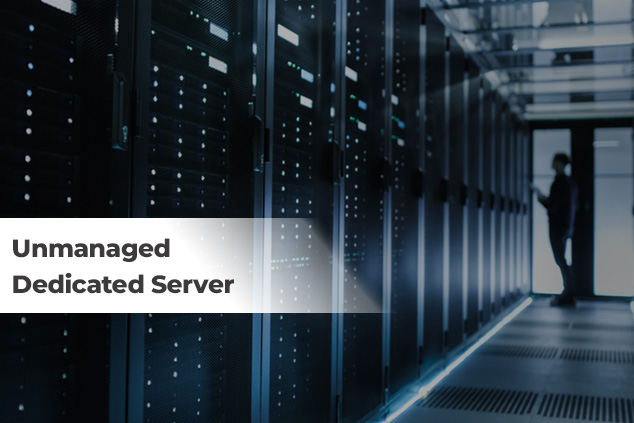 Enhanced Services with Our Enterprise Unmanaged Dedicated Server Hosting
HostingRaja's Enterprise Unmanaged Dedicated Server Hosting is meticulously designed to provide unparalleled performance and control, catering to the most demanding and resource-intensive applications. With access to dedicated hardware resources, you wield the power to precisely optimize server configurations and software installations according to your exact requirements. This stage of manipulate empowers you to fine-song your web hosting environment, making sure finest performance. It's the ultimate choice for businesses that demand top-tier performance and customization.
We recognize the paramount importance of data security, which is why our Enterprise Unmanaged Dedicated Servers come equipped with robust security features. You have the flexibility to implement your own security measures, including firewalls, intrusion detection systems, and encryption protocols, fortifying your data and server against potential threats. Regular security updates and monitoring tools are in place to ensure your server remains secure and resilient, effectively thwarting emerging threats.
Our Enterprise Unmanaged Dedicated Servers offer both scalability and unwavering reliability, making them suitable for businesses of all sizes. Whether you're a burgeoning startup or a well-established enterprise, adjusting your server resources to accommodate shifting workloads is effortless. Thanks to redundant hardware and network connections, you can trust in uninterrupted uptime, ensuring continuous accessibility of your applications and services to your users. This scalability and reliability provide peace of mind and solid support for your organization's growth and stability.
Control panel: HostingRaja offers a choice between ISPManager and cPanel/WHM control panels, both renowned for their user-friendliness and robust control features.
Remote reboots: You retain full control over your server's operations. Moreover, you can perform unlimited remote reboots of your server, regardless of your physical proximity to the server, enhancing the convenience and flexibility of server management. This can be helpful if your server experiences a problem and needs to be restarted. HostingRaja's support team can also help you with this.
Bandwidth: Your server benefits from low latency, redundant bandwidth with multiple upstream providers from HostingRaja. This means that your server will have a reliable connection to the internet and will be less likely to experience downtime.
24/7 support: HostingRaja's support team is available 24/7 to help you with any issues you might encounter with your server. They have a good track record of resolving issues quickly and efficiently.