Unlock Infinite Possibilities with HostingRaja's Cloud Server
Elevate your digital presence with HostingRaja's cloud server solutions tailored for performance and reliability. As the leading cloud server providers in India, we offer a spectrum of cloud server hosting services designed to propel your business forward. Start with our no-risk free cloud server trial and experience the flexibility of our VPS cloud server infrastructure firsthand. Whether you're a startup or an enterprise, our cloud server hosting adapts to your unique demands, ensuring seamless scalability and robust performance. With HostingRaja, embark on a journey to digital excellence and witness why we stand as the best cloud server provider.
Maximize Your Potential with Robust Cloud Server Hosting
Dive into the world of HostingRaja's cloud server solutions and leverage the power of cutting-edge technology to ensure your online business thrives. Our cloud server hosting is engineered to provide maximum uptime, so your website is always available to your customers, which is critical for your e-commerce conversions and SEO rankings. With our vps cloud server, you get the agility to scale your resources in tandem with your business growth, ensuring efficiency and cost-effectiveness.
Choose us for server cloud backup to protect your data against unforeseen events. Our cloud server free trial period lets you experience our services without any initial investment, highlighting our commitment to providing value. With our transparent cloud server pricing, you'll find no hidden costs, just clear, scalable options that make sense for your business. As one of the top cloud server providers, we understand the need for speed, which is why our cloud web server configurations are optimized for peak performance, whether you opt for Windows cloud server or Linux cloud server setups.Embrace the cloud vps server solutions from HostingRaja and enjoy a seamless, secure, and scalable online presence that keeps you a step ahead in the competitive market.
Strengthening Cloud Security – Essential Measures and Advanced Tools

CSF Firewall
ConfigServer Security & Firewall is a widely-used software firewall that provides security measures for Linux servers. It helps in managing and controlling incoming and outgoing network traffic to enhance server security.

imunify360 setup(Based on client Requirement)
Imunify360 is a comprehensive security solution for web servers. It provides proactive defense against various types of attacks, including malware, viruses, and other web-based threats. Setting up Imunify360 involves configuring its features to ensure server protection.
php execution log
In OVIPanel it comes with a special option where you can allow your PHP execution log. If you have uploaded any content, images or videos in CSS in img format which is ending with .php then you get the option to allow in in PHP execution log. By this way it helps you to overcome from hackers.

Secure Upload
Secure file upload refers to implementing measures to prevent malicious files from being uploaded to a website. This involves validating file types, scanning uploads for malware, and setting appropriate permissions to ensure that uploaded files cannot be executed as scripts.

WAF (Apache mod security)
Web Application Firewall (WAF) is a security solution that sits between a web server and the internet, filtering and monitoring incoming web traffic to block potential threats and attacks. Apache mod_security is a popular module used to implement WAF rules for the Apache web server.

Security Log
A security log is a comprehensive record of security-related events, offering insights into system activities. The Security Log module highlights directories and files with 777 permissions, aiding in identifying potential vulnerabilities. This feature enhances overall server security and proactive risk mitigation.

maldet Scanner(panel)
Computer viruses, a type of malware, replicate by altering programs and inserting their code. They infect files, including the hard drive's boot sector, potentially disrupting VPS and cloud servers. Regular virus scans are vital, and OVIPanel provides a scanner for mail and home directories with two scan options.

unblock Spam mail
This unblocks the spam sent emails module will control the outgoing spam email from the server. The email account will get block If more than 40 emails have sent within one hour from the individual email account Admins can review and unblock such messages to ensure important communications are not lost.

phpmail log
PHP mail logs track the sending of emails from PHP scripts on a server. These logs can be helpful for diagnosing email-related issues, tracking the delivery status of sent emails, and identifying potential problems with the mail.
Note: In HostingRaja we provide free migration from other service providers like Azure, AWS, Google Cloud etc.
For Sales Enquiry
: 821 778 483, 636 030 8610, 6360309716
General Purpose
This Plan is appropriate for a variety of industrial tasks due to their balanced memory to dedicated CPU ratio. It works the best for general-purpose workloads that need dedicated computing.
Memory
vCPUs
Transfer
NVMe SSD
Price/Hour
Price/Month
Scaling
Try Now...
64 GB
16 Core
7 TB


(FREE)

200 GB
17.47/Hr

13000/Mo

8 GB
2 Core
4 TB


(FREE)

50 GB
2.35/Hr

1750/Mo

16 GB
4 Core
5 TB


(FREE)

50 GB
4.37/Hr

3250/Mo

16 GB
4 Core
5 TB


(FREE)

100 GB
4.70/Hr

3500/Mo

32 GB
8 Core
6 TB


(FREE)

100 GB
8.74/Hr

6500/Mo

32 GB
8 Core
6 TB


(FREE)

200 GB
9.41/Hr

7000/Mo

64 GB
16 Core
7 TB


(FREE)

200 GB
17.47/Hr

13000/Mo

64 GB
16 Core
7 TB


(FREE)

400 GB
18.82/Hr

14000/Mo

128 GB
32 Core
8 TB


(FREE)

400 GB
34.95/Hr

26000/Mo

128 GB
32 Core
8 TB


(FREE)

800 GB
37.63/Hr

28000/Mo

160 GB
40 Core
9 TB


(FREE)

500 GB
43.68/Hr

32500/Mo

160 GB
40 Core
9 TB


(FREE)

1000 GB
47.04/Hr

35000/Mo
NOTE: The above display prices are after discount/offer.
CPU-Optimized plans
A 2:1 memory to CPU ratio is offered by CPU-optimized plans. This setup is ideal for programmes that need dedicated vCPUs to perform quickly and consistently but aren't memory-intensive enough to require the extra RAM that General Purpose plan give.
Memory
vCPUs
Transfer
NVMe SSD
Price/Hour
Price/Month
Scaling
Try Now...
4 GB
2 Core
4 TB


(FREE)

50 GB
1.68/Hr

1250/Mo

8 GB
4 Core
5 TB


(FREE)

50 GB
3.02/Hr

2250/Mo

8 GB
4 Core
5 TB


(FREE)

100 GB
3.36/Hr

2500/Mo

16 GB
8 Core
6 TB


(FREE)

100 GB
6.05/Hr

4500/Mo

16 GB
8 Core
6 TB


(FREE)

200 GB
6.72/Hr

5000/Mo

32 GB
16 Core
7 TB


(FREE)

200 GB
12.10/Hr

9000/Mo

32 GB
16 Core
7 TB


(FREE)

400 GB
13.44/Hr

10000/Mo

64 GB
32 Core
9 TB


(FREE)

400 GB
24.19/Hr

18000/Mo

64 GB
32 Core
9 TB


(FREE)

800 GB
26.88/Hr

20000/Mo
NOTE: The above display prices are after discount/offer.
Memory-Optimized Plans
For each vCPU, memory-optimized plan offers 8GB RAM. With more memory, you can prevent out-of-memory issues and excessive disc swapping, both of which have a negative influence on the reliability and performance of your programme.
Memory
vCPUs
Transfer
NVMe SSD
Price/Hour
Price/Month
Scaling
Try Now...
16 GB
2 Core
4 TB


(FREE)

50 GB
3.70/Hr

2750/Mo

16 GB
2 Core
4 TB


(FREE)

150 GB
4.37/Hr

3250/Mo

16 GB
2 Core
4 TB


(FREE)

300 GB
5.38/Hr

4000/Mo

32 GB
4 Core
6 TB


(FREE)

100 GB
7.39/Hr

5500/Mo

32 GB
4 Core
6 TB


(FREE)

300 GB
8.74/Hr

6500/Mo

32 GB
4 Core
6 TB


(FREE)

600 GB
10.75/Hr

8000/Mo

64 GB
8 Core
7 TB


(FREE)

200 GB
14.78/Hr

11000/Mo

64 GB
8 Core
7 TB


(FREE)

600 GB
17.47/Hr

13000/Mo

64 GB
8 Core
7 TB


(FREE)

1200 GB
21.51/Hr

16000/Mo

128 GB
16 Core
8 TB


(FREE)

400 GB
29.57/Hr

22000/Mo

128 GB
16 Core
8 TB


(FREE)

1200 GB
34.95/Hr

26000/Mo

128 GB
16 Core
8 TB


(FREE)

2400 GB
43.01/Hr

32000/Mo

192 GB
24 Core
9 TB


(FREE)

600 GB
44.35/Hr

33000/Mo

192 GB
24 Core
9 TB


(FREE)

1800 GB
52.42/Hr

39000/Mo

192 GB
24 Core
9 TB


(FREE)

3600 GB
64.52/Hr

48000/Mo

256 GB
32 Core
10 TB


(FREE)

800 GB
59.14/Hr

44000/Mo

256 GB
32 Core
10 TB


(FREE)

2400 GB
69.89/Hr

52000/Mo

256 GB
32 Core
10 TB


(FREE)

4800 GB
86.02/Hr

64000/Mo
NOTE: The above display prices are after discount/offer.
Storage-Optimized plans
NVMe (non-volatile memory express), an interface protocol specifically designed for contemporary SSDs, is used by us. It makes use of parallelism to give disc performance that may be a factor of ten faster than what our standard SSDs can achieve.
Memory
vCPUs
Transfer
NVMe SSD
Price/Hour
Price/Month
Scaling
Try Now...
16 GB
2 Core
4 TB


(FREE)

300 GB
5.38/Hr

4000/Mo

16 GB
2 Core
4 TB


(FREE)

450 GB
6.38/Hr

4750/Mo

32 GB
4 Core
6 TB


(FREE)

600 GB
10.75/Hr

8000/Mo

32 GB
4 Core
6 TB


(FREE)

900 GB
12.77/Hr

9500/Mo

64 GB
8 Core
7 TB


(FREE)

1200 GB
21.51/Hr

16000/Mo

64 GB
8 Core
7 TB


(FREE)

1800 GB
25.54/Hr

19000/Mo

128 GB
16 Core
8 TB


(FREE)

2400 GB
43.01/Hr

32000/Mo

128 GB
16 Core
8 TB


(FREE)

3600 GB
51.08/Hr

38000/Mo

192 GB
24 Core
9 TB


(FREE)

3600 GB
64.52/Hr

48000/Mo

192 GB
24 Core
9 TB


(FREE)

5400 GB
76.61/Hr

57000/Mo

256 GB
32 Core
10 TB


(FREE)

4800 GB
86.02/Hr

64000/Mo

256 GB
32 Core
10 TB


(FREE)

7200 GB
102.15/Hr

76000/Mo
NOTE: The above display prices are after discount/offer.
How can you save 55% cost with us, Example scenario
Example Scenario: Number of VMs 4
Cost-Solutions
Analysis
Others
HostingRaja
Managed Support
Per VM Support cost with others
2250
600
Managed Support Cost Total for 4 VMs
9000
2400
Saving on Managed Support / month
6600
Backup / Restore / Snapshot
Backup / Restore / Snapshot cost Per VM Cost for backup/restore
1500
0
Cost for 4 VMs
6000
0
Charges for Outgoing bandwidth
Other players charge you around 0.02$/GB bandwidth. HostingRaja provides unlimited bandwidth for FREE. Imagine a scenario where you use 4TB bandwidth per month.
Bandwidth Cost Per VM
1536
0
Total Bandwidth Cost
6144
0
Offer on Compute Node
Cost saving per compute node 8gb RAM, 4 CPU, 200gb Disk (Approx Calculation) i.e You pay approx 2440 per VM extra per month
2440
0
Total cost saving on 4 compuete node
9760
0
38630
9600
Overall Cost
Difference for 4 compute node scenario
29030/month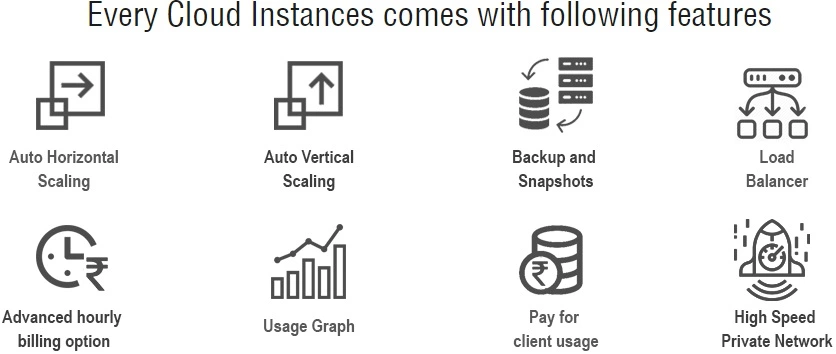 When it comes to cloud computing HostingRaja takes care of your A-Z needs. It includes free setup, free migration with 24/7 expert support.
Technical Cloud Server Specifications
Powerful NVMe SSD Storage Make your business online with the greatest and enduring NVMe SSD hosting servers, which allow quicker load times for your website. Pre-Integrated Caching Your page intent to load from the cloud Server at a lightning-fast rate due to optimal caching setup! Fully Managed All server configuration, patching are handled by us. You are just required to handle your website and scope from cPanel like you would accomplish in any shared hosting environment.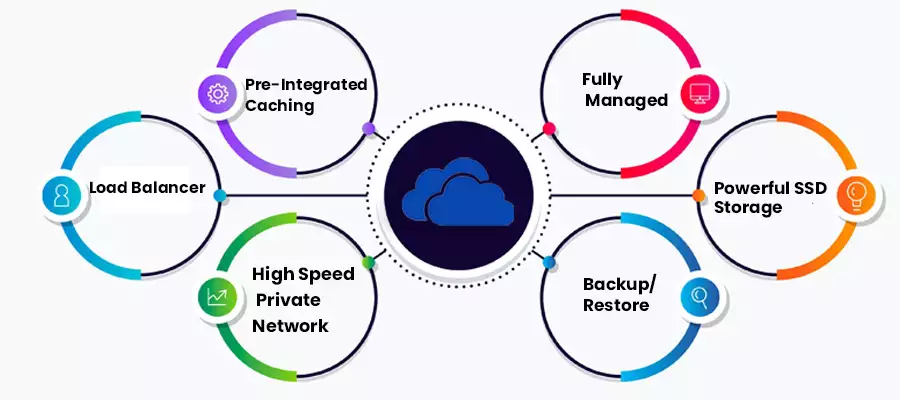 Tailored Cloud Server Features for Unmatched Performance
At HostingRaja, we take pride in offering cloud server hosting solutions that are not only robust but also laden with features that cater to diverse business needs. Our vps cloud server comes with SSD storage, ensuring your applications run at lightning speed with lower latency. For businesses that prioritize uptime, our cloud server providers employ cutting-edge technology to keep your digital presence active across the globe.
Our cloud server hosting services are designed with a keen understanding of various industry requirements, providing cloud based server solutions that are highly adaptable. Whether you're looking for a Windows server cloud environment or a Linux cloud server, our platforms are equipped with the versatility to support your specific configurations.
Cost-efficiency is also paramount, as we offer competitive cloud server hosting prices without compromising on quality. Small businesses can benefit from our cheap cloud server options, while larger enterprises might opt for a dedicated cloud server to handle more significant demands.
Moreover, our cloud based web server and cloud based file server solutions ensure that your data is accessible and secure, with server backup cloud options that provide an extra layer of data protection. With top cloud server providers like us, you gain access to premium cloud server solutions that are both reliable and scalable.
Empowering India with Tailored Cloud Solutions
At HostingRaja, we understand the unique digital landscape of India. Our Indian cloud server solutions are designed with local businesses in mind, offering unparalleled performance and compliance with regional standards. We excel in cloud hosting in India by providing services that are optimized for the fastest local connectivity and data sovereignty.
Our competitive cloud server price in India ensures that Indian businesses, regardless of their size, can access top-tier cloud services without breaking the bank. This approach has positioned us as the provider of the best cloud hosting in India, dedicated to fueling the growth and success of Indian enterprises in the global digital economy.
Moreover, our cloud based web server and cloud based file server solutions ensure that your data is accessible and secure, with server backup cloud options that provide an extra layer of data protection. With top cloud server providers like us, you gain access to premium cloud server solutions that are both reliable and scalable.
Ready to Soar in the Cloud? Join HostingRaja Today!
Take the first step towards a boundless future with HostingRaja's cloud server solutions. It's time to elevate your business with our reliable, scalable, and secure hosting services. Whether you're a startup seeking cheap cloud hosting or an established enterprise looking for a dedicated cloud server, we have the right plan for you.
Don't let another day pass with subpar hosting. Choose HostingRaja for cloud server hosting that empowers your growth. Click below to select your plan and start your journey to the cloud now!
Scale Seamlessly with Elastic Cloud Servers for Unmatched Flexibility!
Scale seamlessly with elastic cloud servers for unmatched flexibility. Add or remove server resources on-demand to match your workload needs. Enjoy dynamic scalability and efficient resource allocation. Experience increased agility and responsiveness to changing demands. Harness the power of elastic cloud servers to optimize your infrastructure and drive business growth. Achieve unparalleled flexibility and scalability with our cutting-edge cloud server solutions.
Experience Uninterrupted Uptime with Robust Redundancy Cloud Features!
Experience uninterrupted uptime with robust redundancy cloud features. Ensure high availability and reliability with redundant infrastructure and failover mechanisms. Enjoy continuous operation even in the event of hardware or network failures. Mitigate risks and minimize downtime with our resilient cloud architecture. Achieve peace of mind knowing that your services will remain accessible and reliable. Benefit from our robust redundancy cloud features for a seamless and resilient experience.
Deploy Your Cloud Applications with Ease Using One-Click App Installation!
Deploy your cloud applications effortlessly with one-click app installation. Streamline the deployment process and save time and effort. Easily set up and configure your desired applications with a simple click. Enjoy hassle-free installation without the need for complex manual setups. Simplify your application deployment workflow and get your services up and running quickly. Experience the convenience of one-click app installation for seamless cloud application deployment.
Stay Protected with Advanced Cloud Security Measures and DDoS MITIGATION!
Stay protected with advanced cloud security measures and DDoS mitigation. Safeguard your data and infrastructure from potential threats and attacks. Benefit from robust security protocols and monitoring systems to ensure the integrity of your cloud environment. Mitigate the risks of DDoS attacks and maintain uninterrupted service availability. Experience peace of mind knowing that your cloud assets are shielded by comprehensive security measures. Trust in our advanced cloud security solutions for a secure and protected environment.
Harness the Power of Dedicated Resources with VPS-like Performance!
Harness the power of dedicated resources and experience VPS-like performance. Enjoy enhanced processing power, memory, and storage tailored to your needs. Benefit from the isolation and control of dedicated resources for optimal performance. Unlock the full potential of your applications with reliable and high-performing infrastructure. Leverage the advantages of dedicated resources for improved speed and efficiency. Elevate your hosting experience with our VPS-like performance and dedicated resource solutions.
Get Dedicated IP Addresses for Enhanced Website Reputation and SEO Benefits!
Obtain dedicated IP addresses for improved website reputation and SEO benefits. Enhance deliverability and avoid sharing IP reputations with other websites. Boost search engine optimization efforts with dedicated IPs, signaling uniqueness and credibility. Enjoy better email deliverability and prevent blacklisting concerns. Gain greater control over your online presence and strengthen your website's authority. Leverage dedicated IP addresses for improved website performance and reputation management.
Collaborate Effortlessly with Easy-to-Use Control panel and Server Management Tools!
Collaborate effortlessly with our user-friendly Control panel and server management tools. Simplify administrative tasks and streamline collaboration among team members. Enjoy intuitive interfaces and robust features for efficient server management. Seamlessly allocate resources, manage domains, and monitor server performance. Empower your team with easy-to-use tools that enhance productivity and coordination. Experience smooth collaboration and efficient server management with our intuitive control panel and tools
Benefit from 24/7 Expert Support for Prompt Issue Resolution and Technical Assistance!
Benefit from round-the-clock expert support for prompt issue resolution and technical assistance. Our dedicated support team is available 24/7 to address your concerns and provide timely solutions. Get peace of mind knowing that knowledgeable professionals are just a call or message away. Receive prompt assistance with troubleshooting, configuration, and maintenance tasks. Rely on our experienced support team to keep your systems running smoothly and efficiently. Experience reliable support and quick resolution of issues with our 24/7 expert assistance.
Stay Ahead of the Competition with Regular Server Performance Monitoring and Optimization!
Stay ahead of the competition with regular server performance monitoring and optimization. Gain insights into system metrics, identify bottlenecks, and proactively address performance issues. Optimize resource allocation, fine-tune configurations, and ensure optimal server efficiency. Stay proactive with continuous monitoring and optimization to maximize uptime and user experience. Stay at the top of your game by leveraging our comprehensive server performance monitoring and optimization services. Outperform your competitors with a finely tuned and high-performing server infrastructure.
Enjoy Seamless Scalability and Pay-as-You-Grow Pricing Options!
Enjoy seamless scalability and flexible pay-as-you-grow pricing options. Adjust the capacity of your resources to match your requirements, guaranteeing peak performance while maintaining cost-effectiveness. Pay only for the resources you use, avoiding unnecessary expenses. Easily adapt to changing demands and accommodate business growth without constraints. Experience the freedom of scalable infrastructure and cost-effective pricing models. Embrace seamless scalability and budget-friendly pricing with our flexible cloud solutions.
Ensure Data Integrity with Automated Data Backups and Disaster Recovery Plans!
Ensure data integrity with automated data backups and robust disaster recovery plans. Safeguard your critical data and minimize the risk of data loss. Automate regular backups to secure data against accidental deletions or system failures. Develop comprehensive disaster recovery plans to ensure quick restoration of services in the event of an unforeseen event. Enjoy peace of mind knowing that your data is protected and recoverable. Prioritize data integrity with our automated backup solutions and robust disaster recovery strategies.
Experience Faster Loading Times with Content Delivery Network (CDN) Integration!
Experience faster loading times with content delivery network (CDN) integration. Distribute your content across a global network of servers to minimize latency and improve user experience. Accelerate content delivery, especially for geographically dispersed audiences. Leverage CDN caching and optimization techniques to reduce bandwidth usage and enhance performance. Enjoy seamless scalability and reliable content distribution with CDN integration. Elevate your website's speed and responsiveness with our integrated CDN solution.
Utilize Developer-Friendly Tools and Technologies for Efficient Application Development!
Utilize developer-friendly tools and technologies for efficient application development. Streamline your development workflow with robust frameworks, libraries, and IDEs. Benefit from comprehensive documentation and community support for smooth development processes. Leverage cutting-edge technologies to enhance application performance and functionality. Empower your developers with user-friendly tools that promote productivity and collaboration. Experience seamless application development with our developer-friendly ecosystem and toolset.
Maximize Cost-Efficiency with Budget-Friendly Cloud Server Packages!
Maximize cost-efficiency with our budget-friendly cloud server packages. Choose from a range of affordable options tailored to your specific requirements. Experience cost-effectiveness while maintaining top-tier performance and dependability. Optimize resource utilization and pay only for what you need. Experience cost savings and flexibility with our cost-effective cloud server solutions. Achieve a balance between performance and affordability with our budget-friendly packages.
Choose Your Cloud Architecture
We Setup & hands hold you to kick start
Know the advantages for Your Cloud Servers that you get from HostingRaja:
At HostingRaja, we understand the importance of focusing on your business/organization. That's why we offer cost-effective solutions by charging customers only for the resources they use. By minimizing operational costs, we enable our customers to prioritize their core activities and achieve their business goals efficiently. This makes us remain the best cloud hosting provider in India at the lowest price.
With our cloud server hosting, We endeavor hard to give the best and most recent innovation utilizing state-of-the-art hardware and software. We guarantee you more than 10G web availability between every hub/VMs and the cutting edge reinforcement and reestablish answers for each cloud occasion with multiple incremental back-ups.
Choose our solution and save valuable time on setup and installation. Our technology outperforms others, ensuring faster performance and efficient operations. Experience the advantage of our advanced technology and streamline your processes effortlessly.
With our fully automated solution, you can eliminate the need for hiring a dedicated team to manage related tasks. Our support team is readily available to address all your concerns and provide optimal solutions. Experience hassle-free operations and rely on our expert support for a seamless experience.
Learn More About Cloud Server
There is no clear explanation given by any standard organization for what is cloud hosting, the generally trusted terms are:
With our solution, you have access to resources on demand, allowing you to meet the surge in traffic effectively. Scale up your resources as needed, ensuring availability during peak times. Experience seamless performance and uninterrupted service with our flexible and scalable infrastructure.
Effortlessly scale CPU, RAM, Compute, Storage, and other resources based on your needs with our solution. Enjoy the convenience of customizable resource allocation for optimal performance and cost-effectiveness.
Our solution provides a user-friendly dashboard for clients to easily monitor resource usage and manage it themselves, empowering them with control and visibility over their hosting environment. Experience a seamless and intuitive self-service style of resource management with our dedicated dashboard.
Experience the benefits of auto-scaling in the cloud, allowing for vertical or horizontal scaling based on demand. HostingRaja's cloud hosting in India fulfills all your requirements, ensuring scalability, performance, and reliability for your business..
How Does Cloud Hosting Work?
Cloud hosting uses multiple interconnected servers. Resources are distributed and can be scaled easily.
Virtual machines allocate resources like CPU, RAM, and storage.
Load balancing distributes traffic across servers.
Redundancy ensures high availability and fault tolerance.
Pay-as-you-go billing model, based on usage.
Root access allows for custom configurations.
Data can be auto-backed up and restored easily.
Suitable for high-traffic or variable-traffic websites.
Managed and unmanaged options available.
---
HostingRaja Customers who saved money on cloud infra structure

Moved to HostingRaja, Feb, 2019 Airfield Express,Specialization in Delivery Shipment of Pharmaceutical Company in INDIA
Cost Saved 36% with us

Moved to HostingRaja, Oct, 2018 Softec is a product and service provider on various technology
Cost Saved 55% with us

Moved to HostingRaja, March, 2020 Pratinidhi Media Solutions is the Best Political Campaign Management/Marketing Company.
Cost Saved 45% with us

Moved to HostingRaja, Jan, 2020 A Technology company providing technical solution to 100s of customers.
Cost Saved 53% with us

Moved to HostingRaja, Aug, 2020 Faith streaming provides service on Video Conferencing, Live Stream, Stream Music and Learning Management System (LMS).
Cost Saved 62% with us

Moved to HostingRaja, Nov, 2018 A successful event management company based on Bangalore.
Cost Saved 46% with us
HostingRaja Cloud Server FAQ's
Reviews from Customers
Aashvi

20 Jan 2022

I recently migrated my website to HostingRaja's cloud server, and I must say that the performance has been exceptional. The server responds quickly, delivering my webpages and content to visitors with impressive speed and minimal latency.

Vishnu

08 May 2023

One of the standout features of HostingRaja's cloud server is its scalability. As my website traffic increased, I was able to effortlessly upgrade my server resources to accommodate the growing demand. This flexibility ensured that my website never experienced any performance bottlenecks, even during peak traffic periods. tried several website providers in the past, and unfortunately, some of them turned out to be the worst and provided terrible service. However, a friend recommended HostingRaja to me, and though I wasn't overly impressed initially, their service gradually won me over.With time, I realized the true value of HostingRaja's services. They not only helped me recover my business but also played a crucial role in creating a fully functional and efficient website. My website is now faster and runs smoothly, a significant improvement from my previous experiences with other providers.

Kevin Geroge

18 Jun 2023

Security is a top priority for me, and HostingRaja's cloud server offers comprehensive security measures. Their encryption protocols and proactive DDoS protection have safeguarded my website from potential threats. Additionally, the availability of regular backups and data replication has given me peace of mind, knowing that my data is secure and can be restored if needed.

Sivanambi Rajan

27 Mar 2023

HostingRaja's Cloud Server Hosting has delivered on its promise of faster loading times and seamless scalability. The ability to choose from different cloud architectures allowed us to tailor our hosting environment to our needs. The high-speed cloud private network has improved communication and data transfer efficiency. However, we would like to see more cost-effective storage options.HostingRaja has consistently been an excellent choice for hosting services. Their technical support is top-notch, and they always listen to my questions and provide great assistance. The server performance is outstanding, with super-fast speeds. Moreover, their hosting packages come with many useful add-ons. Great job! /div>

Abhijith

01 Jul 2023

We decided to try HostingRaja's Cloud Server Hosting for our development needs, and it has proven to be an excellent choice. The VPS-like performance with dedicated resources has given us the speed and reliability we required. Their 24/7 expert support has been responsive and helpful whenever we faced any issues. Overall, it's a reliable cloud hosting solution.