WordPress
Few years back, creating a website was thought to be a daunting task. You might have thought only a developer or a person with a background in web design can create a website but not anymore. There is one software which is easy to use and anyone can successfully create a unique website for different purposes, it could be for business, a blog or a portfolio. Its called WordPress.
WordPress & SEO
Since the origin of WordPress in 2003 it has never stopped growing. Themes and plugins make the website look more professional, user friendly and attractive. More and more users are choosing WordPress as the CMS as it is user friendly.
WordPress is the Best CMS for SEO
1. Better User Experience on WordPress
Creating a website from an existing template is not enough neither choosting a good web host. We need to personalize it, here comes the role of WordPress CMS, they provide a variety of plugins making simple WordPress experience to a new level. Visitors experience the enjoy they get on a WordPress website. They stay for longer duration on your website decreasing the Overall Bounce rate of your website.
2. Attractive Permalinks
Editing a permalink is very easy on WordPress. You can avoid ugly looking characters in the URL and instead make an attractive URL. You can use the keyword in the URL, making your link noticed on the Search Engine.
3. Managing Meta-Data made easy
Meta keyword, title and description improves the relevancy of your website on the search engines. Metadata attracts the crawlers and tells the search engines what your website is all about. Hence if you add relevant keywords in the meta-data your website can rank for those keywords.
If you are using WordPress, you get various plugins, one of them is Yoast SEO. This plugin helps to add the metadata to your website in an instance.
4. Optimizing Images made Simple
Images are an vital a part of any website. Images make the blog or a website more interesting and attractive. However images are not only used to attract the website visitors, but they are also a powerful tool for SEO, especially when the website CMS is WordPress.
WordPress helps in creating an alternate text for the images you use on the website. By this way you can add the keywords relevant to the images to attract the search engine crawlers and improve the ranking of the website.
There is a plugin in WordPress which automatically creates the alt text for the images.
Images can be resized so that they don't slow down the website
5. Amazing Plugins to improve website Speed
Website speed is an important ranking on search engines especially on mobile. A slow website not only disappoints the users but it also moves down your website in search rankings. However WordPress has fantastic plugins which helps in improving the site speed. For example there is a plugin named ShortPixel Image Optimizer this plugin helps in compressing the PDF documents and big images and hence improving the website's loading time. A plugin named WPOptimize caches the website and clears the database and it compresses the images for a better loading time.
6. Mobile Friendly Themes optimized for mobile users
As we all know mobile usage has grown drastically in recent years. Hence if you want your business to be a complete success your website must be optimized for mobile use. Luckily if you are using WordPress as a CMS for your website there is nothing extra that needs to be done on your website and you will be getting an optimized Search engine friendly website.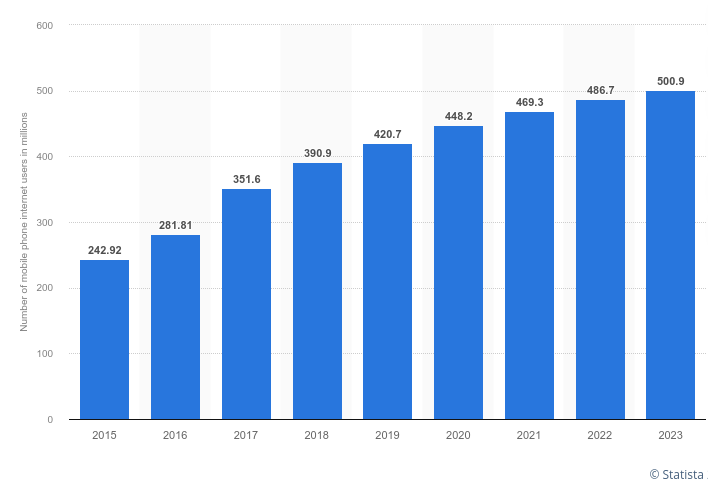 7. SEO Friendly WordPress Themes
Apart from the keywords and the metadata, a good web page design is also an important factor for SEO. If you are using WordPress there is nothing for you to worry about, you have to simply choose an SEO-friendly theme and automatically you will be attracted by the search engines crawlers, helping your website to rank better.
Increasing trend of WordPress Website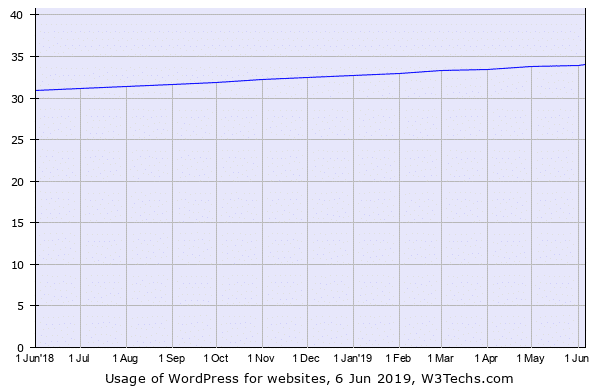 WordPress statistics: historical trend
The most used & popular SEO plugin for WordPress
Optimizing the WordPress website is necessary if you want to rank your website on search engines. Plugins play an important role in page ranking however you must remember that just adding a plugin won't improve a website's ranking you must add good content as well. If a website is not having good content the viewers won't stay for long on the web page.
Below are the simple WordPress SEO plugins that will enhance your website. These plugins will give you suggestions, optimize your website and perform keyword research.
Yoast SEO
It is the maximum famous search engine marketing plugin in WordPress with 5+ million energetic installations, which is a truly amazing number for a plugin with near perfect 5 star rating.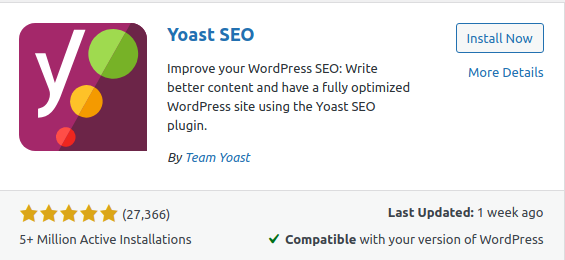 Yoast SEO is the most widely used plugin in a WordPress website. It has many interesting features like focused keyword reports, internal link suggestions, Content and page analysis tools etc. More features are available in this tool like keyword density, title tags, meta description and much more. You can use all these features to ensure that you are on the right track.
All in One SEO – This plugin has been downloaded more than 74 million times, this plugin is called as a super featured WordPress plugin. This plugin is perfect for beginners as well as experts.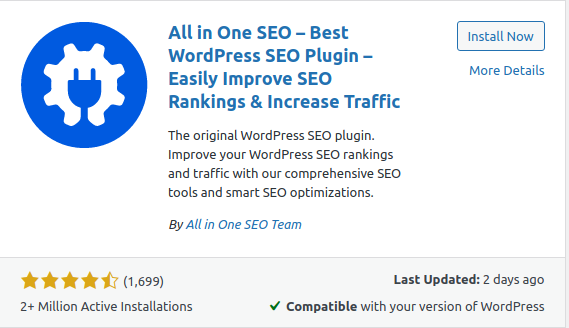 Some of the features included in this plugin are Accelerated Mobile Pages, Google analytics support, XML Sitemap support, built in API , redirect manager automatic title optimization for blogs and much more.

Premium SEO Pack – Premium SEO Pack is powered with several useful modules so that you can use it in both free and paid versions.
Download link: Click here
Some of the features included in this plugin are focus keyword analysis, page SEO reports and scores, page analysis and recommendations, keyword suggestions, W3C validator, mass optimization and much more.
Semrush – Semrush is one of the most popular WordPress plugins used hugely across the world.
Download link: Click here
This plugin is popular among digital marketers, bloggers and businesses. There are multiple things you can do with WordPress plugins like competitor analysis, position tracking, Brand monitoring, content analyzer and much more.
Squirrly SEO – It has millions of installs and many good reviews.
Download link: Click here
This plugin comes with more than 200 features which helps in optimizing the content which keeps your website up to date.
Why Google loves WordPress
Easy Content Optimisation
Content optimization is easy in WordPress as it is specially made for content marketing. Content marketing is one of top marketing techniques when it comes to SEO. One should remember that only content won't help in a website's success, you will have to update it regularly.
WordPress is Mobile Friendly
According to Google almost 90% of its viewers are browsing it from a mobile device. If you are using a WordPress CMS for your website you will get an assurance that your website will be mobile friendly.
WordPress is good for your rankings
With search engines persisting to be the leading source of traffic for most websites, SEO persists to be an essential matter. For that very reason, if you need to rank high in Google and other search engines, your most suitable bet is to use a platform that can assist you to do so.
WordPress is currently a grown platform that now powers over 30% of all websites. To be accurate, WordPress is the engine after 30.3% of all websites. WordPress plays excellent with Google and other search engines, has loads of themes and plugins for cutting-edge SEO optimization, is quick and mobile-friendly, community-supported, protected, and easy to learn.
WordPress is SEO friendly
WordPress has many options which allows the user to outrank its competitors in the search engine result. There are default features and plugins which help in monitoring the analytics and drive more traffic to the website.
Some of the most popular websites are using WordPress
Google + SEO + WordPress
There are many best practices that you need to implement to rank your websites on Google. But one of the most important things that Google considers to rank your website is the website speed. You can implement all the SEO best practices on your WordPress website but if you don't have a good host all your hard work can go for a toss.
Choosing a Good Host is Important
As we have discussed Google prefers websites with excellent uptime, security and performance. For a good performing website you need to have a good host which can give your website a perfect boost. You can rely on HostingRaja for your WordPress website as we provide the best and world class features in our WordPress Hosting plans.
Install SSL in your Website
Google prefers the websites having SSL certificates as it protects the website as well user information.
Publish High Quality Content
Always use user-friendly and informative articles on your website. Make sure to always use proper headings, alt text images, target keywords etc.