What is Hosting space?
A hosting space gives a website owner a space to host the website, applications and files on the server provided by the web hosting company. It helps the website to be live, running and available to the website visitors around the world.


Hosting Space refers to a web space that your hosting provider is renting out for your website where you can store your files and data. It's also called disc space or web hosting space.It is one of the important components where one must consider while buying a hosting service. And always choose a hosting provider who provides best web hosting space.


Cheap Shared Hosting India
When it comes to cheap and affordable web hosting services, the first name that comes to everyone's mind is HostingRaja. From past many years, HostingRaja has provided its customers
the cheapest and most reliable web hosting
services in India.
Although providing cheap web hosting services, HostingRaja has never compromised with the quality of service to its customers. Apart from providing cheap web hosting plans HostingRaja provides Linux & Windows Plans also. We are providing cheap web hosting services to our customers can be benefited from it.
Some of the advantages of choosing our Cheap Shared Hosting plan are:
* The most obvious benefit of our cheap shared hosting service is its cost-effectiveness.

* Most of the individuals/business are looking for cost effectiveness, especially those small and medium enterprises. Selecting our cheap shared hosting services can help you save a lot of money.

* Although it may not provide the best performance when compared to our VPS our Cloud Services, it does provide our users with a reasonable experience especially for smaller scale sites that do not require a lot of disk space or bandwidth.

* As most of the users who opt for our cheap shared hosting plans are rather new to the web hosting services, our cheap shared hosting plans user friendliness would be an advantage for our users. As this plan doesn't come with many elaborate features, it will be easier for new users to navigate around.

* Our cheap shared hosting plans are most suitable for those who have limited knowledge regarding web hosting and it would be a good starting point for them to start learning more.

Our Cheap shared hosting plans and pricing are discussed below: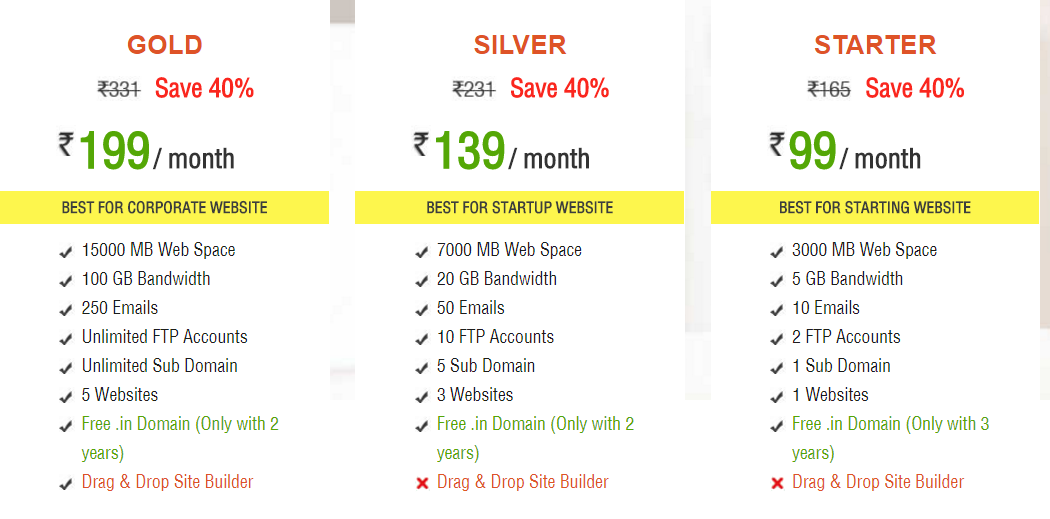 Above three web hosting plans are the cheapest hosting plans that we are providing to our customers. As you can see our cheapest web hosting plan starts as low as Rs.99/mo.
Some of the salient features in our cheapest shared Hosting plan of Rs.99/mo are:
3000 MB Web Space

5 GB Bandwidth

10 Emails

2 FTP

1 Sub Domain

1 Websites
If you are a starter and you are having a small website with very less traffic you can choose any of these cheap shared hosting plans. A question may arise in your mind what if the website traffic increase on your website and you need more resources. In that case, there is no need for you to worry you can contact us anytime and we will upgrade your hosting account according to your needs.
Some of the Benefits of choosing our shared web hosting plan are:
Guaranteed 99.9% uptime.
Our Linux Hosting India

 plans come with PHP and MySQL Databases.

Our best plans support CMS like Wordpress, Joomla, Drupal, Magento and more.
Each of our plans contains email, FTP, and sub-domains We also provide 24/7 Technical support.
Custom plans according to the clients' requirements.
No Hidden Cost, NO Setup fee & No Extra Payments
FREE Control Panel, Database, Add-on/Parked Domain.
24/7 Support in multiple local languages.
Free installation and setup of Blog/Business/E-commerce Websites.
FREE website builder/Web Email/Email Forwarding.
Phone Support & Email/Ticket Support & Chat Support.
POP3/SMTP/IMAP/PHP/Python/MySql Support.
Tier-4 Data-center with cutting-edge technology.

By now it must have been understood for you that when it comes to cheap and reliable shared hosting services HostingRaja is the best that you can choose from. Contact us today and buy your cheap shared hosting service.