Web Hosting with C-Panel
The number of factors involved in the web hosting server makes its working principle complex. The servers are almost handled by the certain commands which become tricky when it has to handled by the nontechnical person. And even for the technical person, it is time consuming when the procedure has to be followed more often. The control panel is the complete solution for this. The control panel gives the easy user interface to the clients making it simple to handle their server.


Most of the website hosting providers provide a C-Panel with its services, but what is depends the most is the features that you get in the C-Panel.


C-Panel provides tools to make your website run successfully. Some of the main features which HostingRaja provides with its C-Panel also know as Control Panel are:


Email: Nowadays business communication is one of the major important things. Managing multiple email users, business specific email addresses, blocking spam, and creating filters can be a hassle. What cPanel has done is create easy to use tools that enable the website owner to control email from easy to use interfaces.

Shared Website Hosting with cPanel
GOLD
199
/ month
BEST FOR CORPORATE WEBSITE HOSTING
15000 MB Web Space
100 GB Bandwidth
250 Emails
Unlimited FTP
Unlimited Sub Domain
5 Websites
Free .in Domain
Drag & Drop Site Builder
High Priority Support
SILVER

Save 40%
139
/ month
BEST FOR SMALL BUSINESS WEBSITE
7000 MB Web Space
20 GB Bandwidth
50 Emails
10 FTP
5 Sub Domain
3 Websites
NO - Free Domain
Drag & Drop Site Builder
Low Priority Support
STARTER

Save 40%
99
/ month
BEST FOR STARTING WEBSITE
3000 MB Web Space
5 GB Bandwidth
10 Emails
2 FTP
1 Sub Domain
1 Websites
NO - Free Domain
Drag & Drop Site Builder
Low Priority Support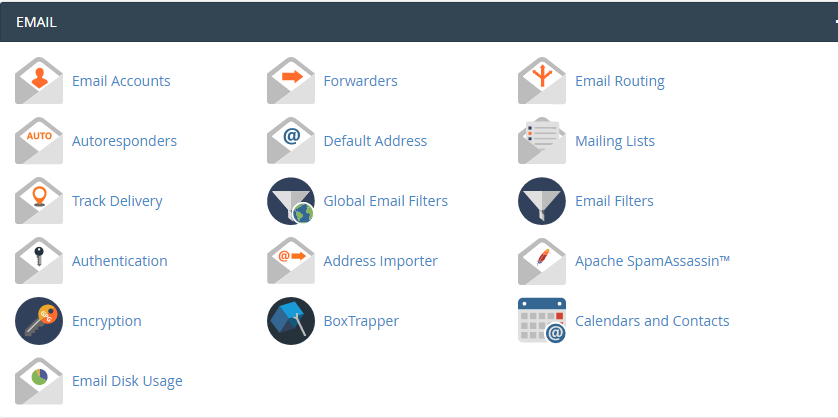 Security: Securing a website and server can be a daunting task for newcomers or starters or those who don't have much technical expertise. Our cPanel is designed in such a way that it helps its users by providing the tools needed to help reduce the possibilities of attacks all the while giving the website owner secure access to their Linux or Windows server.

File Manager: With many domains, subdomains, emails and other accounts a website owner can become confused while trying to manage the server. Hence our cPanel makes the file management easy for our clients helping to reduce the complexities of managing a Hosting account.

Domain Management: Customers who are running a server will in the near future, for the most part, need to create sub-domains, add domains to their hosting account, or park domains. Our cPanel makes these features available to our customers. Making the Domain management for our customers easy.

These are only a few of the highlighted features of c-Panel provided by HostingRaja.
Other important features included in C-panel are:


DNS Management

SSL/Tls Manager

Password Protected Directories

Unlimited Ftp Access

Admin Control Panel

User Control Panel

Website Statistics

Access Logs

Backup Logs

Website Builder

Fantastico Autoinstaller

Getting Started Wizard

Video Tutorials

Multi-Language Support

Hotlink Protection

IP Deny Manager

Redirect URL

Password Protected Directories

Web Based File Manager

phpMyAdmin
You can choose any of our web hosting plans and use the latest control panel for managing your web hosting account.
Some of the most common Shared Linux Hosting India plans provided by HostingRaja are: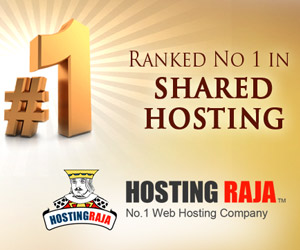 To get the best offer on Shared Hosting, visit our Shared Hosting Plans page.


You can choose any of these web hosting plans for your business/website and get the best results.


Some of the advantages of choosing our web hosting services are:


The greatest advantage you can receive from us is the lower price. Our web hosting plans are adjusted in such a way so as to give the lowest price hosting for our clients.
The second great advantage is that you don't need to perform technical maintenance on the server when running programs. Also, with any of our Shared Hosting plans comes an easy-to-use, web-based Control Panel. That way, uploading your site, creating email accounts and adding a database becomes effortless.
For almost seventy percent of all websites, shared web hosting services is the best solution. Shared web hosting saves time and headaches because we will be taking care of the server's maintenance.
All these features and advantages make our web hosting services best in India. You can contact us anytime.