Cloud Hosting Offers
Cloud Hosting Services is the present and the future of web hosting industry. More and more number of small and large scale businesses are opting for a cloud hosting services, as it is more reliable and effective.

You might be using cloud computing right now, but many of us don't even realize it. If you are using an online service for sending email, edit the documents, watching the movies or playing games online. There is a good possibility cloud computing is behind all these reasons. Nowadays number individuals, organizations as well as government organizations are opting for cloud solutions as there are limitless advantages of cloud solution.


As Cloud Hosting is bit more expensive than a shared hosting service due to its more resource usage, Hosting Raja has introduced Offer and Discounts on its Cloud Hosting Services especially for its Indian customers.


The best way to get maximum discount:
The best way to get maximum discount is through live chat, you can contact our representatives through live chat and we assure you that you will be getting the maximum discounts.

You can avail maximum discounts upto 55% on our Extra Large, Large and Medium Cloud Packages and discounts upto 44% on Nano, Micro and Small Cloud Packages.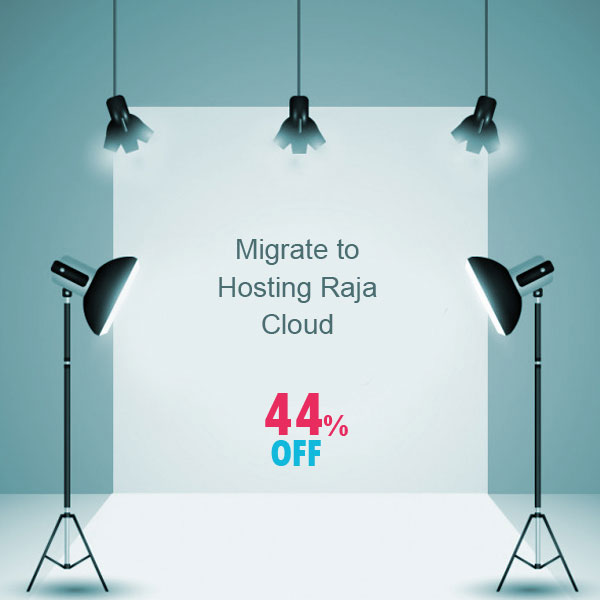 We are the only best Cloud Hosting Company that will provide a Cloud Consultation for free.

You can contact us via email (cloud@hostingraja.in) explaining about your project needs and traffic to your business/website and we will assist you suggesting the best and the most appropriate plan for you Cloud Hosting Needs.
Hosting Raja is the only Cloud Hosting Company that will guarantee you a secure cloud based environment:
Hosting Raja is the only Cloud Hosting Company that will guarantee you a secure enterprise cloud in India. We will provide a wide range of products and services where you can run sophisticated and scalable applications.

Deploying your applications in HostingRaja Cloud environment can help you move more swiftly, securely and save costs on your IT investments.
Check For Hosting Raja Cloud Hosting Plans and pricing






When it comes to cloud computing Hosting Raja takes care of your A-Z needs. It includes free setup, free migration, Backup and Recovery with 24/7 expert cloud support.

When you purchase Cloud Hosting Services from HostingRaja you will avail a Free Cloud Office as well. Isnt that a great deal?

HostingRaja Cloud office is a one stop destination for all tools a startup or a small business owner would need, to kick start their digital journey in the most cost effective and hassle free way possible.

As an entrepreneur your first and foremost requirement is to create a professional image of your business while presenting to your prospective customers. Without a professional domain name or a email id it's difficult to establish a trust building image of your business.


In HostingRaja Cloud Office you will not only get email ids for your business/website,  but also get other features as well that are rolled together to simplify your business needs.


To have satisfied and more customers for your business:
HostingRaja Cloud Office is the best and the latest tool which is designed for you so that you can you can have a great start for your small business as well as large enterprise to start your business with less cost and it also works without any obstacle, and this will help your business run very smooth and helps them to focus at their core infrastructure.

If you are thinking in term of an entrepreneur, then your main intention will be your professional image of your business with satisfied customers.

To have satisfied and more customers for your business first you need to have a proper business infrastructure like your business domain name, websites, Email ID, customers support etc.

By having all the business requirements it is easy to build the trust of customers and also helps to build the good image of your business.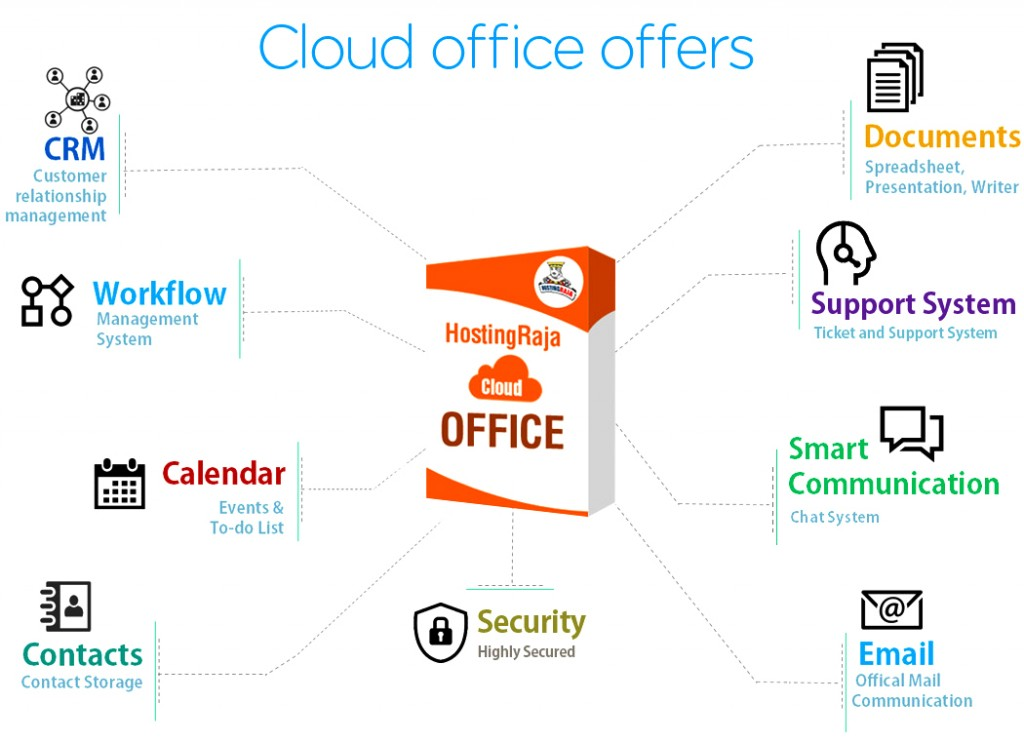 Some of the other Extra Features and Offers that you get for free in HostingRaja Cloud Hosting Services are:
Auto Spam email protection

 
Auto SSL module integrated

 
Firewall Setup automatically

 
Multi PHP Version

Inbuild Secure File Upload modules

Inbuild apache Tomcat server

Inbuild Admin panel and client panel

Inbuild magento/ecommerce optimization

SQL injection / php injection / malicious url protection

Inbuild wordpress/joomla/magento opensource installations

cpanel to HostingRaja panel auto migration

Cloud Backup and Restore

Managed Hosting Services
As you might have know by now Cloud Hosting is the present and future for small businesses Hosting Raja being an Indian Cloud Hosting Company is indebted to give its customers the best discounts on its Cloud Hosting Plans.